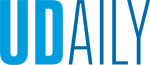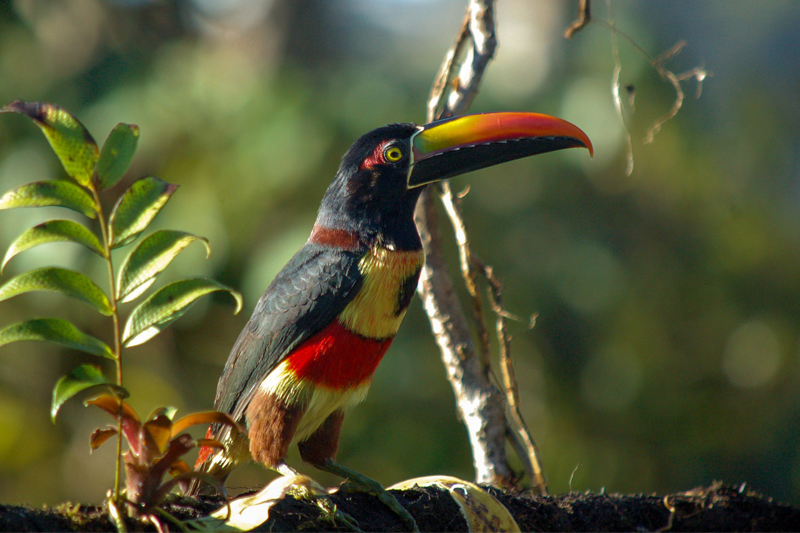 Conservation abroad
Article by Katie Peikes Photos courtesy of Kyle McCarthy, Hannah Slesinski and Erin Lay October 09, 2023
UD students experience the pinnacle of biodiversity through study abroad in Costa Rica
Ten years ago, a dozen University of Delaware study abroad students were in Costa Rica for no more than 48 hours when they hiked down to Playa Nancite, a turtle nesting beach.
It's an arduous trek. The beach is restricted to researchers like Kyle McCarthy and Greg Shriver, who led the study abroad program.
"We get out there on this hike and it's brutal," said McCarthy, associate professor of wildlife ecology. "It's miles and miles in blazing sun. And at the very end, you have to scale a very steep hill and then go back down it."
The hike was so brutal that one of the students' shoes fell apart on the hot rocks. An always-prepared wildlife professional, McCarthy had an extra pair to loan her.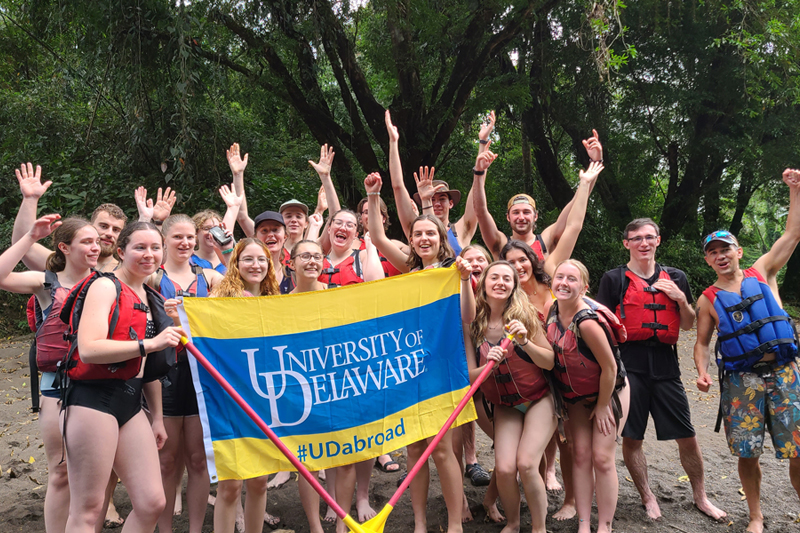 By nighttime, the study abroad group got quite a reward. As they arrived on the beach, they marveled as hundreds of sea turtles crawled ashore to lay their eggs. 
"I don't think anyone could stand there and not be awestruck by nature at that point," McCarthy said.
Seeing the arribada, the mass nesting of Kemp's ridley sea turtles, is one of McCarthy's favorite memories since he started leading the Department of Entomology and Wildlife Ecology program. Every other winter since 2013, McCarthy leads a new group of undergraduate students in Conservation of Tropical Biodiversity (ENWC440) and Debates in Conservation Biology (ENWC450). For four weeks, Costa Rica's diverse biomes are their classroom for this life-changing immersive experience. Students spend 30 days embedded in several different environments, including tropical rainforests, tropical dry forests and cloud forests. 
Ask any of the students who studied in Costa Rica over the winter, and they all reflect positively on the experience.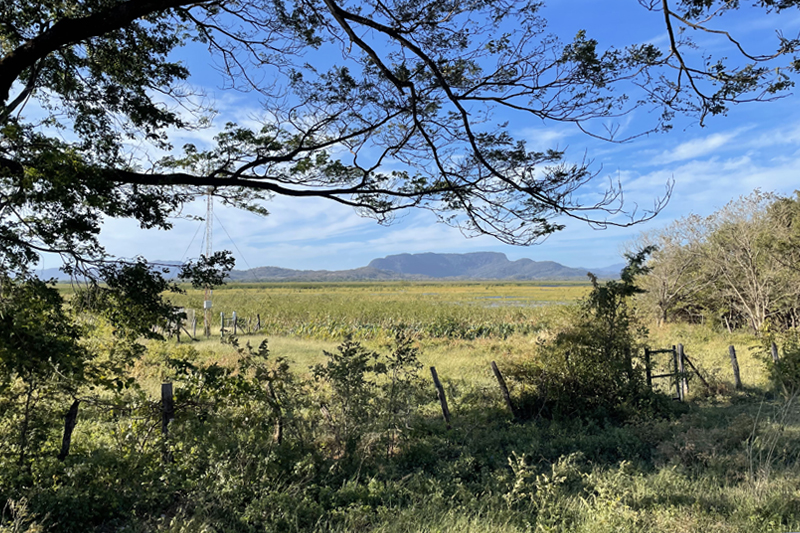 Lessons learned   
One of the biggest things McCarthy hopes his students take away from the program? 
"I want them to have an understanding of the importance of biodiversity to humanity," he said. 
In Debates in Conservation Biology, students read between 20 and 30 research papers and articles about climate change, biodiversity and feeding people around the world. That research ties directly into the sister course in Conservation of Tropical Biodiversity. But students say they've taken away more than just lessons on conservation. 
Tori Alves, a junior honors wildlife ecology and conservation major, learned to not take some of the things in her daily life for granted … like a warm shower.
"You never think of those things that are luxurious," Alves said. "And then you go and do fieldwork in a place that doesn't have hot showers." 
The winter Costa Rica wildlife ecology program wasn't Alves' first foray into studying abroad. A member of the World Scholars Program, she had studied abroad in Spain during her second semester as a first-year student. 
Spain was a more typical study abroad experience, Alves said, with courses taught in traditional classrooms. But the Costa Rica program offered more enrichment in the country's culture and her field of study.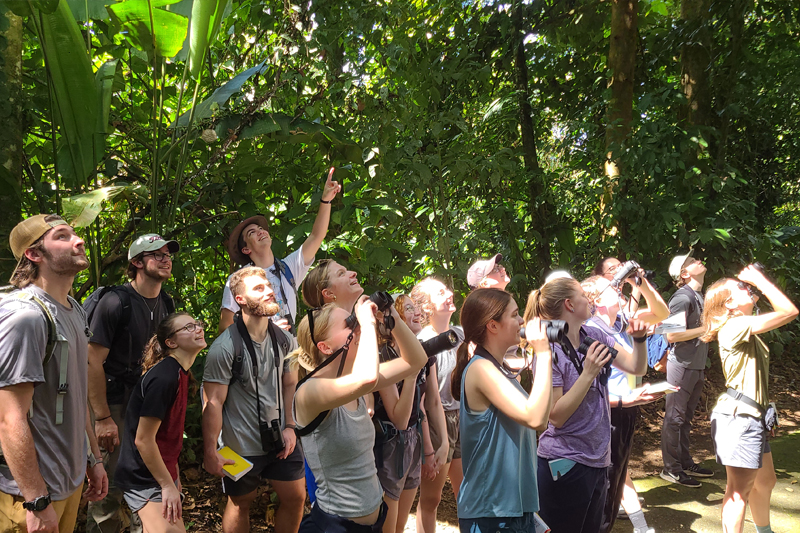 At her annual summer camp position, Alves runs a nature program for children and teens. After coming home from Costa Rica, she couldn't help but dial up her level of enthusiasm to her job. When it was time to talk bugs and snakes with her campers, she modeled the lessons learned from the Costa Rican guides. 
"I'd say, 'I know you don't like this snake, but it's important in some way,'" Alves said. 
For senior Hannah Slesinski, an honors student, discipline and perseverance were two big skills she took away.  
"We were going on hikes that were physically challenging. They had lots of mosquitoes and bugs and the heat was especially bad sometimes," Slesinski said. "The experience of pushing through the elements in a way has kind of helped me know I can get through those things." 
This past summer, Slesinski worked for the Delaware Division of Fish and Wildlife and helped the state agency monitor marsh bird nests. She said whenever it was a hot day in the field or there were a lot of mosquitoes, she'd recall what she accomplished abroad.
"I'd think back to 'in Costa Rica you did that 10-kilometer hike, you can do it! You can do anything,'" Slesinski said.  
The experience solidified Slesinski's and Alves' passion for wildlife, conservation and research. And they made some new friends along the way. 
"When I think of my best memories from Costa Rica, it's all of us laughing, inside jokes," Alves said. "The people definitely made the experience."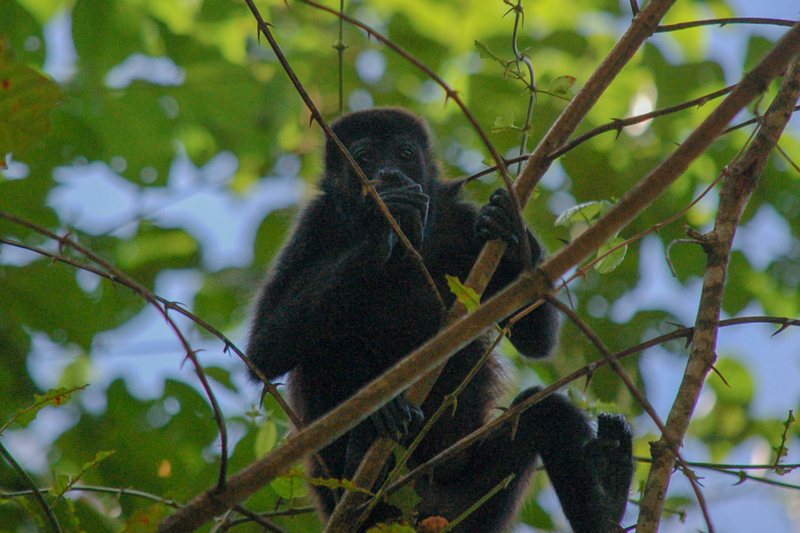 A hands-on experience
The program is open to any student, regardless of their major, but an interest in environmental conservation is paramount. Students who are interested in animals, conservation and being outdoors gravitate toward the program. 
"One of the things I make very clear," McCarthy said, "is we're going to be busy the whole time."  
In world-class research facilities and eco-lodges around the country, these Blue Hens learn how to quantify biodiversity. They receive first-hand experience measuring and comparing the vast amount of species, of Costa Rica's montane cloud forests, lowland rainforests and tropical dry forests. Students also learn about human impact to the Earth's biological and physical resources. The study abroad cohort, which usually includes 12 to 18 students, monitors bird populations, sets camera traps to assess mammal diversity, identifies different bat species by using a device that listens to ultrasonic sounds, and counts moth species using sodium vapor lights and bed sheets to draw them in.
"Although there is biodiversity in Newark, Delaware, it's not nearly as rich as in the tropics," McCarthy said. "This is a chance to go use a lot of the tools we've been teaching students about. Now they're actually getting a chance to implement them and evaluate the results of them." 
In addition to hands-on projects and informal lectures, students do quite a bit of hiking, much of which has physically challenging terrain, like the hike to Nancite. Even though he has been to Costa Rica more than a dozen times, McCarthy always sees something different and new. 

"What's amazing going there with a bunch of students is they're all seeing so many new things and experiencing so many new things," McCarthy said. "To see their joy in that and their excitement really just helps feed my passion for education about biodiversity, travel and study abroad."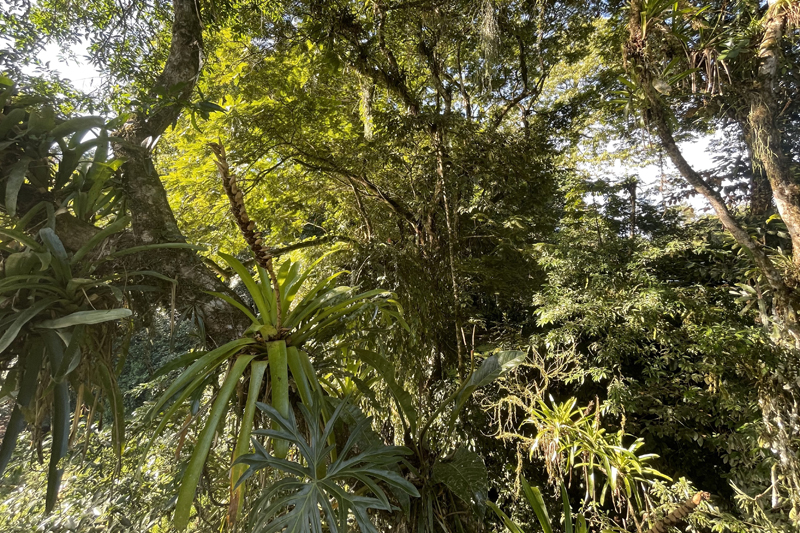 Study abroad
Students who would like to learn more and explore study abroad options for the 2024 Winter Session and beyond should contact UD's Center for Global Programs and Services, which can provide information about the application process, scholarships and financing. Please also visit the UD Abroad Blog for student perspectives on the study abroad experience.
From Delaware to the World
2023 marks the 100-year anniversary of study abroad, pioneered at the University of Delaware in 1923 when UD language professor and World War I veteran Raymond Kirkbride took eight students to France for their junior year. Today, UD boasts more than 100 study abroad programs in 40-plus countries and has an international student population that hails from over 100 countries. Learn more at www.udel.edu/studyabroad100.