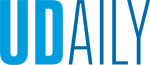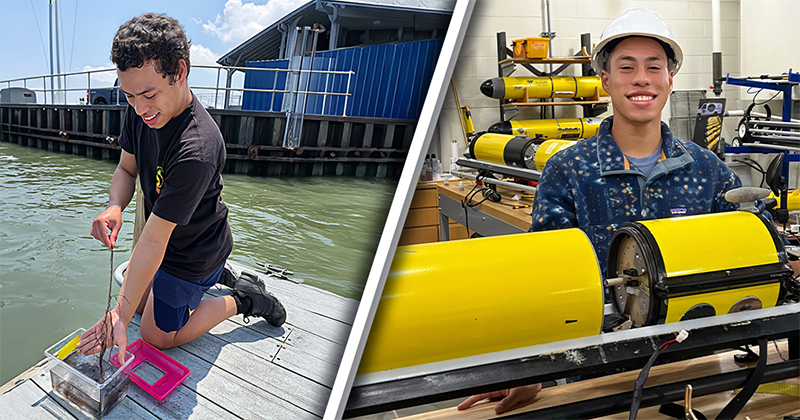 Twin scientists
Article by Risha Inaganti Photos courtesy of Jordan and Jason Rosales November 06, 2023
Twin brothers spend the summer together as part of UD's Research Experience for Undergraduates program
Growing up in Long Island, New York, meant that twin brothers Jordan and Jason Rosales spent their childhood by the ocean. Since a young age, they have been infatuated with the water, leading to constant trips to aquariums, beaches and museums.
Their childhood passion grew in high school as they participated in the Science and Technology Entry Program (STEP) at Stony Brook University. Through STEP, they took geology and marine science classes, which solidified their career goals and pointed them toward their future universities.
"While we did like the same field, we decided to separate and go to different schools based upon our interest and how they fit us," Jason Rosales said.
Jordan Rosales, an honors student and senior in the University of Delaware's College of Earth, Ocean and Environment (CEOE), found that he preferred the geology class, leading him to major in geological sciences with a minor in marine science. Jason, a senior at Nova Southeastern University in Florida, fell in love with marine sciences, which led to his major in marine biology and minor in pre-health, marine ecology and ArcGIS.
This past summer, their college education paths crossed, as Jason participated in the Research Experience for Undergraduates (REU) program at UD.
"When looking through all the locations, I noticed Delaware listed as an option," Jason recalled. "Jordan always talked about how great the marine science program there is, and I thought it seemed like a perfect fit."
Throughout the summer, Jason worked with Jennifer Biddle, professor in the School of Marine Science and Policy, and graduate student Malique Bowen on the University's Hugh R. Sharp Campus in Lewes. While there, he worked on novel research, collecting skeleton shrimp found on docks in order to identify their species and list types in the area. He was able to identify invasive types and got to dissect them to investigate the sulfur found within.
"Looking at all the diversity of microbiota was so cool," Jason said. "It really helped me understand how much is truly out there."
Jason's research experience this summer was similar to what Jordan has experienced over the past three years, as he has had a plethora of hands-on research experiences at UD.
Through the Department of Earth Sciences, Jordan made two trips to the western United States to visit national parks and explore the differing landscapes. Additionally, Jordan had the opportunity to go on a research vessel that departed from Lewes campus through a program called STEMSEAS.
"The great thing about CEOE is that there are always opportunities to participate in different career-advancing experiences," Jordan said.
In the future, Jordan hopes to go to graduate school at the University of Rhode Island for oceanography, where he can become an oceanographer for the National Oceanic and Atmospheric Administration (NOAA) or a similar private company.
Jason aims to attend graduate school on the west coast, listing Washington University as his top choice for its microbiology program.
With their similar interests, they both expressed excitement about the opportunity to work together in the future.
"I imagine us working at the same job and interacting," Jason said. "Maybe 10 years down the line, we can work on a research paper together or present together at a conference."