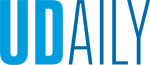 Video about virtual reality simulation for nursing education program.: youtube.com/watch?v=anhcuGC0kTw
Next-level nursing
Article by Amy Cherry Photo and video by Ashley Barnas February 21, 2023
UD School of Nursing adds immersive virtual reality to simulation offerings
Luke Stuchlik wanders around a non-descript room inside the University of Delaware's McDowell Hall wearing an Oculus headset. His movements to a lay person look a bit aimless, but they're quite deliberate.
He extends his hand to touch a patient, pulls a trigger on a controller to pick up a stethoscope, and as he listens to the patient's chest, the controller provides a rhythmic beat so he can determine the patient's heart rate.
The senior honors nursing major has been transported into a hospital, where he's immersed in a virtual reality (VR) scenario in which he has several patients to care for, and a virtual tech aims to help him with a variety of tasks. This virtual reality offering, or game, called "Prioritization," developed by SimX initially for the University of Nebraska Medical Center and purchased by UD, tests delegation skills and is the latest addition to the School of Nursing's innovative simulation offerings.
Kathy Schell, associate professor of nursing, is leading the charge to pilot the virtual reality simulation experience for honors nursing students in her Leadership in Professional Nursing Practice class.
"Honors nursing students should have more challenging learning environments, and delegation is important for seniors to learn before they embark on their preceptorship, where it becomes a critical skill set," Schell said.
Students don't often get an opportunity to practice delegation in clinicals.
"They're usually assigned one or two patients, and they don't have a lot of autonomy. It's a missing skill, and when they get to clinicals, determining priorities can be a challenge," Schell said. "Furthermore, once they graduate, are licensed and transition to practice, they are responsible for delegating tasks to nurse techs and other colleagues in order to accomplish the many facets of patient care."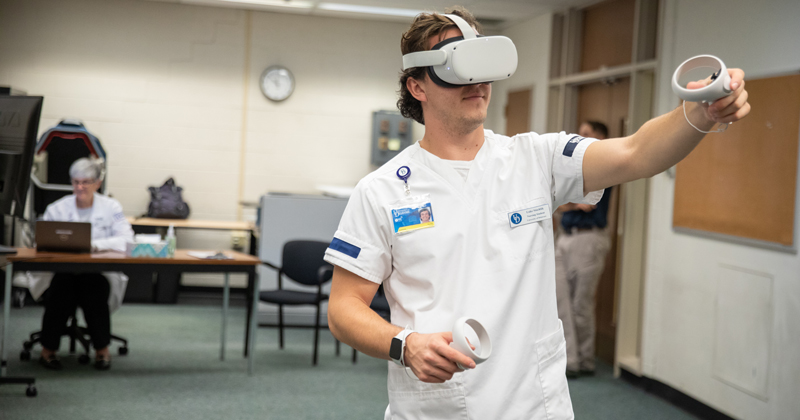 In this game, Stuchlik must tend to four patients. Pam is an 83-year-old woman, who's been hospitalized for three days for knee surgery and must have a knee drain removed. Charlie is a 70-year-old man, who's been hospitalized for five days, with COPD and possible pneumonia. Tina is a 25-year-old woman admitted four days ago with new onset hyperglycemia while Bob is a 45-year-old man with a history of obesity, diabetes and hypertension, who recently had a colon resection. A virtual tech hangs out in the hallways and occasionally chimes in: "How can I help? Or "Do you want me to get that for you?"
When Stuchlik put on the Oculus headset for the first time, the first word out of his mouth was: "Whoa." In a debrief after the game, Stuchlik described the experience as a bit of "sensory overload."
"I thought it'd be a lot more basic than it was, and I was impressed with how complex the situation was," he said. "But it's tough on the eyes a little bit, and with four different rooms, trying to move around in the space that I was in, I found myself getting close to walls at points." 
He and Schell discussed what he did well and what areas needed more work.
"I tried to walk into each room and say 'hi' and introduce myself and ask the patient how they're feeling, as if they were a real person, but it was a bit different because of the canned responses you get; there's no body language or facial expression," Stuchlik said. 
At one point, Charlie was experiencing shortness of breath, and Stuchlik didn't raise the head of the bed. Instead, he ordered oxygen. 
"Raising the head of the bed is the first thing you can do without a doctor's order," Schell said. "I think in real life, he would know to do that, but he was in this new environment. Depending on where you work, you need a provider order to provide oxygen; he had none ordered."
Schell complimented Stuchlik on tending to Pam when her bed alarm went off, but noted he could have delegated that task to his tech.  
"If I had a second chance, I'd definitely talk to my tech first. I was trying to do it all myself," Stuchlik said.
Stuchlik currently works as a tech inside the emergency room at Christiana Hospital, where he's had little experience in delegation. 
"People delegate to me right now," he said. "The simulation was one of the first times that I was passing responsibility that I normally do to someone else."  
Senior honors nursing major Maria Frascone isn't a gamer but picked up on the tech with ease. She said the game accomplished its goal of teaching about delegation.
"It was hard to orient and remember the tasks and what my assistant could help me with, so I didn't necessarily delegate all that I could," Frascone said. "But to get through a 12-hour shift, you need to be able to delegate. I think a lot of new nurses are scared to delegate, so it helped me realize the importance of that task."  
Schell, who's been a classroom and clinical educator with the School of Nursing (SON) for decades, never imagined she'd be teaching using virtual reality.
"I've never touched a video game, and I'm not a simulation educator, but I try to keep myself open to new ideas when I educate," Schell said. "Thirty years ago, we didn't even know what VR was. Even 10 years ago, it was a sci-fi concept. Simulation has gone from a static mannequin to a full-blown virtual reality scenario."  
Heiddy DiGregorio, director of simulation and interprofessional education, brought the VR simulation experience to the School of Nursing's Center for Simulation Innovation, Interdisciplinary Education and Entrepreneurship after using the tech at a conference. She teamed up with the Department of Physical Therapy (PT) to apply for a College of Health Sciences equipment grant to obtain funding to implement the simulation. 
"After obtaining our international accreditation from the Society for Simulation in Healthcare, we had to describe our program, and we call ourselves 'multi-modal,' because we use various learning and teaching strategies," DiGregorio said. "VR is just another strategy we can add to that list and serves as a nice complement to what we already do in our simulation program." 
B.J. Janney, a simulation operations manager, said technology in this arena is evolving rapidly with mannequins and wearable tech enhancing learning. 
"VR can't replace physical hands-on skills just yet, but the act of doing something with your hands, walking somewhere and introducing yourself all in a real scenario are beneficial components as we look at all avenues to create realistic learning experiences," Janney said. 
Virtual reality simulation promotes critical thinking and leads to better clinical decision-making, DiGregorio said.
"Nurses will never work in silos apart from others, so learning what they can and can't delegate really helps them refine what they know about their own role and the role of others in healthcare; it helps them see that it's broader than what they think, and they can affect patient outcomes based on what they're able to delegate," she said. 
UD SON's simulation offerings are so advanced, the school recently received permanent permission from the Delaware Board of Nursing to count one hour of high-fidelity simulation as two hours of experiential clinical experiences. UD SON is one of just six schools nationally — and the only school of nursing in the state of Delaware — to receive this designation. 
"This historic approval is a testament to the tremendous work done by our simulation faculty and staff who continue to demonstrate the rigor and excellence they provide the nursing students here at UD," said Elizabeth Speakman, senior associate dean of SON. 
UD SON was also one of 16 higher education programs, teaching programs and clinical sites, to be named a Center of Excellence in Nursing Education by the National League of Nursing.
"As a Center of Excellence, the faculty and staff in the School of Nursing work so hard each and every day to offer high-quality curriculum that uses 'real world' learning," Speakman said. "Engaging in virtual reality learning is such a wonderful example of this type of learning." 
Feedback from students thus far has shown the VR experience to be rewarding. 
"Some students thought it was perfect and wouldn't change a thing," DiGregorio said. "Others wanted it to be less complex. They said taking care of four patients was a bit too much, and while that's challenging, they're going to be doing that after they graduate. They may not realize the full value of the simulation until after they graduate." 
DiGregorio is working with PT to design a collaborative game on wound care in an outpatient setting that they aim to jointly launch next fall. 
"Our goal is to develop this game exclusively for UD," she said. "We will own the game, and we could allow other people to buy it on a marketplace and use it." 
While VR simulation continues under a pilot program, DiGregorio ultimately wants to see it expanded to all nursing students.  
"Our seniors, perhaps, they take a leadership course," DiGregorio said. "Sophomores and juniors have a lot of skills-based courses, so they could have a game that tests their competency of certain skills like their sterile technique. For freshmen, I could see a very simple game that exposes them to what nursing education is all about and the role of the nurse before they move on to more technical aspects." 
Schell also sees practical implications for VR in other didactic courses.
"In psychiatry/mental health, it would be excellent for patient counseling," she said. "VR would also be useful to demonstrate code blues — that's something students won't see commonly."  
Stuchlik said he is confident that his UD nursing education, including innovative simulation and in-depth clinical experiences, has prepared him to enter the workforce as a pediatric nurse. 
"We get a lot of clinical experience, but more experience is always better, and VR is one way to do that," Stuchlik said. "There's a lot of promise for VR. I expected some mishaps, and they happened, but it was a good first experience with serious potential for the future."