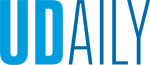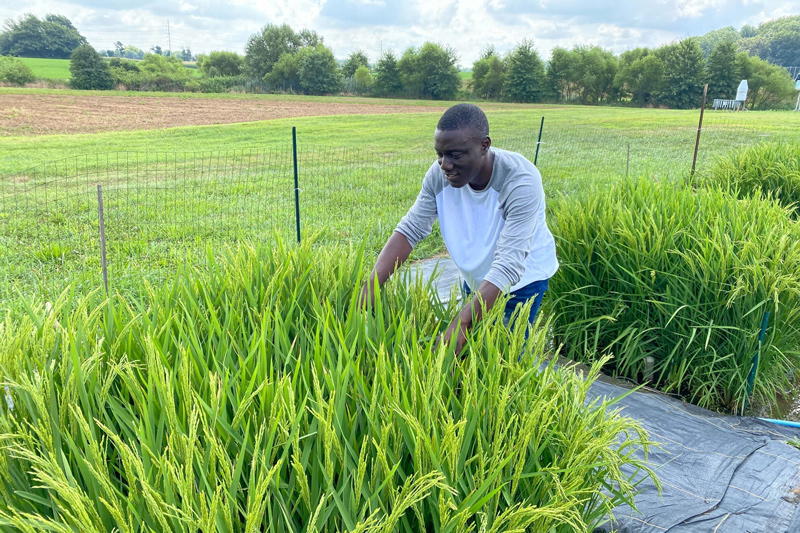 Soil science scholar
Article by Kate Zincone Photos by Monica Moriak, Darshaye Robinson and courtesy of Samuel Bamidele August 23, 2023
Nigeria's Samuel Bamidele makes his mark on soil science research and in support of fellow graduate students
When graduate student Samuel Oluwapamilerin Bamidele came to the University of Delaware and its College of Agriculture and Natural Resources (CANR) from Ibadan, Oyo State, Nigeria, he arrived well-versed in soil science and, more importantly, in leadership.
Having held several leadership roles as an undergraduate at Federal University of Agriculture, Abeokuta in Ogun State, Nigeria, Bamidele quickly immersed himself in UD's campus. He admitted that the transition from Nigeria to the United States was a challenge. Despite the difficulties he faced while adjusting to a new culture, Bamidele took graduate school by the reins, leaning on his experiences from home.
"Graduate school is not about just applying, it's about experience and what you've learned," said Bamidele, a student in the UD plant and soil sciences graduate program. "What I've learned so far from my college and my family has actually helped me currently in graduate school."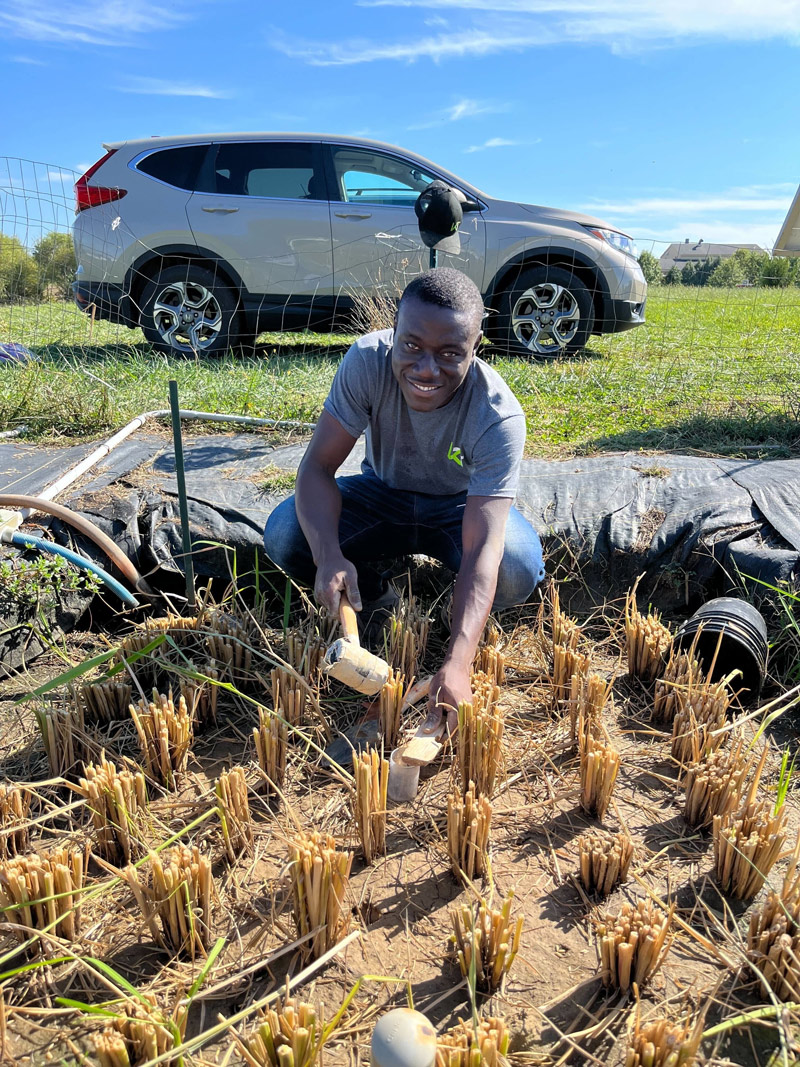 Bamidele originally had agricultural engineering in his higher education plans. After studying soil science and land management during his first year of college, Bamidele took a liking to the disciplines. But it wasn't until he completed his first internship and began a cucumber plantation with his friends after graduation that he became invested. 
"We started selling cucumber to people, planting our cucumber, harvesting it ourselves, and I was enjoying it," Bamidele said. 
From there, he worked in construction as a soil expert for nearly four years until deciding to attend graduate school. Amidst his search for the right university, Bamidele connected with Angelia Seyfferth, a professor of biogeochemistry and plant-Soil interactions. Seyfferth, who is also the associate dean of research in the CANR, encouraged him to apply. The faculty, staff and fellow graduate students that Bamidele met along the way helped ease his transition. He works closely with Seyfferth, who serves as his graduate supervisor.
"Samuel is hard-working and enthusiastic about soil science," Seyfferth said. "I have no doubt that he will have a promising career."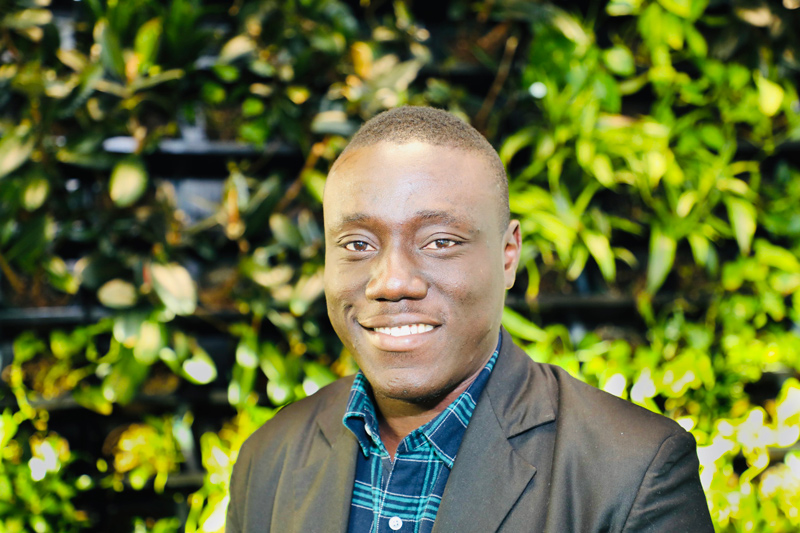 Research is a large part of Bamidele's graduate portfolio. He is studying rice paddy fields, specifically the impact of water and rice residue management on soil health. Bamidele works out of UD's Rice Investigation, Communication and Education (RICE) Facility, which houses 30 two-by-two meter rice paddy mesocosms (experimental water enclosures). Given the global importance of rice as a crop, rice agroecosystems play a significant role in providing a staple food source.
"There is a need to know the effect of water and rice paddy management on soil health and the environment," Bamidele said. "Properly managing several biological, physical and chemical indicators within rice paddy soil is critical for maintaining rice soil health."
During this ongoing research, Bamidele observes different water and rice residue treatments. He is currently processing the results. 
This period of Bamidele's academic career provided a formative influence on his future goals. In addition to becoming an environmental professional and researcher, Bamidele seeks connections with people of different backgrounds. Both academically and emotionally, he hopes to serve as a resource for struggling graduate students.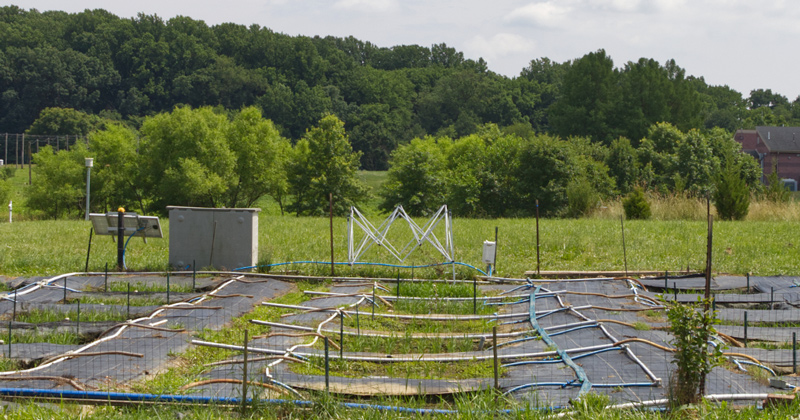 This selfless aspiration was one of the many aspects of Bamidele's application to become a member of the 2023 Encompass Fellows Program that stood out from other candidates. Joining nine other fellows, Bamidele joins a cohort of other graduate students and post-doctoral researchers in this one-year, immersive program. 
"I'm excited about winning the scholarship," Bamidele said. "I'll meet with senators in Delaware, in Virginia, in Maryland, and eventually I'll go to Congress." 
Along with a wide network of congressional connections, Bamidele receives a year-long mentor, access to professional development, and an additional year of membership to the American Society of Agronomy, Crop Science Society of America and Soil Science Society of America, along with the opportunity to present his research at their 2023 International Annual Meeting in St. Louis this October.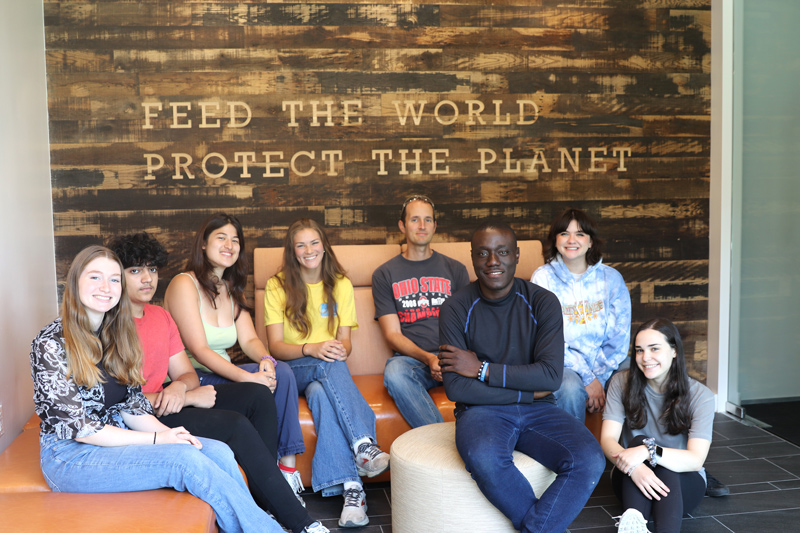 "I'm happy because as an international student coming from a low-income background, meeting people like that will actually help me and give me the opportunity to explore more in the United States," Bamidele said.
Bamidele credits this accomplishment to his several leadership experiences. He is an active member of Minorities in Agriculture, Natural Resources and Related Sciences (MANRRS), UD's Plant and Soil Science Justice, Diversity, Equity and Inclusion (JEDI) committee, a certified recovery ally at UD's Wellbeing Center and a member of Lions Club International. Bamidele immerses himself in organizations rooted in diversity and inclusion. He continues to be a resource for soil scientists to come.
"In this kind of program, you meet farmers, you meet people of different backgrounds, so I can connect like-minds together," Bamidele said. "That's my future career — to bring people together."