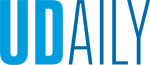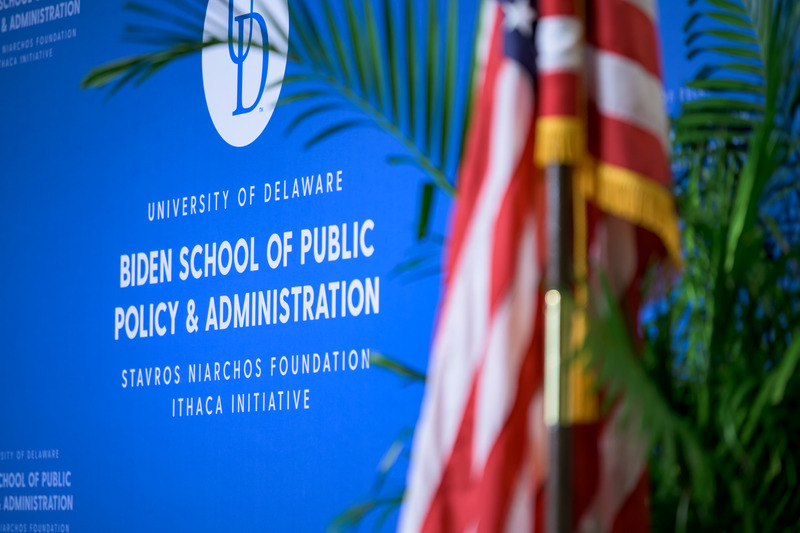 Journey to advance democracy continues
Article by Sebastian S. Jannelli Photo by Evan Krape April 27, 2023
Stavros Niarchos Foundation (SNF) awards UD Biden School multimillion-dollar grant to expand SNF Ithaca Initiative
When the University of Delaware's Joseph R. Biden, Jr. School of Public Policy and Administration launched a pilot program in civil discourse and civic engagement in fall 2021, American democracy was facing a pivotal moment.
The program — made possible by a generous grant from the Stavros Niarchos Foundation (SNF) — began at a time when national civil discourse was rapidly deteriorating across the United States amid political violence, rampant conspiracy theories and deep polarization. The imperative to equip the next generation of leaders with the knowledge and skills to meaningfully participate in democracy and engage across partisan divides never seemed greater; so the Biden School SNF Ithaca Initiative set out on a journey to do just that.
Today, that journey continues with the help of a new $3 million grant from SNF, allowing UD's Biden School to significantly expand program offerings for students in fall 2023, building on the SNF Ithaca Initiative's unique combination of academic coursework and experiential learning. New programming at the Biden School will be designed to cultivate an informed understanding of democratic principles and instill in students an appreciation of the roles that civil discourse and civic engagement play in functioning democratic systems and societal progress.
"Education is the foundation of democracy, advancing ideas and fueling progress through constructive dialogue and debate," said UD President Dennis Assanis. "Thanks to the generous support of the Stavros Niarchos Foundation, the University of Delaware is able to more effectively carry out its mission. The Biden School is equipped to be a driving force for innovative and equitable solutions to the world's great challenges, relying on civic virtues and democratic values as the cornerstones of positive change."
Supporting the University's historic fundraising and engagement initiative, Delaware First: The Campaign for the University of Delaware, which is designed to fuel growth, innovation and discovery at UD, the new grant will include:
Funding for a new SNF Ithaca Professor of Public Policy in the Biden School
A multidisciplinary cohort of SNF Ithaca Affiliated Faculty
Development of an SNF Ithaca Certificate in Democratic Citizenship
A new pillar of the SNF Ithaca Initiative focused on the role of media in democracy
"Supporting young people in cultivating the values and habits of active, informed citizenship is essential, but it's just the beginning," said SNF Co-President Andreas Dracopoulos. "Our democracies need generations of citizens who, in addition to practicing these values in their own lives, can instill them in their communities too, fostering civil discourse and catalyzing civic engagement. We are proud to partner with the University of Delaware's Biden School in empowering students on this journey."
With SNF's support, Timothy J. Shaffer will officially take the helm of the program as the inaugural director of the SNF Ithaca Initiative. Shaffer currently serves as the SNF Chair of Civil Discourse in the Biden School. As SNF Ithaca Director, Shaffer will be responsible for developing and guiding the delivery of SNF Ithaca's curricular and co-curricular programs.
"At the Biden School, we seek to bring light to heated debate, to transfer progressive learning into practice and, ultimately, to empower our students to make the world a better place," said Biden School Dean Amy Ellen Schwartz. "Because of SNF Ithaca, a keen understanding of democratic principles like civil discourse and civic engagement is fast becoming a hallmark of a UD education. I am confident that Dr. Shaffer will help lead this next phase of the initiative to new heights."
The grant will also extend existing components of the SNF Ithaca Initiative, including: the SNF Ithaca Student Leaders program, the SNF Ithaca Graduate Fellowship, the SNF Ithaca National Student Dialogue, the SNF Ithaca National Leadership Summit, the Biden School Civility in Public Service Award and the SNF Ithaca Fellows program, which includes Van Jones, Christiane Amanpour, Brian Stelter, State Sen. Sarah McBride and former US Rep. Adam Kinzinger, among others.
"The SNF Ithaca Student Leaders program, in particular, demonstrates what's possible when young people have opportunities for learning grounded in genuine interest and a desire for change," said Shaffer. "During my time with SNF Ithaca, I have seen students mature in their understanding of what it means to be a citizen and how we address some of our biggest challenges by engaging meaningfully and constructively. These young people give me so much hope for the future of democracy. As SNF Ithaca Director, I look forward to helping provide more students with opportunities to strengthen and contribute to democracy through the SNF Ithaca Initiative."
Additionally, support for the "All Politics is Personal" video series produced by the SNF Ithaca Initiative has been renewed. Hosted by Valerie Biden Owens, chair of the UD Biden Institute, the show is inspired by President Joe Biden's often repeated adage that "all politics is personal." Its goal is to introduce students to the person behind the politician, driving home the point that we can find commonality, humanity and civility even with people whom we disagree with politically.
"My brother often says, 'America can be defined in one word: Possibilities.' Over the past two years, I have watched the Biden School's SNF Ithaca Initiative open a whole new world of possibilities for our students," said Biden Owens. "They are developing skills to more effectively engage in dialogue across differences – how to agree and respectfully disagree, how to find common ground. That's what we need right now. Our democracy is at an inflection point, and its future is not guaranteed. That's why I believe the mission of SNF Ithaca is both urgent and vital to our national interest. I am grateful for the unparalleled vision and generosity of SNF's Andreas Dracopoulos, and for his partnership on this important journey."
For more information about the Biden School's SNF Ithaca Initiative, please visit bidenschool.udel.edu/snfithaca.
SNF Ithaca Initiative at UD: youtube.com/watch?v=lR44fgT6h5Y
About the UD Biden School
Established in 1961 and named in 2018 for the University of Delaware's most distinguished alumnus, the 46th president of the United States, the Joseph R. Biden, Jr. School of Public Policy and Administration prepares students with the knowledge and skills necessary to engage in research and public service activities to improve the quality of life in communities around the world. The Biden School's faculty, staff, students and alumni create and use interdisciplinary, nonpartisan research and empirically based analysis to inform effective decision-making and policy and to improve leadership and administration. The Biden School partners with organizations from all sectors to discover innovative and equitable solutions to the critical challenges of our time.
About the SNF Ithaca Initiative
In the fall of 2021, the Biden School launched a new civil discourse and civic engagement pilot program supported by the Stavros Niarchos Foundation (SNF). Called the SNF Ithaca Initiative, the program is named after the home of Odysseus — one of Greek mythology's greatest leaders, whose talent for persuasive discourse was revered in ancient Greece. For Odysseus, Ithaca represents not only the beginning of a journey but the ultimate destination. Likewise, the SNF Ithaca Initiative serves both as the beginning of our students' journey toward becoming effective citizens and as the ultimate destination for students from across the country to come together and develop the civil civic engagement skills that will strengthen our democracy.
About the Stavros Niarchos Foundation (SNF)
The Stavros Niarchos Foundation (SNF) is one of the world's leading private, international philanthropic organizations, making grants to nonprofit organizations in the areas of arts and culture, education, health and sports, and social welfare. SNF funds organizations and projects worldwide that aim to achieve a broad, lasting, and positive impact for society at large, and exhibit strong leadership and sound management. SNF also supports projects that facilitate the formation of public-private partnerships as an effective means for serving the public welfare. Since 1996, the Foundation has committed more than $3.5 billion through over 5,200 grants to nonprofit organizations in more than 130 countries around the world.
About the Campaign
Delaware First: The Campaign for the University of Delaware was publicly launched on Nov. 10, 2017. The comprehensive engagement and fundraising campaign unites Blue Hens across the nation to accelerate UD's mission of cultivating tomorrow's leaders, creating solutions to grand challenges, inspiring innovations and transforming lives. The united effort will help create an extraordinary student experience at UD and extend its impact on the region and the world. Building on the record-breaking support and generosity evidenced by the campaign, on Oct. 7, 2021, the University announced the extension of Delaware First with a $1 billion goal to further fuel change and innovation for students, faculty, campus and the world. For more information, call 302-831-2104 or email campaign-info@udel.edu.