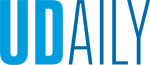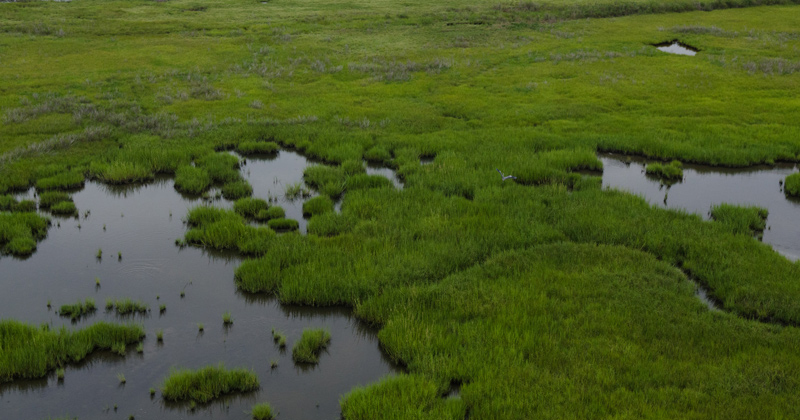 Working with nature
Article by Karen B. Roberts Photo courtesy of Danielle Quigley November 22, 2022
UD researchers explore ways to protect coastal shorelines — naturally
An estuary is a partially enclosed body of water, often containing wetlands and marshes, where salt water from the ocean and fresh water from rivers and streams meet and mix. Somewhat of an in-between area, estuaries serve a vital role for the surrounding ecosystem, while offering natural recreation space for communities.
The Delaware Estuary runs from Trenton, New Jersey and Morrisville, Pennsylvania to Cape Henlopen, Delaware and Cape May, New Jersey on opposite sides of the Delaware Bay. It is home to the Atlantic migratory flyway, critical animal habitat and tidal wetlands. Coastal wetlands in estuaries help reduce pollution. They provide habitat and storm and flood protection, too.
Unfortunately, the Delaware Estuary is losing about an acre per day of tidal wetlands, a problem that could worsen as sea level rise accelerates and land development intensifies along coastlines, causing what's known as "coastal squeeze." Modeling estimates suggest that as little as three feet of sea level rise could cause the loss of over 42,500 acres of tidal wetlands by 2100. That's more than 25% of the total wetlands in the Delaware Estuary.
Armed with nearly $10 million in funding from the Department of Defense, University of Delaware coastal engineer Jack Puleo and University of Florida landscape architect Jules Bruck are leading an interdisciplinary team of experts to look at this problem from both the landward and the seaward sides, in hopes of developing methods to overcome this challenge. In particular, the four-year project will examine how living shoreline systems, such as oyster or mussel reefs, can help communities adapt to and maybe even restore some of this damage.
"Sea level rise places coastal communities and areas farther inland at risk for flooding and other effects," said Puleo, professor and chair, civil and environmental engineering at UD. "We want to keep these coastal communities viable and resilient for current and future generations. We're trying to understand how to protect coastal communities in ways that are harmonious with nature."
The project will be managed by the Delaware Environmental Institute at UD. In addition to Bruck, director of the School of Landscape Architecture and Planning and chair of landscape architecture at University of Florida, collaborators from UD include: Monique Head, associate professor and associate chair, civil and environmental engineering; Ed Hale, assistant professor of marine science and policy and marine advisory specialist with Delaware Sea Grant; Eric Bardenhagen, associate professor of landscape architecture; and Yao Hu, assistant professor of geography and spatial sciences. Other partners include Danielle Kreeger, an ecologist, Joshua Moody, restoration manager, and Kurt Cheng, shellfish programs manager, from the Partnership for the Delaware Estuary, and Chris Overcash, senior engineer, and others at EA Engineering, Science and Technology, Inc., an environmental consulting firm.
A problem that isn't going away
Approximately 40% of the population in the United States and globally lives in a coastal environment. This doesn't mean people are living right on the sand or directly on the marsh, but they reside within a coastal region. And the numbers are growing.
"When you consider that a large portion of the global population lives near a coast, you better figure out the special processes that are happening there and how to protect those communities," said Puleo. "It's not just vacation homes. There are all kinds of critical infrastructure, businesses, schools, real estate, military installations."
For example, a recent report by Delaware Sea Grant and the Partnership for the Delaware Estuary revealed that Delaware's Inland Bays support $4.5 billion in economic activity annually, including over 35,000 jobs statewide.
Researchers and students involved in the project will conduct fieldwork at several sites in the Inland Bays, the Delaware Bay and the Chesapeake Bay to determine where living shorelines make sense and to offer guidance for how they can be optimally designed. This includes sites near Dover Air Force Base, the Coast Guard Base near Lewes, and Aberdeen Proving Ground in Aberdeen, Maryland, which is situated along the northern part of the Chesapeake Bay,
The hope is to detail approaches for natural coastal protection systems that can be readily used by contractors, consulting companies and state agencies in Delaware or elsewhere. Part of the work will involve assessing and offering solutions for areas with military installations, which tend to be situated along the coast and are inextricably linked to the surrounding community and regional economy.
"You can't just pick the base up and move it, so how do we work with nature to try to protect shorelines in these communities," Puleo said. "We want to understand the processes and, as one approach, ways we can mitigate this rising water level." Existing data from UD-led research already underway to understand soil impacts from climate change at several established Delaware research sites may inform the work.
"We will perform preliminary investigations to collect water-level data, wave data, as well as gather data on suitability for mussel or oyster habitat," Puleo said. "We already have started developing quantification rubrics to identify which sites make the most sense."
Working with the Army Corps of Engineers, the team ultimately plans to deploy two installations and perform detailed modeling and data collection to understand how proposed living solutions behave in the real world. For example, while an oyster reef situated in a marsh or tidal wetland might successfully slow down erosion resulting from fast-moving currents due to storm events or boat wake, another location might be more suitable for mussels or oysters in combination with grasses and sediments, or something else entirely.
Puleo isn't a landscape architect. He's not an ecologist either. But he does understand the physics of how water moves and how momentum is transferred. Some of the work will include installing a natural solution in a marsh and then watching it and nearby unprotected areas over time, to determine whether the mechanism offers the desired protection.
"For us, a big one is whether we can dissipate the wave energy that can lead to erosion and/or flooding more naturally," he said. "If we're able to decrease that energy, it's less energy available to cause erosion at a marsh."
In addition to mitigating rising water levels, other issues under consideration include methods to improve the larval recruitment of potential shellfish species, such as mussels, and understanding how coastal communities adapt, respond or have interest in some of these approaches. The project also will address infrastructure and land-use patterns that might threaten these natural ecosystems.