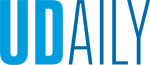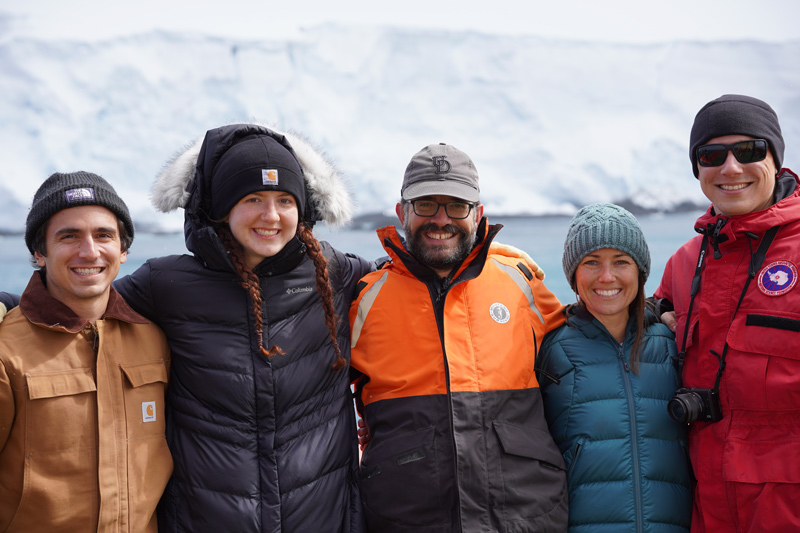 At sea in Antarctica
Article by Adam Thomas Photos courtesy of Joe Gradone, Carlos Moffat, Michael Cappola June 16, 2022
Two University of Delaware undergraduates helped with polar research
The climate in the West Antarctica Peninsula is changing faster than in any other region in the entire southern hemisphere. Because of this, it is important to conduct annual research on environmental and ecological questions that require years of data and cover large geographical areas.
Since 1990, the National Science Foundation (NSF) has had a Long-Term Ecological Research (LTER) program set up at Palmer Station in Antarctica to study everything from sea ice habitats to the terrestrial nesting sites of seabird predators. While this mission of continued, long-term research is typically undertaken by professors or graduate level students, two University of Delaware undergraduates got the rare opportunity to travel to Antarctica on a scientific cruise, spending five weeks at sea from Nov. 15 to Dec. 22, 2021.
Michael Cappola and Rachel Davitt are both juniors in UD's College of Earth, Ocean and Environment, and while both worked on the same cruise, the ways they ended up on board and the topics they studied varied.
Cappola traveled to Antarctica to study physical oceanography with Carlos Moffat, assistant professor in the School of Marine Science and Policy. Cappola assisted Moffat in building three moorings that were later deployed by another ship, and he also assisted with water sampling operations, ocean profile analysis, and bathymetric sonar profiling. His work contributed to both the Phytoplankton and Optics group led by Oscar Schofield from Rutgers University and Jesse Turner from the University of Connecticut, as well as the Physical Oceanography group that Moffat leads at UD.
Davitt, a marine science major with a concentration in marine biology, assessed phytoplankton dynamics and the phytoplankton community in the West Antarctic Peninsula as part of the Biochemistry group led by Benjamin Van Mooy and Shavonna Bent from the Woods Hole Oceanographic Institution.
Moffat said that both Cappola and Davitt contributed greatly to the successful efforts to collect data and conduct experiments along the West Antarctic Peninsula continental shelf.
"Both Rachel and Michael worked tirelessly — 12 hour shifts throughout the cruise — while we sampled about 800 km of the Antarctic coastline, and helped to collect water samples, run experiments, and analyze data," said Moffat. "Given that the cruise was conducted while the semester at UD was still ongoing, they did all this while successfully finishing up all their coursework while in the field. Rachel and Michael are great examples of the inquisitive, enthusiastic, and smart students that we need doing Antarctic research."
Having served in the Navy for eight years as a submarine sonar technician prior to arriving at UD, Cappola said it was during his time in the Navy when he fell in love with processing oceanographic data.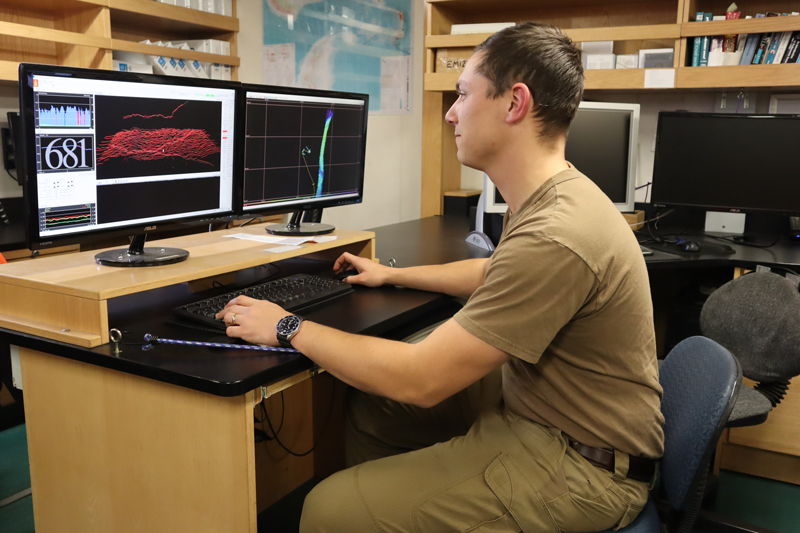 While his training was mostly on how to work on computers and interpret sonar data, Cappola said that to better understand his work, he needed to understand the physical oceanography behind the sonar.
"I ended up finding myself reading oceanography textbooks to get better at my job as a sonar technician, and I ended up enjoying the physical oceanography aspect even more than the sonar," said Cappola. "I think the idea of trying to understand how the entire globe works is fascinating, and I'm interested in all of the big systems on the earth, atmosphere and in the ocean."
When looking for a school to study physical oceanography, UD stood out because of its extensive at sea operations. While he knew that he was going to conduct research at sea at some point in his collegiate career, Cappola was pleasantly surprised that the opportunity came so quickly.
"I got really lucky. If I wasn't at UD and I wasn't working with Dr. Moffat, this trip wouldn't have happened," said Cappola. "It was great to get integrated with that community so early on in my career."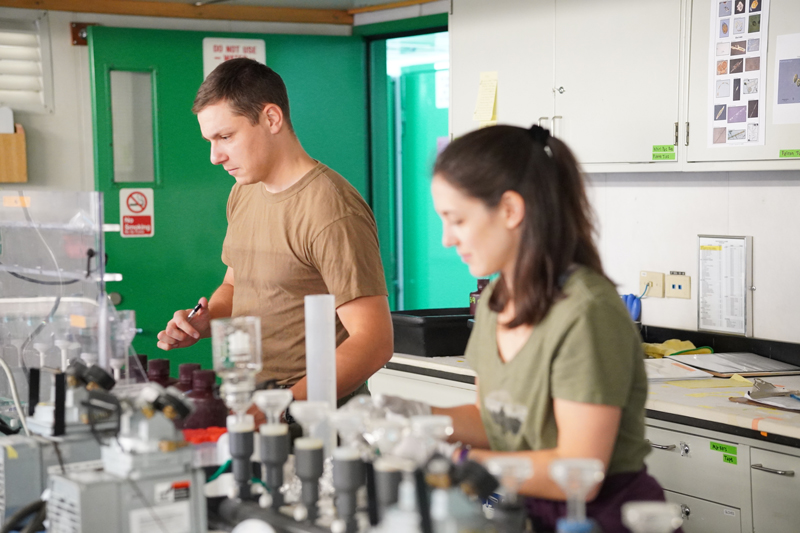 Cappola and Moffat did two bathymetric surveys with a multibeam sonar, and Cappola got to process all of that data. Those regions had never had a high-resolution survey, so they were able to see the ocean bottom for the first time in high resolution.
"My previous experience as a submarine sonar technician turned out to be pretty useful," said Cappola. "Those surveys were recently used by another ship to deploy two moorings on our behalf."
In addition, Cappola was able to assist other labs with their research, which enabled him to gain invaluable hand-on experience and make new connections.
For Davitt, her opportunity came about as a result of some of the research she conducted last summer during a Research Experience for Undergraduates (REU) program at Rutgers. While there, Davitt studied the effect of silicon limitation on host virus dynamics in diatoms — a photosynthetic, single-celled organism. Her mentor over the summer, Kim Thamatrakoln, an assistant research professor at Rutgers, needed a position filled on the cruise. When other students in her lab said they were busy, she asked Davitt.
Once she got the approval of her marine science professors to take her fall classes online, Davitt headed for Antarctica where she studied phytoplankton dynamics by filtering water collected at different depths by Conductivity, Temperature and Depth (CTD) data loggers. Davitt noted that they had different stations set up for particulate organic carbon, lipids, RNA, and carbohydrates. In addition, they collected phytoplankton particles from the filters and deep froze those to be used for future analysis.
Davitt also conducted flow cytometry, a method of sorting particles based on their size and their fluorescence.
"Basically, we use flow cytometry to see A) what is fluorescing and B) what is the actual size of these phytoplankton to sort them further into different categories like nano-phytoplantkon, mini-phytoplankton, and things like that," said Davitt. "Over the summer, I had experience with flow cytometry so I was kind of put in charge of that aspect, which was fun."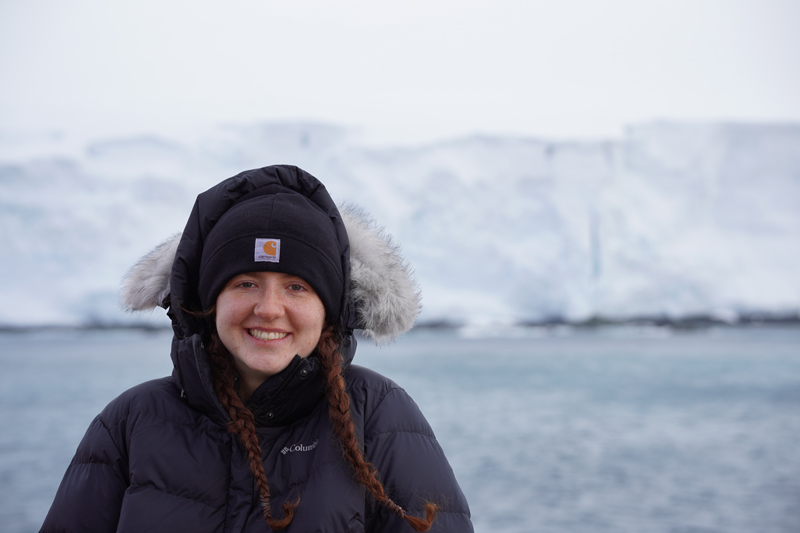 Davitt said that being on a research vessel for five weeks out in the field around teams of other researchers and experts opened her eyes to what goes on in all of these different subjects of marine science.
They also weren't the only Blue Hens on the trip. In addition to Moffat, Cappola and Davitt, UD alums Joe Gradone, a doctoral student at Rutgers who received his masters from UD in 2018, and Megan Cimino, an assistant research and adjunct professor at the University of California, Santa Cruz who received her doctorate in oceanography from UD in 2016, were also conducting research as part of the LTER program.
Both Cappola and Davitt said that they were glad that they got the opportunity to conduct hands-on research, especially in such an important area.
"Antarctica is warming at a rate that is five times faster than the rest of the world," said Davitt. "For the people who have gone on the LTER cruise before, they see these changes happen every year that they go back, which shows the importance of the LTER program, to track these long-term changes in places that are experiencing warming this fast. I think the premise of the project is important, and more awareness needs to be raised about it."