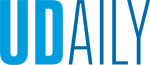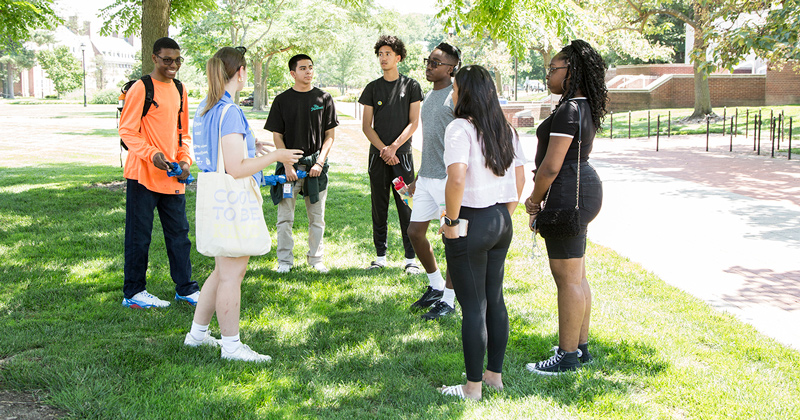 Business discovery camp
Article by Ira Porter Photo by Maria Errico August 11, 2022
Lerner faculty and staff host area high school students
Students from high schools in New Castle County took their first step toward college this summer. Although they are only sophomores and juniors and still have time to decide where they want to apply, the group got an intimate look at the University of Delaware and the Alfred Lerner College of Business and Economics in July.
Lerner faculty and staff were happy to oblige during the college's first Summer Business Discovery Camp. The hope for the camp is to lay the groundwork for UD and Lerner College to attract Delaware's best and brightest.
"This was the one thing that I was waiting for to happen this year," said Anu Sivaraman, an assistant professor of marketing and the acting chair of the Lerner Diversity Council (LDC), which hosted the camp.
The week-long camp included seven students interested in learning more about business from high schools such as Howard High in Wilmington, Caravel Academy in Bear, Del Castle High School in New Castle and Wilmington Charter High School.
Some students from the camp came from underrepresented populations in Delaware. Some will be first generation college students if they decide to go. All ranged in age from 15 to 17. From 10 a.m. to 3 p.m. each day, students spent classroom time with students and professional staff in recruiting and advising, faculty going over lesson plans, and a rousing welcome and lunch with Lerner Dean Bruce Weber. The camp was free and transportation was provided for students by Lerner.
"The idea of the camp is to give students a tasting menu of business, a little bit of everything," Sivaraman said. "You get a feel for what you learn in a business course. You also get a feel for the campus, the college and the people."
She urged students to ask questions and not be afraid to speak up during class sessions.
"Think of this as a very personalized, a very customized introduction into the University," she said. "We've seen groups of students, around 10-15 or more with their parents on campus visits. This is much more personal and much more in depth."
Sivaraman oversaw the camp with Kathryn Berkow, assistant professor of management information systems, and Nicole O'Neal, the Lerner events coordinator.
Students got an introduction into topics from accounting to entrepreneurship, toured the Geltzeiler Trading Center and sat for a presentation about the popular and successful student organization, Blue Hen Investment Club. The campers worked with faculty to create personal LinkedIn pages and had their photos taken by a professional photographer.
Weber spoke to students about how much money Lerner graduates make upon completion of their degrees, famous Lerner and UD alumni making strides in the world, and his history with the university. He also gave them an example of how creative business minds solve problems, which is what students are taught in business school. He gave an example of the music industry and how it suffered drastic blows to revenue until streaming platforms were created.
"There are a number of different things we do for our students in college to get them exposed to business ideas," Weber said. "We're an important college, well-connected in the state, but we like to keep things on a personal level to get to know our students."
During the week campers toured the entire UD campus and visited residence halls to get a better glimpse into what college life is really like. Students were also tasked with creating a pitch for a new business product or service, on which they were judged at the camp's end. Lerner provided each student with gift bags loaded with UD swag and hosted daily luncheons at multiple campus area eateries such as UD Creamery and Grotto's Pizza.
"I feel like you can learn so much from this camp, even if it's the basics it's so much knowledge to have," said Siya Patel, a junior at Caravel Academy. She wants to study business as an undergraduate before going to law school to become a corporate attorney.
"Even if you don't know what you want to do, just having this basic information is a really big help, and the fact that they have different professors and people that are experts in their field come talk to us, that really helps," Patel said. "They are really good at describing what it's like in the real world."
Patel said she is adding UD to her list of schools to apply to based on her experience at camp, and because it is close to home.
Kenya Miller is a junior at Wilmington's Howard High School, who is already taking business courses, and will soon be certified in Excel. She learned about the camp from one of her business teachers in school and quickly applied.
"This was a really good experience," Miller said as she laughed and talked with other campers while walking across the Green on their way to visit a dormitory. "I'm quiet. I'm an introvert but I met some people and it's cool. And if you want to learn about business and you like business classes, you should come here."
Erami Botchway, also a student at Caravel, said that although he wants to leave Delaware for college, because he has been here his whole life, that he was adding UD to his possible schools. And if he does apply to UD, Lerner would be where he applied.
"I was thinking about doing something in business, like maybe entrepreneurship or accounting, but I also want to be a pilot," he said.