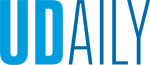 Blue Hen stars
Article by UDaily staff Photo illustration by Molly Chappell September 01, 2021
UD Magazine features stories of alumni excellence and expertise
The latest issue of the University of Delaware Magazine — featuring a cover story on alumnus and current Philadelphia Eagles backup quarterback Joe Flacco and an in-depth look at UD's data science prowess — hits mailboxes this week and is now available online.
"Joe Flacco's story is the ultimate Blue Hen story," said UD Magazine Managing Editor Artika Casini. "He represents grit, tenacity and perseverance, the very qualities that stand out in our campus community, and attributes that feel especially relevant for this time."
On the academic side, the Magazine also features a large story package on the ongoing Big Data revolution, and the myriad ways UD is exploring its possibilities and challenges.
"Our scholars see a new paradigm of potential, unlike anything history has known," said Associate Editor Eric Ruth, who crafted the feature. "There's a still-untapped opportunity for making numbers serve humanity, and that's what we focused on sharing with readers."
The Magazine profiles leaders like Cathy Wu, a pioneer in using Big Data to uncover the secrets of living organisms, and Federica Bianco, a professor whose expertise in data-crunching is opening new horizons in space and in earthly ecosystems. It also includes a look at the famed "Ridge Regression," a statistical analysis pioneered at UD that has served as an ahead-of-its time computational model for 50 years.
Other issue highlights include:
Readers are invited to submit feedback and story ideas via email to magazine@udel.edu.