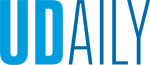 UD Living Lab helps local communities test road improvement projects: youtube.com/watch?v=ndycbr5dqfA
UD's Living Lab
Article by Dante LaPenta Photos by Marcia Scott and Erin Fogarty | Video by Michele Walfred, Katie Young and Steph Rothman June 15, 2021
Pop-up demonstrations help towns across Delaware improve roads, quality of life
Nestled close to the Delaware Bay and a stone's throw from Bombay Hook Wildlife Refuge, the Kent County town of Little Creek is reinventing itself — preserving its maritime history and creating a destination for travelers. But that vision is obstructed by traffic. On a given day, nearly 2,000 cars and trucks speed through the quiet town of only a few hundred residents.
"We're working on a town master plan that's a part of this revitalization. An important component of it is getting control of the traffic," said Glenn Gauvry, mayor of Little Creek. "That diminishes the quality of life for the people who live here and impacts the businesses that we are trying to attract into town."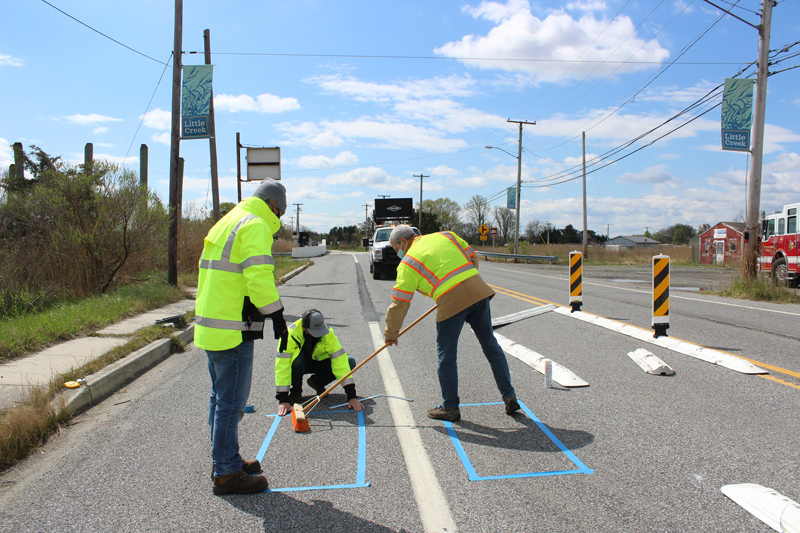 Little Creek's desire to become more walkable, bikeable and activity-oriented is shared by many municipalities across Delaware. They want to curb traffic issues. They know change is needed, but to pull it off, so is funding. Additionally, if local community members aren't on board with proposed changes, a plan won't receive the green light. 
Enter the University of Delaware Living Lab. From Laurel to Milford to New Castle to Wilmington, if you see a transportation demonstration pop up around the state of Delaware, there is a good chance that Living Lab is involved. Spearheaded by UD faculty members Jules Bruck and Nina David, the UD team works with the Delaware Department of Transportation (DelDOT) to plan, implement and evaluate the viability of built [human-made] environment road improvements for cities and towns across the state. The pair's combination of urban planning and landscape architecture expertise is a recipe for cost-efficient, visually appealing transportation solutions.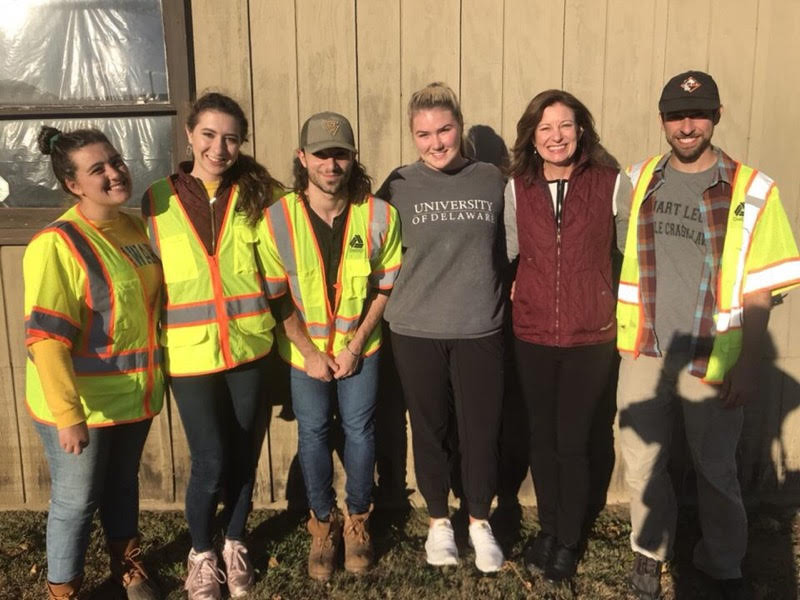 To pull off significant roadway changes, a 200- to 300-page plan is a tedious part of the process. But, these text-heavy documents are difficult to read, let alone imagine how the policies will appear and function. 
"All planning problems are messy. Finding a large-scale solution could be great and comprehensive, but it could also be a colossal failure. Take I-95 being built through a city and cutting it into two," said David, an associate professor in the Biden School of Public Policy and Administration. "These pop-up demonstrations allow us to translate policies from text onto the ground where people can actually experience the changes. They also allow us to test policy proposals to see if they work or not."
Before the UD team dips into DelDOT's stockpile of safety equipment for a physical demonstration on the roadway, the researchers survey community members to get their opinion on a street, inquiring about traffic issues, safety concerns and desired changes.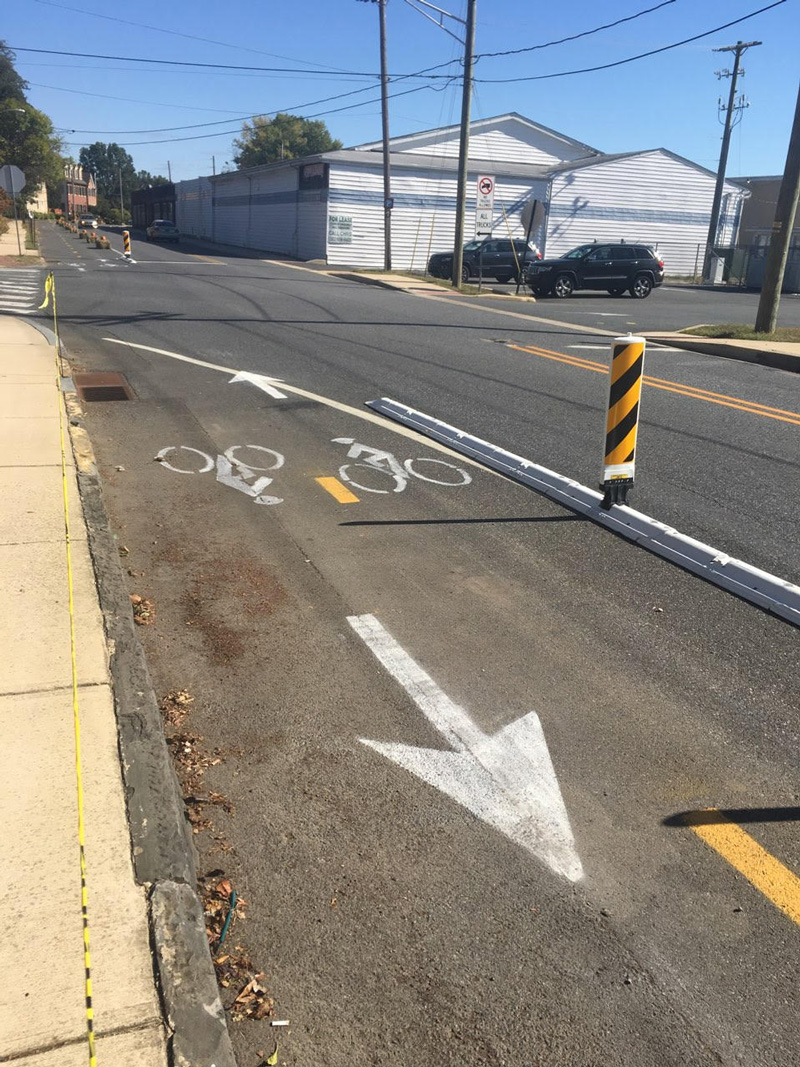 "Buy-in from the community is important. We try not to just get buy-in from telling people to buy into the project. We ask them to be part of it. Come help. Volunteer," said David. "We want your ideas, but we also want you to work with us to implement those ideas."
David and Bruck also stress the importance of involving key decision makers from the outset. Living Lab connects with members of town boards, city councils and mayor's offices — the policy makers who approve major roadway changes. 
After assessing feedback and designing a plan, the UD team works with DelDOT traffic engineers. During the pop-up, the team sets up temporary changes to the roadway like temporary bike lanes and crosswalks. A demonstration's life is short — up to three weeks at the most — but the traffic, pedestrian and infrastructure data collected during that window illuminates the path forward. 
"Our lab projects purposely live in the real world as a demonstration," said Bruck, professor and director of landscape architecture in the Department of Plant and Soil Sciences. "After a pop-up demonstration, we again survey local community members to understand if there is support to create a permanent solution." 
The UD researchers then provide a report to DelDOT traffic engineers, who, armed with plenty of data, can make the case for funding needed for roadway changes. 
In 2019, that exact scenario played out after Living Lab's first pop-up demonstration in New Castle. 
"The Jack A. Markell Trail [a long-awaited connection between the Wilmington Riverfront and New Castle Battery Park] ends abruptly," said Bruck. "It's different for bikes to figure out where to go next to get to the downtown area."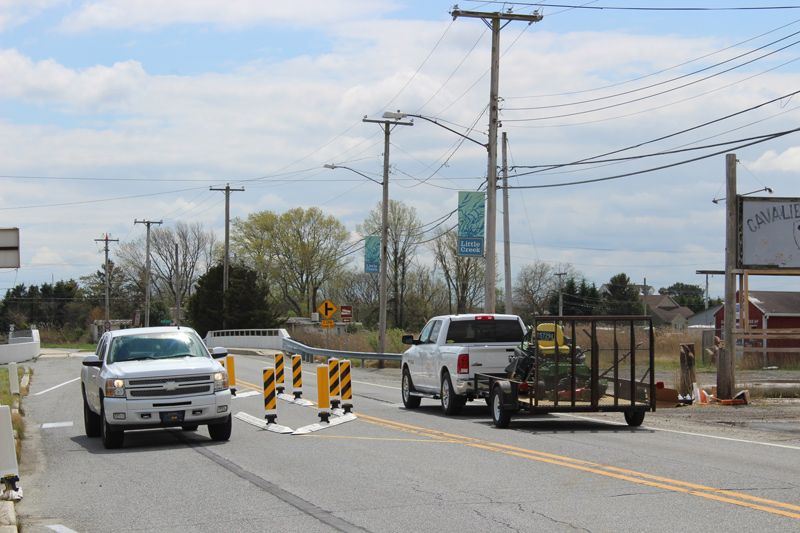 Installing bike lanes is an expensive endeavor, costing upwards of $50,000 and can take a year to install according to the Federal Highway Administration. So, in came the UD researchers with a bike lane proposal and a pop-up demonstration. To remedy the dangerous gap between the trail and downtown, UD proposed a protected bike lane. A successful pop-up demonstration allowed DelDOT to procure additional grant funding for permanent roadway changes, which is currently in-progress.
Living Lab identifies troubling traffic locations through both data analysis and word-of-mouth. The New Castle idea was the brainchild of New Castle resident and then UD plant science major Erin Fogarty. 
"With the advent of [GPS navigation software app] Waze, the intersection is a long line of cars at rush hour. As an avid biker, I've experienced a murky stop sign situation first-hand," said Fogarty, now a student in the plant and soil science graduate program and Living Lab researcher.
Fogarty went to New Castle's city manager and town council about the safety issue, who shared her concern. The group listened to locals' wishes, overcame concerns and demonstrated the safety and effectiveness through a pop-up. 
For municipalities around Delaware, the word is spreading on Living Lab's approach to assessing and resolving roadway issues. The UD group held a well-attended Fall 2020 webinar for civic leaders across Delaware.
"Whether it's a safer walk for school kids, green space or making roads more bike and pedestrian-friendly, we want people to know that Living Lab is a resource for collaborative design," said Bruck. "From this webinar, we ended up with several project requests. Given its successes, we are going to make this an annual occurrence."