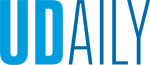 Video on Ashley Pigford designing devices to help people with special needs: youtube.com/watch?v=RSQTWi6K0bA
Designs for better living
Article by Ann Manser Photos courtesy of Ashley Pigford | Video by Ashley Barnas October 08, 2020
UD's Ashley Pigford creates assistive devices for those with special needs
When a toddler born without arms uses a spoon to feed herself, or an 11-year-old who can't hold a standard pencil signs his name for the first time, or an independent young woman who is unable to lift her hands eats without needing assistance from her friends or family, they all have Ashley Pigford to thank.
The associate professor of art and design at the University of Delaware, whose background is in graphic design, has developed a creative specialization in the field of interaction design. In Pigford's case, he works with children and young adults who have physical conditions that limit their movement and daily activities, designing and making innovative and affordable devices they can operate on their own to function more independently.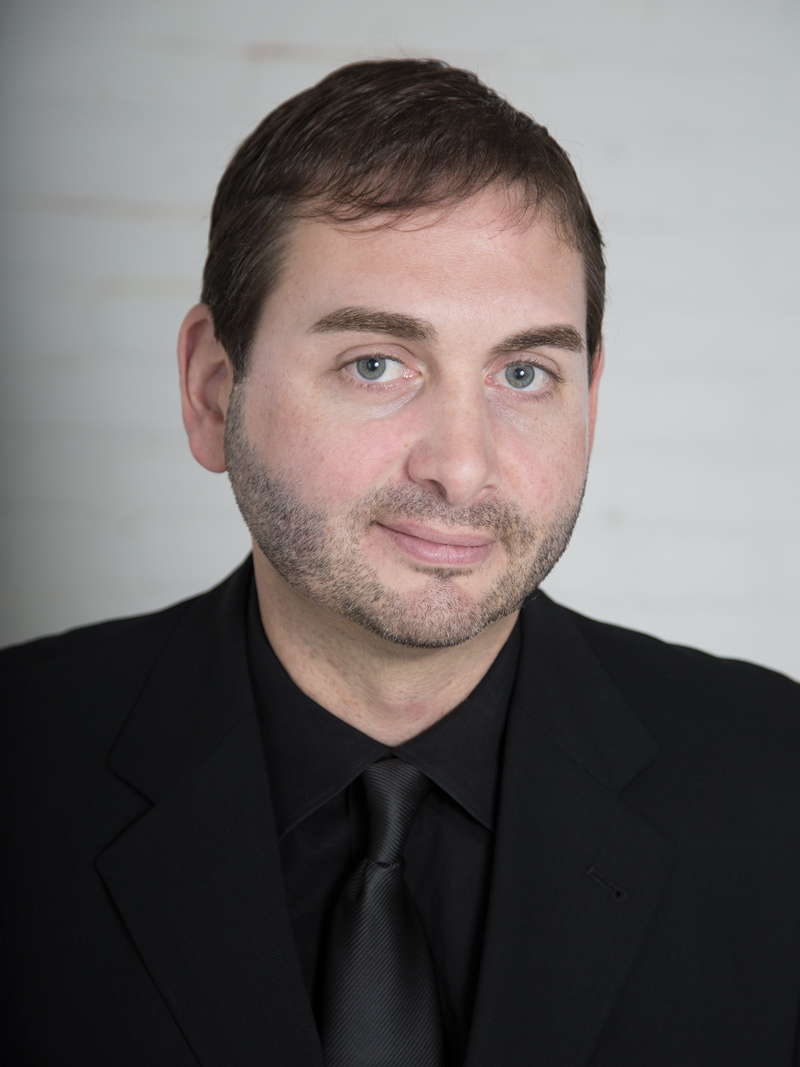 Pigford credits the success of these projects to the people he works with and their families, as they provide him with feedback on the devices and work to develop the skills they need — such as using a foot switch to operate a robotic eating utensil — to use them. But it's clear that Pigford's own ingenuity has helped make a remarkable difference in their lives.
"His innovative thinking and tenacity to solve problems has enhanced the lives of some of my most challenging patients," said Maureen Donohoe, a physical therapist and clinical specialist at Nemours/Alfred I. duPont Hospital for Children in Wilmington, Delaware, who calls Pigford "a gem in the jewel box of life."
The hospital developed a working relationship with Pigford several years ago, and he often collaborates with patients of Donohoe's who have unique challenges with activities of daily living. Many of the patients, and young adults who are former patients of the hospital, have a condition called Arthrogryposis Multiplex Congenita (AMC), which results in decreased flexibility of their joints.
"I've developed relationships with doctors, therapists and families," Pigford said, after being introduced to children with AMC by Michele Lobo, assistant professor of physical therapy at UD. "My focus is on assisting with activities of daily living, like eating, using a human-centered design approach.
"When I work with one person and develop a device that addresses their individual needs, I am then able to deduce solutions for others. This is the human-centered approach — solve for one, apply to many — that I find very successful."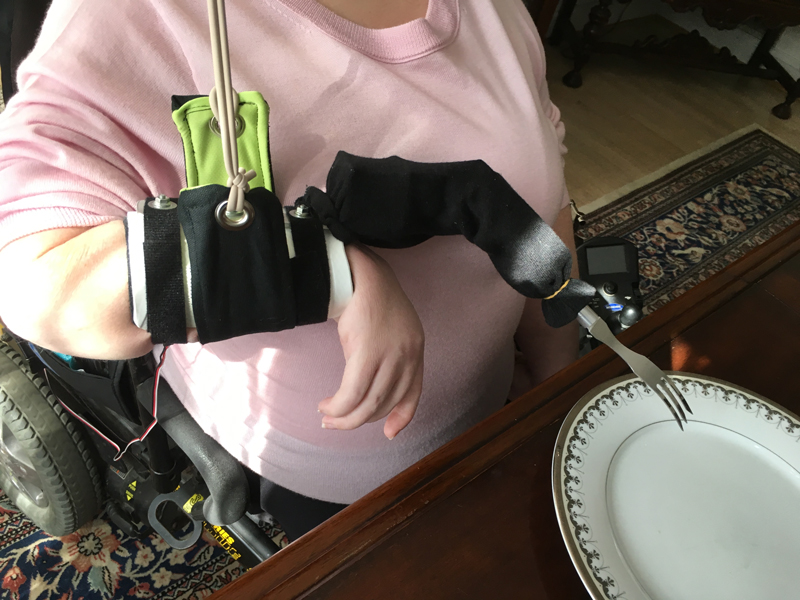 His designs include a relatively simple gadget to attach a sippy cup to a wheelchair, allowing a child to drink independently and on their own schedule. A more complex device is enabling 2-year-old Kahlani, who has no arms, to press a button on her highchair with her foot and maneuver a spoon or fork to feed herself from a bowl on the chair's tray. In addition to being able to feed herself, Pigford noted, the process is also helping the toddler become more dexterous with her feet, a skill that could help her manipulate other assistive tools throughout her life.
One thing Pigford's devices have in common is that, whenever possible, they are made from off-the-shelf items that are fairly inexpensive. In this way, many of the devices he creates can be made by other people when he provides parts lists and instructions. However, the way he uses things is testament to his unique design abilities.
"I typically seek out alternative uses for things in the world," he said. "Photographic clamps and tripods can be used to hold electronic devices, or a flexible desk lamp can be used to lift a sippy cup. I've always been like that — looking for things that can be adapted to other uses."
For Ewa Okla, who was treated at DuPont Children's Hospital as a child and now works full-time for a health insurance company and tutors in the evenings, learning about Pigford's work has been a boost to her lifestyle, which was already quite independent. Born with AMC, she is unable to lift her arms and uses a sling that resembles an oversized rubber band to hold her hand in position so that she can type.
"I don't require a lot of equipment, and I can type about 35 words a minute with one hand using the sling, so I do fine at work," Okla said. "But I can't feed myself, and when I started a new job, I especially didn't want to be dependent on my co-workers at lunchtime."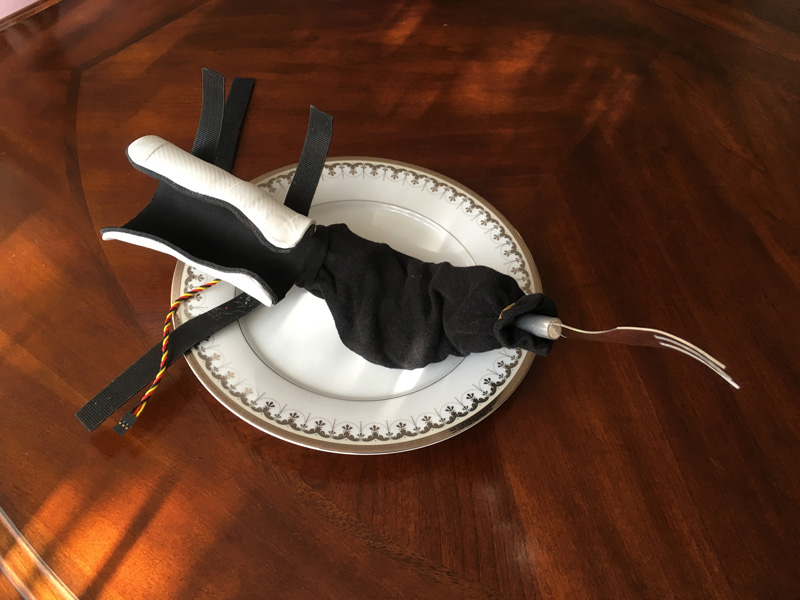 Donohoe referred her to Pigford, who designed a device they call The Pivot. With it, Okla can use her hand that is already held up by her sling to lift food with a mechanical fork and eat on her own. Pigford has built many prototypes, and she has worked with him to fine-tune the device. The Pivot is quick, convenient and portable and gives her the ability to eat a variety of foods — picking up a sandwich or a slice of pizza doesn't work too well with a spoon, for example — that more expensive commercial devices don't always offer, she said.
"Working with him has been a great experience, and I think he appreciates that I can give him the kind of feedback that really young children can't," Okla said. "He's been open to all the ideas I've come up with, and I hope we can keep working on other projects."
Pigford is part of UD's MakerNetwork for students, faculty and staff and is co-director of the Interaction Design Lab. Students majoring in everything from engineering to health sciences and entrepreneurship are welcome to contribute to projects, he said.
"This kind of work is directly helping an individual, and it makes a real difference, especially because autonomy is such a big issue for people with disabilities," Pigford said. "I feel like everything I do in this area is time well spent."