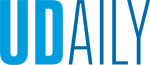 New cheese at UDairy Creamery
Article by Dante LaPenta Photo by Taylor Dalton October 21, 2019
UDairy Creamery unveils Delaware Gold, online ordering
After launching cheese curds during the summer of 2019, the UDairy Creamery unveiled its first aged cheese — Delaware Gold — on Monday, Oct.21 at its Newark and Wilmington locations and online. The new offering is a signature farmstead cheese aged two months with flavors similar to cheddar and Colby. The cheese is created by University of Delaware students and led by Plant Manager Jennifer Rodammer and Amanda Heilman, UD's first cheesemaker.
"We are very excited and proud to launch our first aged cheese made exclusively with the milk from UD cows," said UDairy Creamery Director Melinda Shaw. "We are even more excited to offer this hands-on experience to students and teach the complex and in-depth science behind cheese making."
Delaware Gold costs $14 per pound and is available in six- to eight-ounce portions. UDairy Creamery expects to announce additional cheeses before the end of 2019.
Through a new online ordering system, customers can purchase and have cheese and ice cream shipped. On Nov. 1, the Creamery will begin online pre-sale for gift boxes, which will ship starting Dec. 9 — just in time for the holiday season. The cheese gift box will include three types of cheeses — Delaware Gold, Ole Mole and Bruschetta; the deluxe gift box will include the three types of cheeses, a cutting board, cheese knife and honey also from the UD Farm in Newark.
Cheese and other products are processed in UD's new, 3,600-square-foot Charles A. Genuardi '70 and Patricia Genuardi Food Innovation Laboratory in the College of Agriculture and Natural Resources. The space includes equipment for UDairy Creamery dairy processing and cheese production, as well as a student test kitchen. As UDairy Creamery student-employees, undergraduate students learn entrepreneurial and food production skills that carry them from the classroom to a multitude of career opportunities beyond the University.
"Making cheese has introduced me to two major fields within food science," said food science major Jessica Bishop. "I am able to participate in product development to produce cheeses with different flavors and I have gained experience in quality assurance while learning important sanitation and manufacturing practices to ensure a safe and quality product."
Visit at the UDairy Creamery cheese webpage to learn more.0