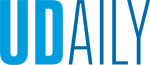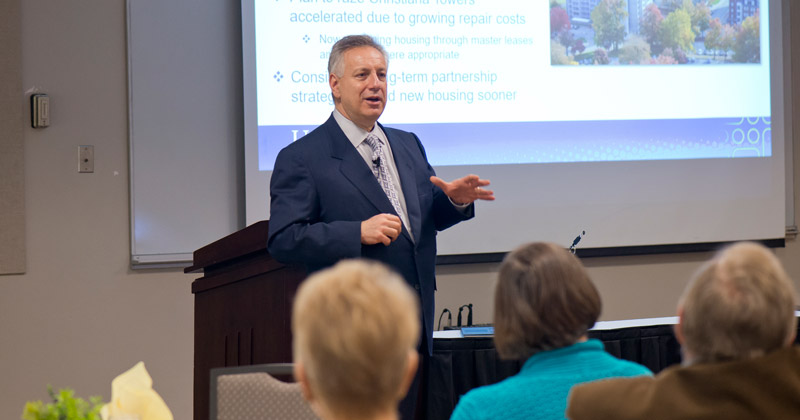 UDARF holds May meeting
Article by Carlett Spike Photo by Lane McLaughlin June 03, 2019
President Assanis discusses future UD plans with retired faculty
The University of Delaware continues to reach new heights, UD President Dennis Assanis told the UD Association of Retired Faculty (UDARF) during the group's May 15 luncheon in Clayton Hall. He thanked them for their contributions to establishing the strong foundation at UD.
"By all means, our University is extraordinary," Assanis said. "It is built on a legacy of innovation over the past 275 years — we just celebrated our anniversary. Of course, it is that foundation that drives us into the future, but I do tell people it's all about the present to build to that future."
Assanis noted the University was recently named a top place to work by Forbes for the first time.
"We've ranked 208 out of 500," Assanis said. "I looked and ahead of us right now there are only 11 academic institutions. So we've done pretty well. People, like yourselves, are very proud to work here and have a very good experience."
Now is the time to build toward the future to ensure UD has another 275 years of success, Assanis said. Fostering student success is at the center of the University's mission and strategic priorities.
"We have some phenomenal students," Assanis said. "I don't need to tell you that. We've always had some, but this year in particular has been really, really great. We've had some wonderful students especially involved in national programs and other extracurricular activities."
This year, Blue Hens have earned a variety of prestigious awards including a Gates Cambridge Scholarship, a Goldwater Scholarship and a Truman Scholarship, and a record 11 students were named Fulbright Scholars or alternates. The University also outranks its peer institutions in graduation rates, student participation in high-impact experiences and post-graduation success, he said.
Assanis spoke about plans for increasing the number of students and faculty, University funding efforts and expansion, and renovations of campus buildings. More about UD's goals, achievements and expectations are outlined in the President's Report.
Janet Johnson, chair of the UDARF Research Fund Committee, announced the recipients of the 2019 Research Fund Grants. The grants are awarded to support members with their research and presentations at professional conferences.
"We give these small research grants which are pretty helpful because when you retire your department very often doesn't continue to fund your travel, etc," UDARF President Fred Schueler said. "So it's good having this. If you have to go to California to present a paper, that costs some money. So this covers that."
2019 Research Fund Grants were awarded to eight members:
Deborah Andrews, English
Leslie Goldstein, political science and international relations
Philip Goldstein, English
M. Jo Kallal, fashion and apparel studies
David Mason, applied economics and statistics
Frederick Nelson, geography
Yda Schreuder, geography
John Wehmiller, geological sciences
In addition to Assanis' presentation, throughout the 2018-19 academic year UDARF guest speakers included Provost Robin Morgan, Robert Hampel, professor in the School of Education, and David Redlawsk, James R. Soles Professor and Chair in the Department of Political Science and International Relations. UDARF members Marian Palley and Robert Taggart also shared their stories during the "My Intellectual Journey Series."
"We had a lot of good attendance and several really exciting speakers," Schueler said. "This year went well."