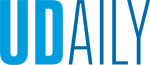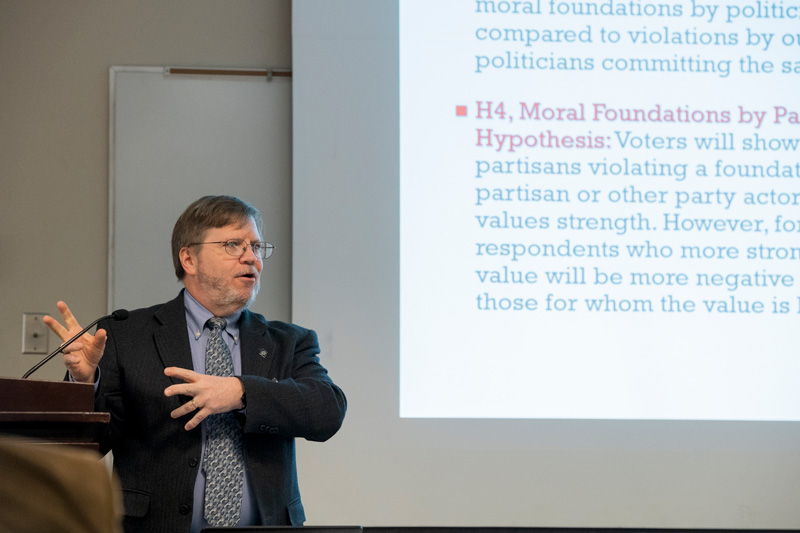 Partisanship over moral values
Article by Carlett Spike Photo by Kathy F. Atkinson March 18, 2019
Political Science and International Relations Chair David Redlawsk presents research at UDARF
Most people say they believe in a certain set of moral standards. These core moral values — defined as the things that society largely believes to be right and wrong — guide our decision making. But in what situations are people willing to turn the other cheek when they see someone else do wrong?
Prof. David Redlawsk explained this scenario in the context of partisanship during the March 5 luncheon for the University of Delaware Association of Retired Faculty (UDARF) in Clayton Hall. Redlawsk is the James R. Soles Professor and chair of the Department of Political Science and International Relations at UD. He researches campaigns, elections, voter decision making and emotional response to campaign information.
He found one's political affiliation holds more value than one's beliefs.
"People's moral values matter when partisanship is not a factor, but when partisanship is a factor, the moral values just seem to go out the window," he said.
He recently worked with coauthor Annemarie Walter, an assistant professor at the University of Nottingham, to survey 2,000 respondents nationally to better understand the relationship between partisanship and moral values. They picked out five moral foundations (care, fairness, loyalty, authority and sanctity) and asked respondents to rate these morals with a set of hypothetical situations.
"We established a set of hypothesis for this particular study," he said. "The idea of the study was to try and understand whether and to what extent partisanship overrides moral value."
An example of a statement may read: You see a politician joke about the stupidity of Americans. For some respondents the word politician was swapped for republican or democrat.
Creating the statements was tricky, Redlawsk said.
"Unfortunately, these days it's become really hard to come up with examples that people don't imagine could actually happen," he said. "Which says something, I suppose."
Once Redlawsk and Walter collected the data, they examined it against four theories they developed: (1) People respond negatively to moral violations, (2) the more someone cares about a particular value, the more negative their response, (3) people respond less negatively when someone within their political party commits a moral violation and (4) people will push their morals aside to defend someone within their party.
When tested against the data, the four hypotheses largely held up. If a Democrat committed a moral violation, other Democrats saw this as less negative compared to Republicans. The same idea applies if the party affiliations are swapped, he said.
While the data is telling, there were some challenges that are difficult to account for, Redlawsk said. The surveys were collected shortly after the 2016 election of President Donald Trump, which may have heightened people's sensitivities to the topic, he said. Also, they are considering re-examining some values that may not be that important to Americans, such as authority. Redlawsk said they plan to redo the study in Europe.
Even when creating the statements, they played around with providing very specific examples or ones that are more vague. There are so many outside influences to consider, Redlawsk said.
"If you're a political scientist, these are really interesting times, right?," he said. "But they're also really difficult times in terms of what we try to measure and how we measure it and how do we disentangle automatically those kinds of questions from the current president."