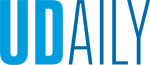 Driven to Discover: Dalia Handelman
Article by Beth Miller Photo by Evan Krape and courtesy of Dalia Handelman and Faith Brown August 21, 2019
Summer Scholar collects life stories of Jewish seniors in Wilmington
Editor's note: Research, community service, internships and study abroad are part of the summer for University of Delaware students. Follow them in action in our series of profiles and stories, which will be collected on the Driven to Discover website: https://www.udel.edu/home/driven-to-discover/
Dalia Handelman, a rising sophomore from Bethesda, Maryland, is majoring in communication and is part of UD's World Scholars program. She is one of more than 500 students involved in research projects at UD this summer.
Q. What are you studying this summer?
Handelman: I am conducting an oral history project under the direction of Dr. Roger Horowitz, who teaches history and Jewish Studies at UD. I am working in Wilmington, Delaware, working with prominent senior citizens in the Jewish community there.
Q. What inspired this project and what interests you most about it?
Handelman: This topic is interesting for many reasons. I have a specific interest in Jewish history and culture and having the opportunity to hear from people who are around 100 years old about their life experiences has been incredible for me. Not only am I learning about their lives as Jews, but also generally learning about various life lessons and advice they have.
Q. What is a typical day like?
Handelman: On a typical day, I would meet with an interviewee (usually at their home), conduct an hour- to two-hour-long interview, write a summary and bio on the interview and head to the Jewish Historical Society to start learning and researching more about my next interviewee. I give all of the recordings and write-ups to the Jewish Historical Society. Then I make a few phone calls to liaisons (members of the Jewish Historical Society or members of the Jewish community) to learn more about my interviewee. A lot of my job is thinking ahead so I'm always planning and learning for my next interview even when I have just finished one.
Q. What hurdles have you had to overcome while doing this work?
Handelman: One hurdle I've had to overcome was learning what oral history really meant. I knew what interviewing was and why it was so important. But something that's actually really hard to do during my interviews is to not respond to what the interviewee said with something from my own life. An interview can and should feel as comfortable as a casual conversation, however, the interviewer says nothing about themselves. It's a lot harder to do than someone might think because I am there to connect with these people and when they say something that I connect with I immediately want to respond with how I just connected to them. At the top of each of my interview agendas, I have typed this quote: "Find out what these people have to say, you are not writing the story." My professor (Roger Horowitz) told me that at the beginning of the summer when he was teaching me some basic oral history do's and don'ts.
Q. What is the coolest thing you have experienced in this project?
Handelman: The coolest thing I've learned happened the other day in an interview with a 90-year-old woman. From the minute the interview started I could tell we really connected. She lived a life that is very similar to a kind I hope to lead. She is very passionate about traveling and Israel, two things I am also very passionate about. She told me all about her experience volunteering for the Israeli army in her youth and after the interview I actually got to show her a picture of me volunteering in the Israeli army. She looked at the picture and got so excited because we wore the exact same uniforms and had been in the same places. It is so crazy to think that I met a woman who has done the same thing as me but at a totally different time in history. I am 19 and she is 90, but it turns out there is not that much difference between the two of us. That was so cool to see.
Q. What has surprised you most?
Handelman: I think what has surprised me so much about my experience is how many life lessons and advice I am gaining from these interviews. At every interview I find myself writing down specific quotes that are said because it's something I had never thought about before.
Q. What are possible real-world applications for your study?
Handelman: I really want the people I interview to realize and understand how incredible and special their lives were. Also, I want them to see that others are learning from their experiences. I want younger people to be able to hear about their experiences and I want it to really make them think!
Q. How would you describe this experience in one word?
Handelman: My one(ish) word to describe this experience would be: "eye-opening."
Q. What advice would you give younger students (middle/high school) with similar interests?
Handelman: First, be as polite as possible. This project and the overall internship I am part of is all about community engagement. People often don't realize how much of an impact a first impression can make and even how a tone of voice can change the way someone feels about you. Before all of my interviews, I call the person I am interviewing to set up an appointment. Being very polite and enthusiastic over the phone is the first impression these people have of me and being positive can really help them get more excited and interested in the interview. Also, during my interviews, a simple smile and strong eye contact really help the interviewee feel more comfortable and ultimately gets them to elaborate on what they're saying.
Another piece of advice I would give is to be open-minded. When you connect with people through community engagement, whether it's through interviews or a service project or any other kind of community engagement experience, it is really important to be as open-minded as possible because even if you don't expect it there is always something you can learn from getting to know other people. During each of my interviews, I find myself writing down multiple quotes that my interviewee said because it is something that I had never really heard before and is so interesting. When I walk away from each of my interviews I genuinely know I learned so much and sometimes even realize that my perspective changed on something because of what they said. It doesn't mean you have to agree with everything someone said, but be truly open to understanding the new ideas and thoughts someone is sharing with you.
Q. What do you enjoy when you are not doing research?
Handelman: I enjoy anything outside—especially being at the beach, but anything outdoors!