Help Yourself
We offer a variety of tools and informational resources to assist students and their families in financing their educational pursuits.  Use the following links to quickly navigate through systems, forms and information.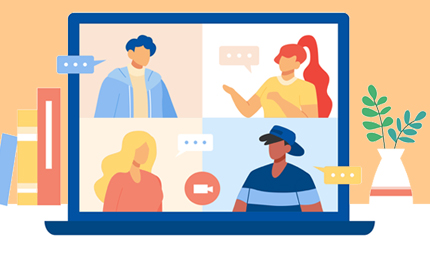 Join SFS for a Virtual Town Hall
SFS will be holding a Town Hall Tuesday presentation covering information on the Financial Aid To Do List on September 26, 2023 at 7pm. 
Students can use the following systems to get access to the student account, view financial aid eligibility, submit documentation to finalize aid, reduce or decline loans, make payments, request refunds, and more.  Parents and guardians can gain access to the student account through Parent/Guardian Services once the student grants them access through UDSIS.

Student Loan Requirements
First-time federal loan borrowers at the UD are required to complete the Master Promissory Note and Entrance Counseling prior to having the Federal Direct Student Loan pay to the student account.  Students who drop below half-time enrollment or who graduate should complete Exit Counseling.  Links to these loan requirements are found below.
Student Health Insurance Requirement

UD requires that all full-time students are covered by health insurance and has partnered with University Health Plans to provide health insurance for those students who need it.  All full-time students are billed health insurance, but students who are covered already by an equivalent plan may waive this coverage.  For these students, UD will provide an offsetting credit to cover the health insurance charge.

---
Forms
The following forms are provided for students who need to submit additional documentation to finalize financial aid eligibility or who have special circumstances.

SFS delivers a number of presentations each year, both on campus and in the community.  Recordings are provided here for use by our students and families.

My Finances 101 walks new students and families through My Finances, UD's online student account management system.
Finalizing Financial Aid & Loan Borrowing discusses how to ensure financial aid is disbursed and the processes of federal and private lending products.
In addition to presentations, SFS provides publications and handouts related to financing a UD education.  A sample of these are provided here for reference.