SFS QUICK INFO
A convenient reference with key Student Financial Services information right at your fingertips.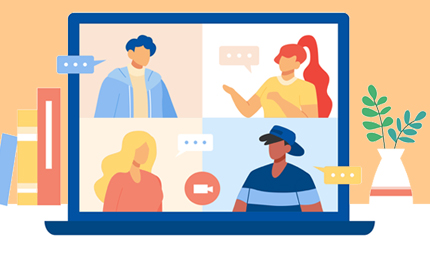 Join SFS for a Virtual Town Hall
SFS will be holding a Town Hall Tuesday presentation covering information on the Financial Aid To Do List on September 26, 2023 at 7pm. 
Virtual presentations provide important information regarding billing, financial aid, and SFS functions and systems (such as My Finances, UD's online student account management platform).  Town Halls also offer updates on processing status of certain types of aid. Click on the Topic below to view our slideshows from previous Town Halls.

Economic hardship is a reality for many families.  If your or your family's income has drastically changed for 2021, UD may be able to assist with limited funding.  Submit an appeal below.
U.S. citizens and permanent residents
who have not filed a Free Application
for Federal Student Aid:

In December of 2020 Congress passed the FAFSA Simplification Act. This legislation significantly changes the way federal student aid is awarded and helps to simplify the process of application for families filing the FAFSA. As a result of this act, many students will see an increase in their federal aid (specifically in their Pell Grant eligibility) although some populations may see a decrease in their aid as well. Some, but not all, key changes to the FAFSA and aid eligibilty are listed below.
The 2024-2025 FAFSA will be delayed. The anticipated launch date of the 2024-2025 FAFSA will be sometime in December 2023. 
The number of questions on the FAFSA has decreased from 108 questions to 36.
Students can list up to 20 schools on their FAFSA via the online application.
Who will need to contribute information on the FAFSA application will be determined when the student completes their portion. If your information is required to complete the FAFSA you will receive an email notification to complete your portion.  The FAFSA will not be complete until all contributors complete their portion of the application.
For students whose parents are separated or divorced, the guidance on which parent income to report has changed to the parent who provides the most financial support to the student, rather than the parent who lives at the student's primary residence.
The Data Retrieval Tool (DRT) has been replaced with Federal Taxpayer Information (FTI)
Students, spouses, parents, and stepparents will now need to provide their consent in the new Consent to Retrieve and Disclose Federal Tax Information section of the FAFSA for federal student aid eligibility. This consent will allow the IRS to share FTI through a Direct Data Exchange. If any party to the FAFSA form does not provide consent, submission of the form will still be allowed. However, a Student Aid Index (SAI) will not be calculated which is needed to calculate the student's financial aid. 
Parents without a Social Security Number will be able to apply for an FSA ID. This will speed up FAFSA processing time as they'll be able to submit the form online, rather than having to print, sign and mail their application.
Male students under the age of 26 are no longer required to register with the Selective Service System to receive federal financial aid. 
The Estimated Family Contribution (EFC) has been replaced by the Student Aid Index (SAI). The SAI is a different way to determine aid eligibility.  
SAI will no longer take the number of students in college into consideration. This may reduce need-based aid eligibility for current students with siblings in college.  
The FAFSA Simplification Act expands the Federal Pell Grant to more students and will link eligibility to family size and the federal poverty level. 
Child support received will be included in assets and not as untaxed income.
Families who own a small business/farm that also serves as a primary residence will now have assets of that business/farm considered in their need analysis calculation.
The net worth of a business is no longer limited to those with more than 100 full-time employees. Applicants will be asked to report the net worth of all businesses, regardless of the size of the business.
The federal government has announced that student loan payments will restart in October 2023. Borrowers should receive a bill listing the amount they will owe 21 days prior to their payment due date. View your account on your servicer's website to see the payment amount once the bill has been sent. Visit the Federal Student Aid website to learn more about how to find your servicer and what to expect as repayment restarts. 
Use My Finances to view pending financial aid, notify SFS of additional aid, make online payments, or indicate a payment is being mailed. You can also reivew any outstanding To Do List items and view your aid offers for the full academic year. Bills for Fall 2023 will be available on your My Finances account starting mid-July.
There are many different types of aid avaialble for students ranging from grants and scholarship to student loans options. To qualify for any need based aid options, you must file the current year's FAFSA to determine need. Addtional information is available here on how to finalize aid offers, maintain aid, and make appeals. 
My Finances 101 video: https://capture.udel.edu/media/1_xashr2k1/
FINALIZING FINANCIAL AID & LOAN BORROWING
Finalizing Aid and Loan Borrowing video: https://capture.udel.edu/media/1_f9wqvefl/
---
Handy Resources & Tutorials