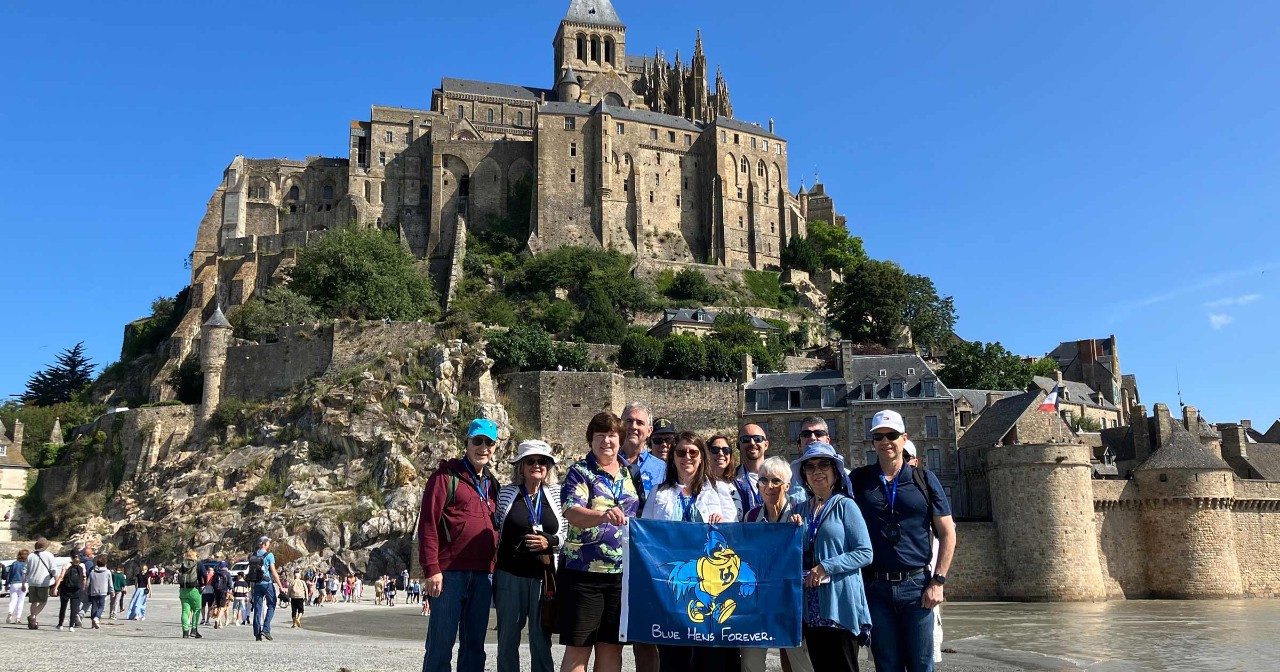 Travel Blog: UD Alumni Association Explores Normandy, France!
In July 2023, a group of alumni traveled together to the Normandy region of France through a trip hosted by the University of Delaware Alumni Association (UDAA). The trip marked exactly 100 years since UD's first abroad program in France in 1923, though they didn't exactly travel by plane back then.
Here, Blue Hen and Associate VP of Alumni Engagement Lauren Simione, BE95, shares blog entries highlighting some of the trip's standout moments (and cuisine)!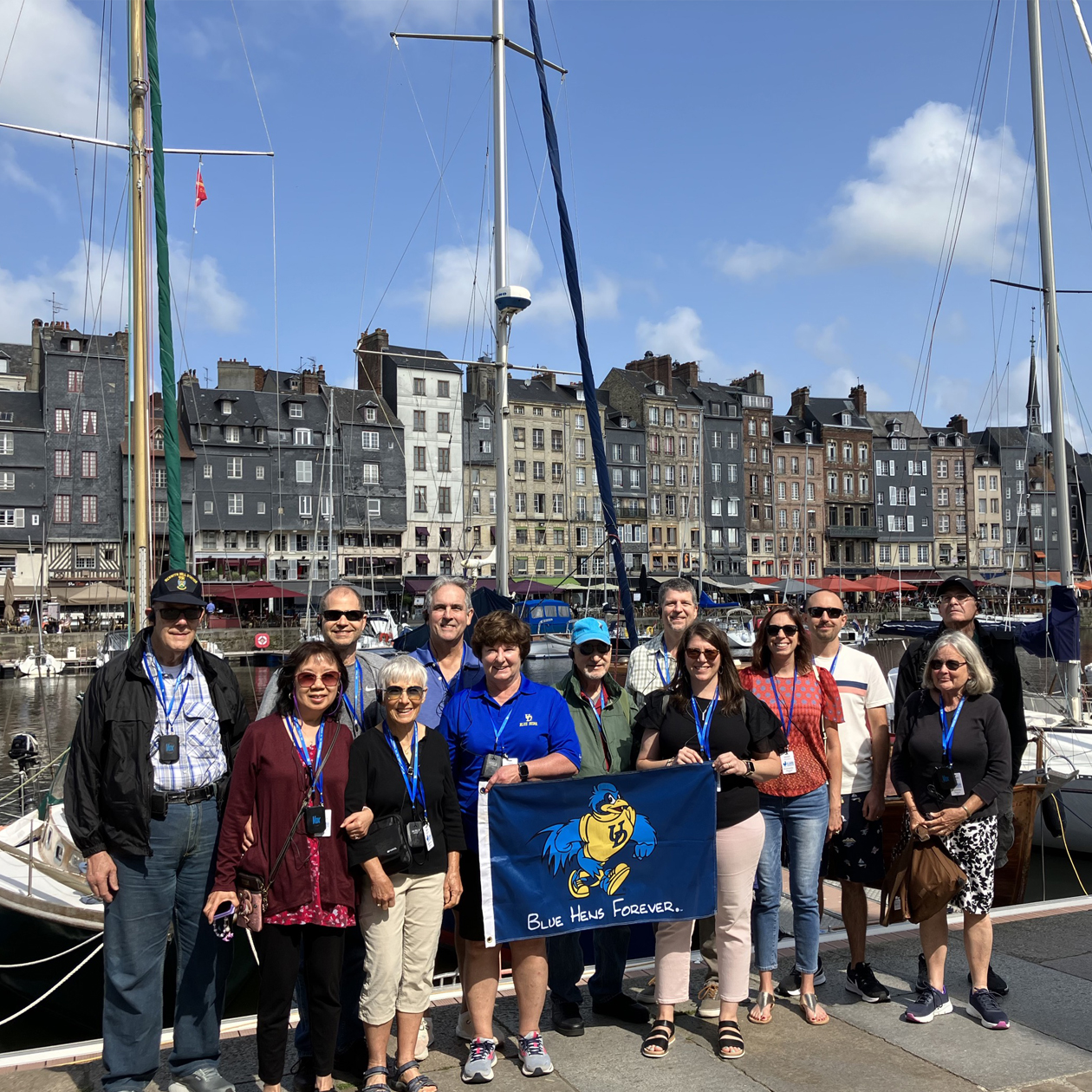 July 2-3: Honfleur
On Sunday, July 2 in Honfleur, we enjoyed a welcome reception in our hotel where we met our AHI Travel Director, Chiara, and other travelers on our trip (including Blue Hens from the Class of 1973 through to the Class of 2005) while sipping on local wines, beer and cider. After the reception, we walked into the downtown area of Honfleur for a delicious dinner at Les Deux Ponts (the two bridges) of Salade de Chêvre Chaud (salad with warm goat cheese), local fish with basmati rice and a sampler of several traditional French desserts—délicieux!
On Monday, a local guide named Anne Marie gave us a walking tour of Honfleur, where we learned about the history of this quintessential port town. Honfleur is known for being home and inspiration to many artists including Claude Monet, Gustave Corbet and native son Eugène Boudin and I could easily see why. I was instantly charmed by the town – the 17th-century architecture, old churches, cobblestone streets, quaint shops, beautiful flowers and many restaurants and cafés. We'd only been out and about for a few hours and already I had taken a lot of pictures. Each café or home seemed more charming than the next! After our tour we strolled the streets soaking up the culture and sampling the local macarons, caramels and biscuits and we walked up the big hill in town to Mont-Joli for a breathtaking view of the city before we found a restaurant for lunch. Linda Myrick, EG77, past UDAA president, lived in France for about three years so she was a big help with any language barriers when it came to ordering food and making our way through the town on our first full day. That night we dined in another local restaurant, Le Grenouille or Red Frog where we sampled delicious French cuisine and wines. The apple tart with local caramel was especially divine!
July 4: Arromanches and Omaha Beach
We started our day at the Musée Arromanches les-Bains (the Landing Museum) with a listening tour detailing the history of the D-Day landings and elements like the construction of the Mulberry B artificial port, which we could still see some of the remains of in the water right outside the museum. It was incredible to learn more about the temporary floats Allied forces created to allow the unloading of supplies so Allied forces could wage war against Hitler. They were offloading people, materials, vehicles and supplies secretly and while managing changing tides – not an easy task – and the museum details the challenge in great detail. 
After the museum we had a quick lunch in Arromanches and then traveled to Omaha Beach. The Normandy American Cemetery and Memorial overlooks Omaha Beach and pays tribute to the 9,388 Americans who lost their lives during D-Day and subsequent battles. It was incredibly sobering to see the many grave sites of all those who gave the ultimate sacrifice for the freedom of others. A few facts we learned:
the average age of those buried is 24
only 4 women are buried in the cemetery
there are 45 pairs of brothers and one father and son
Afterward we visited Point du Hoc where US Rangers scaled 100-foot cliffs to destroy German artillery emplacements. The craters left behind by bombings were huge and the remains of several bunkers were fascinating to walk through. Seeing it all in person resonated with me way more than any history book in school did. Lots of other people were visiting these sites and I can only imagine how busy they will be next year for the 80th anniversary of D-Day.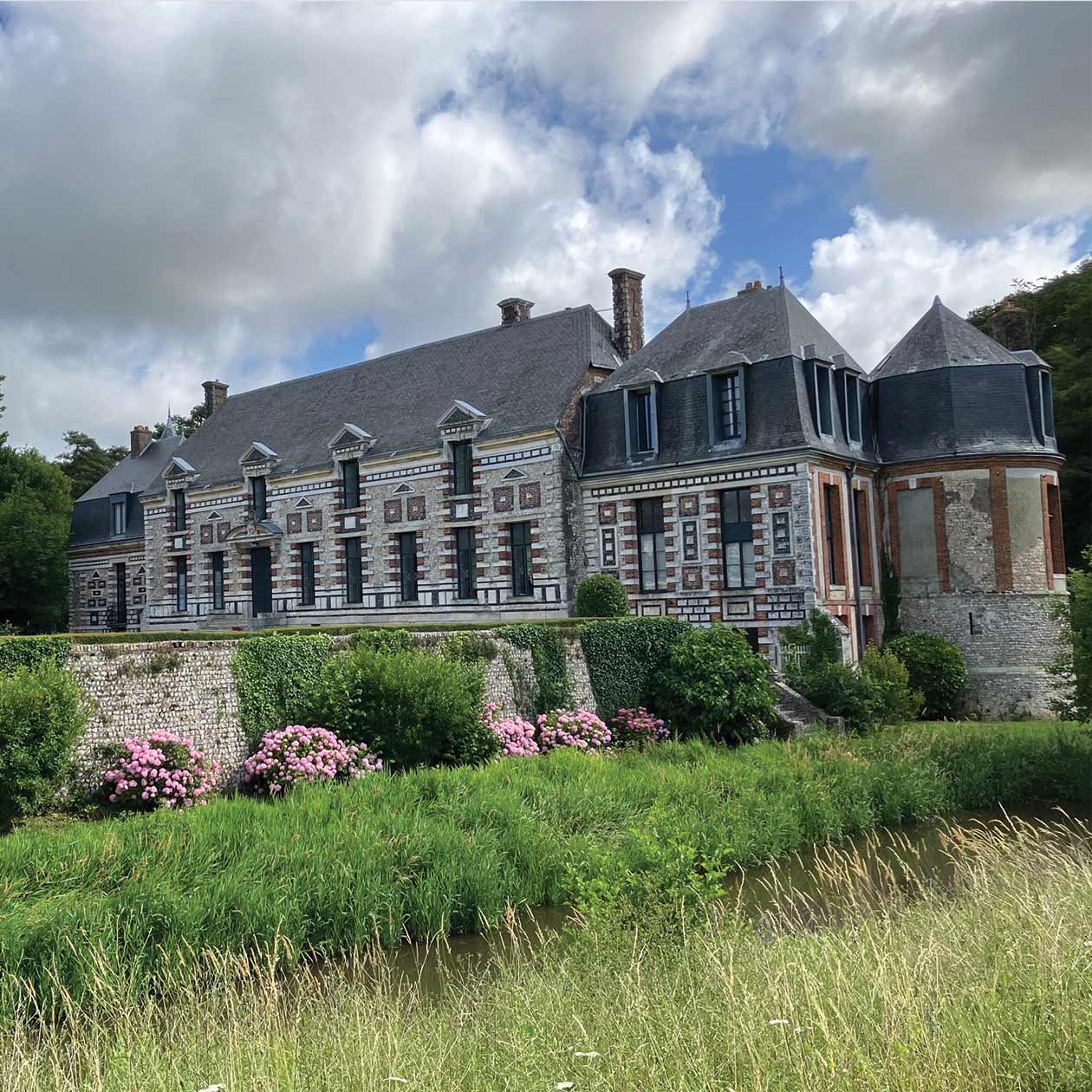 July 5: Honfleur market, Chateau du Bec and MuMa
My husband and I made a quick visit to the organic market that pops up in Honfleur Wednesday mornings before our official itinerary started. The fresh vegetables, cheeses and eggs looked amazing and many of the other booths were filled with things like handmade soaps, jewelry and housewares.
We left our hotel with the group and headed across the Bridge of Normandy into La Havre, another port town on the other side of the Seine River. We spent a good portion of our day at a Chateau just outside of downtown La Havre, Chateau du Bec, a 10th-century castle which is privately owned and has been renovated in spectacular fashion. While La Havre was completely destroyed in World War 2, the chateau was not destroyed because it was used as a hospital for German soldiers. It's a neat mix of old and new décor and furnishings. We walked the beautiful grounds and helped the chef prepare a few items for our lunch feast in the gourmet kitchen. We dined on delicious foods, many of which included items grown on the grounds of the estate and we sipped champagne and drank wines while sampling local cheeses and desserts. I think we all wanted to move in after a few hours at the chateau!
From the castle we went into downtown La Havre to MuMa, the Musée Malraux of Modern Art. There we saw quite an impressive collection of impressionist paintings including some by Monet, Degas, Renoir, Pissarro and Boudin. After we returned to the hotel, we set off to find another café for dinner where we tried traditional French galettes and crepes. French people seem to eat late as there are many restaurants that close for several hours after lunch and don't open again for dinner until 7 p.m. or later. The sun sets late here this time of year (after 10 p.m.) so the daylight allows for a lot of exploration even after our formal itinerary for the day is complete.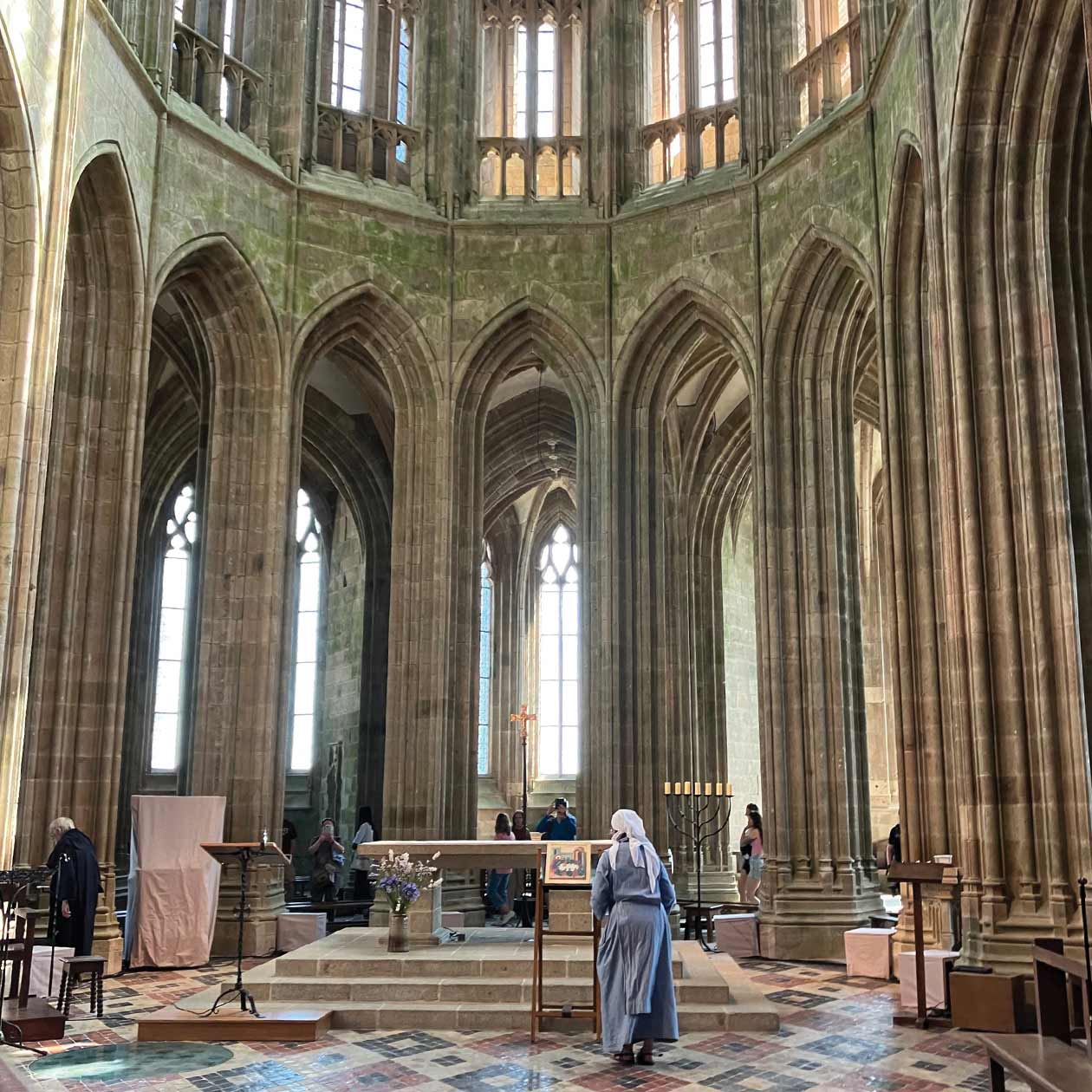 July 6: Mont-Saint-Michel
We traveled about two and half hours from Honfleur to see the spectacular Mont-Saint-Michel and the abbey perched atop the granite tidal island off the Normandy coast. This was by far one of the coolest places I've ever been. It's celebrating its thousandth anniversary this year which really made you think about how something so grand was built so long ago on top of a rock. It's a UNESCO World Heritage site which is a designation for places on Earth that are of outstanding universal value to humanity and have been inscribed on the World Heritage List to be protected for future generations to appreciate and enjoy. We learned about how it was built and that it served as a fortress, monastery and prison over its lifetime. The views from the top of the Abbey and along the ramparts were fabulous and it was interesting to see how much the tides changed from the time we arrived to when we left. There were many student groups out exploring on the beach once the tide went out. The island has a variety of places to eat and shop and we even sent ourselves a postcard at the post office, so we'll see how long it takes to show up in Newark, Delaware! After we traveled back to Honfleur we found a great restaurant with outside seating near the courtyard outside of the old Governor's house and enjoyed a local musician while dining.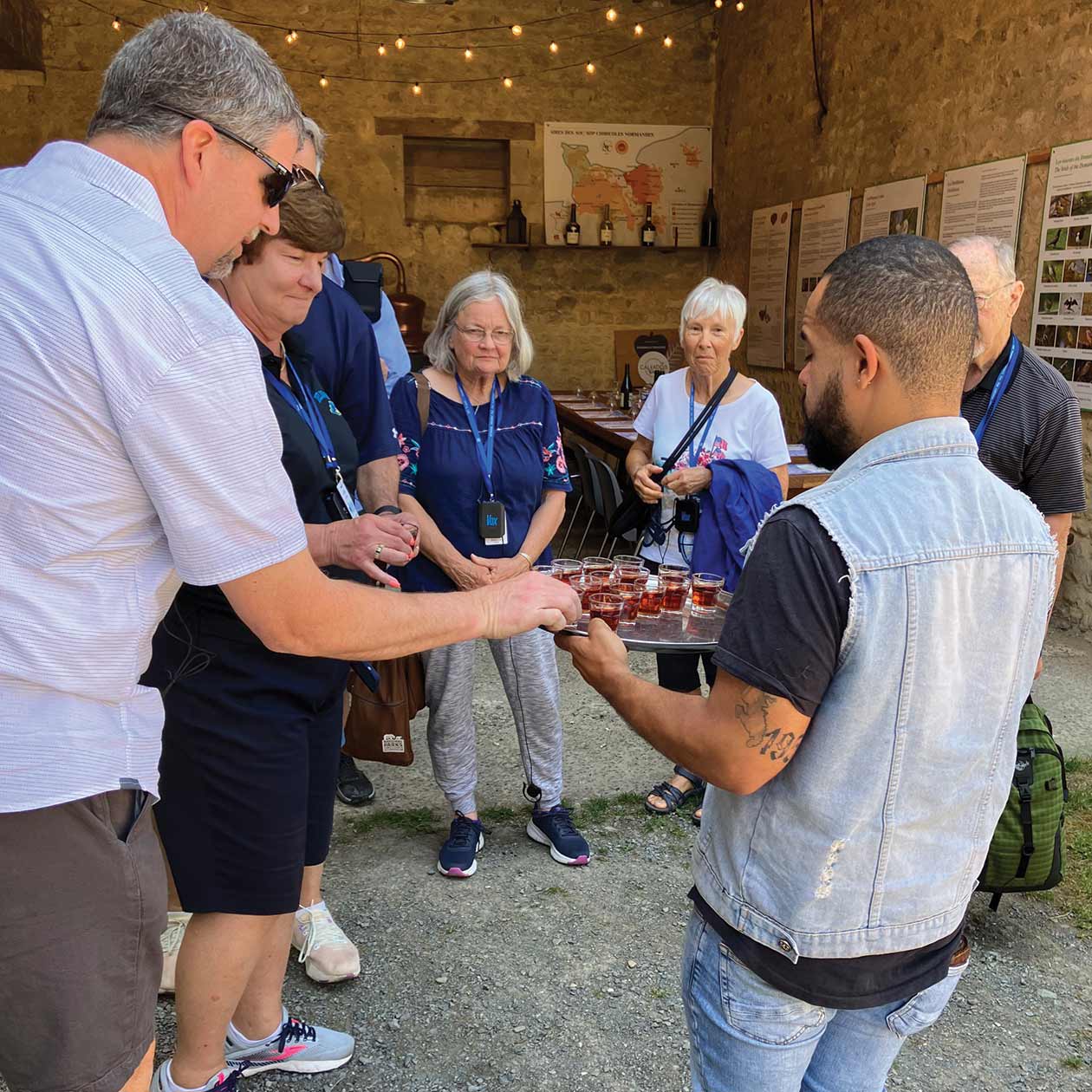 July 7: Le Memorial de Caen and a Calvados farm
First, a note about the importance of this date:
The UD Alumni Association started talking about offering travel trips to Blue Hens right before the pandemic, so things naturally got delayed. The delay meant the timing of the first trip offered would likely be in 2023 so the decision was made to deliberately go to France given that's where UD first sent students to study abroad for credit. On July 7, 1923, eight UD students set sail for France with Professor Kirkbride for their junior year abroad. UD has been trailblazing ever since in the study abroad arena! One in 10 U.S. college students study abroad while three in 10 at UD do now. I regret I didn't study abroad while I was a student at UD, but I am beyond grateful for being on this UDAA-sponsored alumni and friends trip in honor of the 100th anniversary.
Today, we visited Le Memorial de Caen which highlighted the happenings between World War 1 and 2, the D-Day landings and the battle of Normandy. It is a somber memorial but incredibly well done and educational.
We then spent some time at a Calvados farm which was absolutely a highlight of the trip. The Normandy region of France is known for caramel and butter production (all the cows we saw do great work with delicious outcomes!), but the region is also known for Calvados, an apple cider brandy, which is among the world's finest. We visited a Norman estate, Les de Ducy, which distills the Calvados from the apples grown on its 42 acres of orchards. We learned about the distilling process and sampled two of their ciders and had a lovely lunch on the estate grounds. I made room in my suitcase for the two bottles I bought! Then we went to Bayeux to see its Notre Dame Cathedral, a masterpiece of Norman Gothic architecture. We also saw the embroidered Bayeux Tapestry, a 229-foot-long tapestry made in 1077 depicting William the Conqueror and the battle of Hastings in 1066 through 50 different scenes.
That night we had an amazing dinner with past UDAA President Linda Myrick and her husband Steve. They had visited Honfleur with their two boys in 1999 and stumbled upon a restaurant, Le Fleur de Sel, on their opening night. The same chef was still there and he was thrilled to hear the Myricks' story. The food was incredible – our best dinner in France for sure!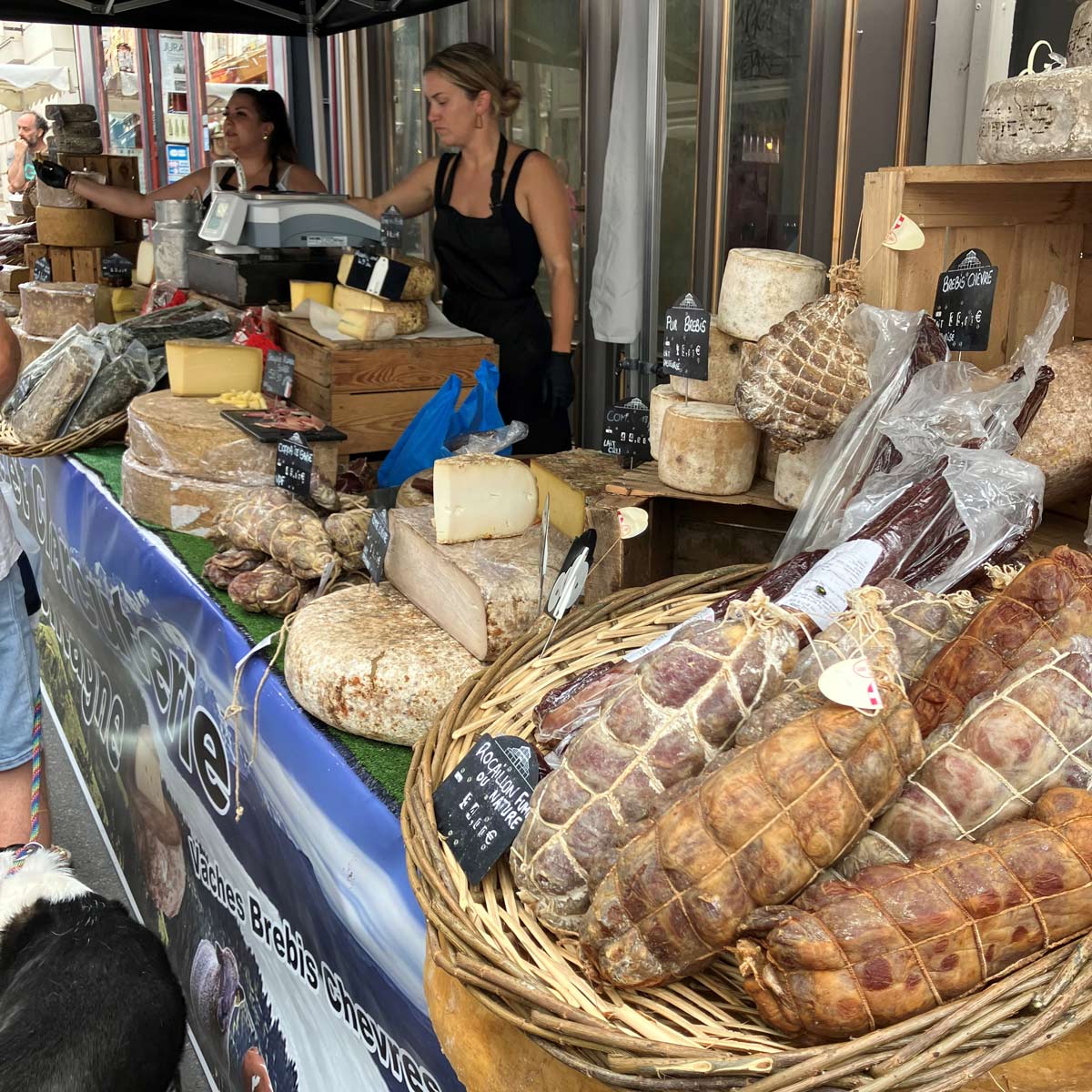 Saturday, July 8: Last Day
Today was our last full day in France and we had some free time in the morning, so we hit the Saturday market in Honfleur which was spectacular. You name it, you could find it there – everything from meats, cheeses, clothes, bags, handmade wooden treasures, jams, caramels, breads, fresh fruits, vegetables, flowers and Calvados!
After the market, a few of us got adventurous and took a bus to nearby towns of Deauville and Trouville, about 30 minutes from Honfleur. Both are these quaint, neat beach towns with huge, flat beaches and lots of amazing architecture to see. We sampled some local cider and tried to pop into the casino but none of us had our passports with us so that was a quick in and out. Upon returning to Honfleur we met up with the group for our Farewell Reception where we shared reflections on the week and enjoyed our last group dinner before traveling home. 
I've had some pretty neat work experiences over the last 18+ years while working at UD but this one was tops! Cheers to UD's 100th study abroad anniversary! I'll forever be grateful for the memories and Blue Hen friends I gained on this trip!
The UD Alumni Association is planning more trips for 2024. Have an idea for a destination or want to be sure you hear about future trips? Email alumni-association@udel.edu to share your ideas and interest.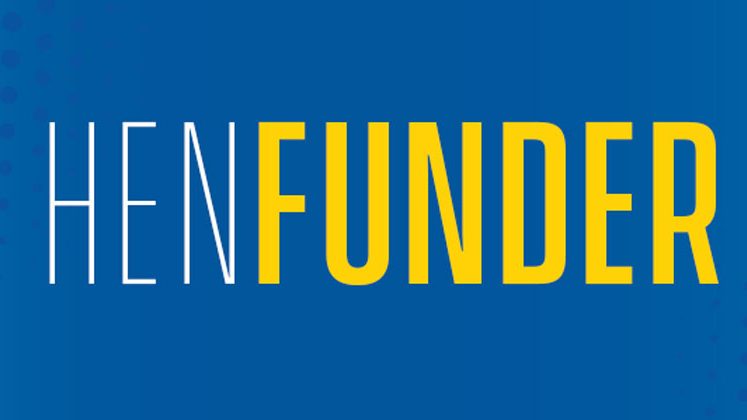 Help a Hen
UD's crowdfunding platform provides an easy way to directly support campus projects, scholarships, programs and more.