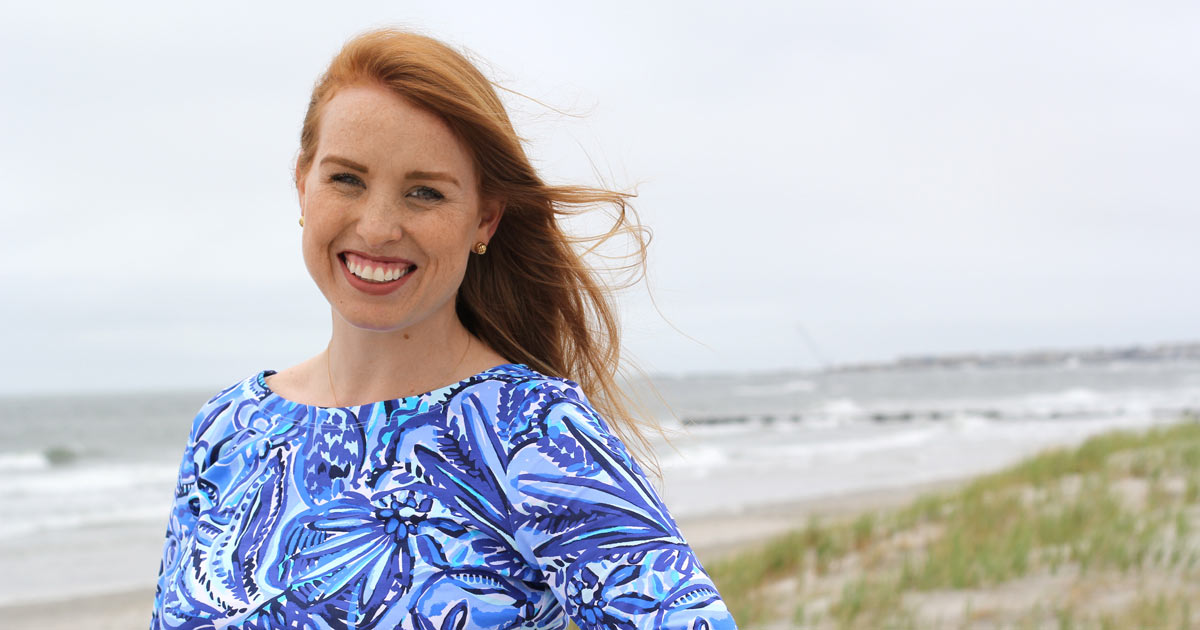 Sun, Sand and Sustainability
Elizabeth Ackmann, BE08, is on a mission to save the world's oceans – one beach chair at a time.
Ackmann is the co-founder and marketing director of LowTides Ocean Products, a company that engineers and manufactures beach chairs and other gear made with upcycled plastic.

"I believe in this so much," Ackmann said. "Stylish and sustainable is the future."
It's a fitting goal and an enormous challenge for a Blue Hen who first heard of UD at the Jersey Shore. A neighbor in Sea Isle City, Meghan Smith, BE06, told Ackmann about the University of Delaware and encouraged her to check it out.
"When I stepped on the campus of the University of Delaware, I felt instantly at home," she said. "I definitely followed my heart."
Following her heart not only took her from the beaches of New Jersey to UD but guided her from UD to the Peace Corps and then to a decade of world travel as a marketing and international business professional. Now her heart has her back at the beach, in partnership with her brother, using her years of experience to help save the world's oceans.
From Studying Abroad to Working Internationally
A transformative chapter in Ackmann's UD journey was a semester spent studying abroad in the vibrant city of Puebla, Mexico. There, she lived with a local family and improved her Spanish skills dramatically. She remembers feeling the same sense of home she felt on campus.
Immersing herself in a different culture was the catalyst for her next adventure. Just three days after graduating from UD, Ackmann headed to Peru as a Peace Corps volunteer in the small business development program. Her project paired her with a local community of artisans that created woven-straw goods. She helped the group export internationally through partnerships and grow the in-country branding. Ackmann used her self-taught graphic design skills to create catalogs and sales materials for the artisans to take to trade shows in Peru.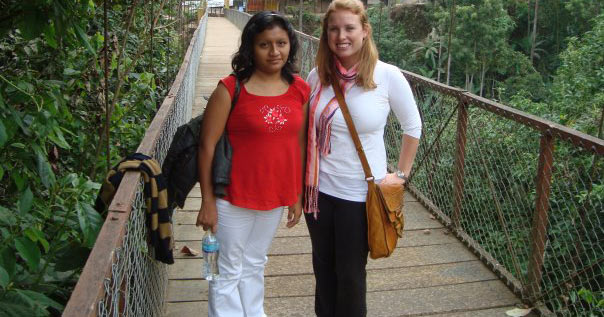 "I chose to volunteer to see if I could make a difference and help out," she said. "It ended up being such a pivotal two years of my life that really changed the trajectory of what I looked for in a job – what I looked for in my life."
After her service in the Peace Corps, Ackmann's career kicked into high gear. She was with Atalanta Corporation, a New Jersey food importer, for ten years. She traveled frequently and advanced to business development manager for product lines from South and Central America and Spain.
During the same decade, she started a family and kept up her "side hustle" of graphic and creative design. Then her brother, Brenton Hutchinson, had an idea. Recognizing her expertise in brand building, product development, marketing, freight management, logistics, and supply chain, he convinced her to join forces as his business partner — an offer she willingly embraced.
Back to the Beach, to Give Back
LowTides Ocean Products began with a Kickstarter campaign in 2019 and launched its first product in 2020. Ackmann and her brother are turning plastic dumped into oceans into a sustainable product for beach use, overlooking the very body of water they are trying to protect. Their business model, she believes, is the future of consumables and retail.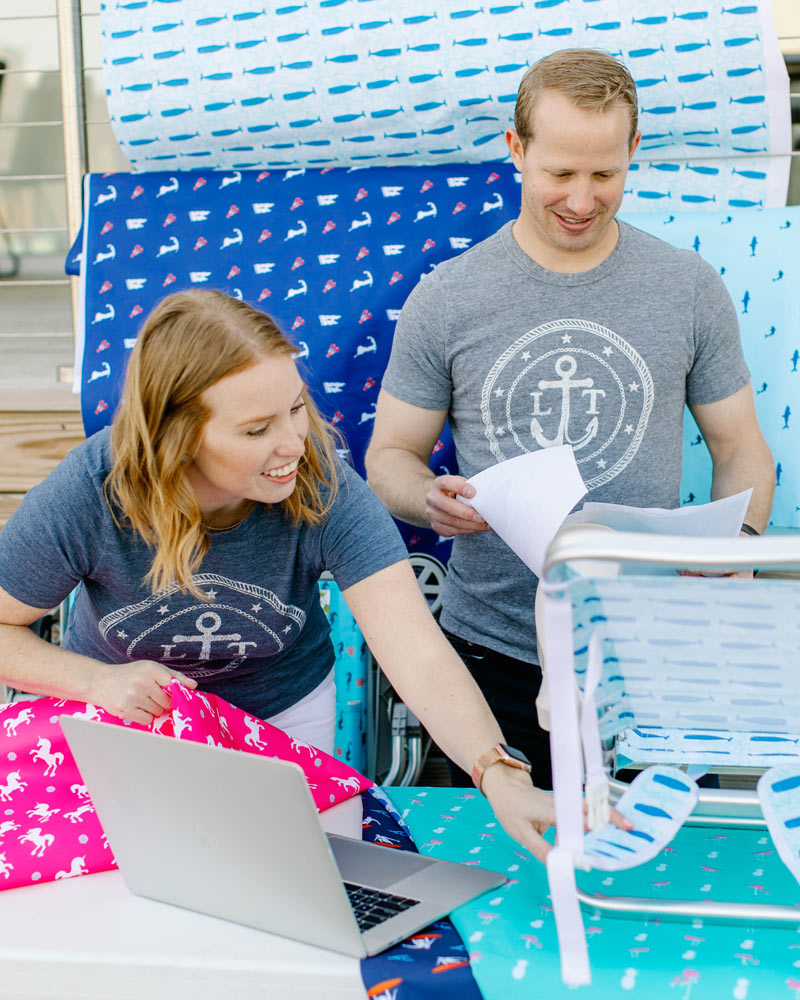 "Why are we creating massive amounts of virgin plastic toys, chairs and umbrellas when there's clearly another solution? We took the features that people want in a beach chair and just made it sustainable," said Ackmann.

LowTides uses traceably sourced plastic gathered from beaches of some of the most vulnerable parts of the world, including the Yucatan Peninsula, Mexico. According to LowTide's 2023 lookbook, these plastics are broken down into resin, cleaned, deodorized and made into individual pellets. The upcycled pellets are molded to form the armrests, towel hooks and kickplates of LowTides beach chairs. The fabric for the chairs is made from recycled water bottles.
These source materials weren't common when LowTides began, and it took a lot of leg work to put the supply chain into place. Today, the company has experienced steady growth and forged brand partnerships with Laura Ashley and Molly Hatch. The brother and sister team has successfully upcycled over 24,000 pounds of plastics and counting.

You Can Make the Change
Launching and running LowTides hasn't always been a day at the beach. But Ackmann said that obstacles only make success sweeter. She wants other Blue Hens to know they can help overcome global challenges and make the change they want to see. One of the ways we can all create a positive impact is by supporting small eco-businesses.
"Your purchase has a lot of power," Ackmann said. "Do an online search using the word 'recyclable' or 'compostable.' When you have a good experience with a product, and you pass that on, you're creating a shockwave."

Maybe a wave big enough to turn the tide toward a better, sustainable future.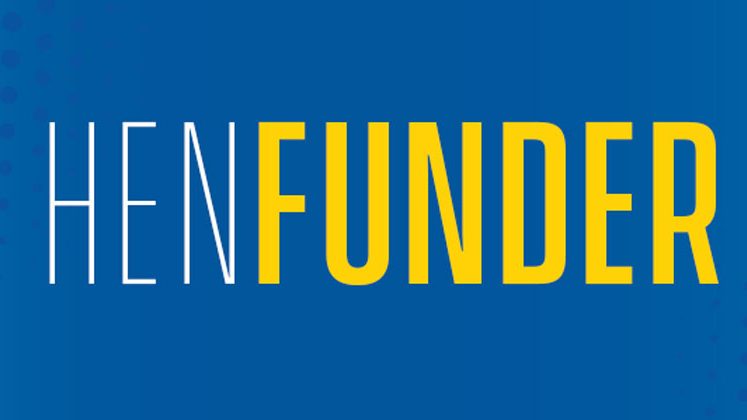 Help a Hen
UD's crowdfunding platform provides an easy way to directly support campus projects, scholarships, programs and more.