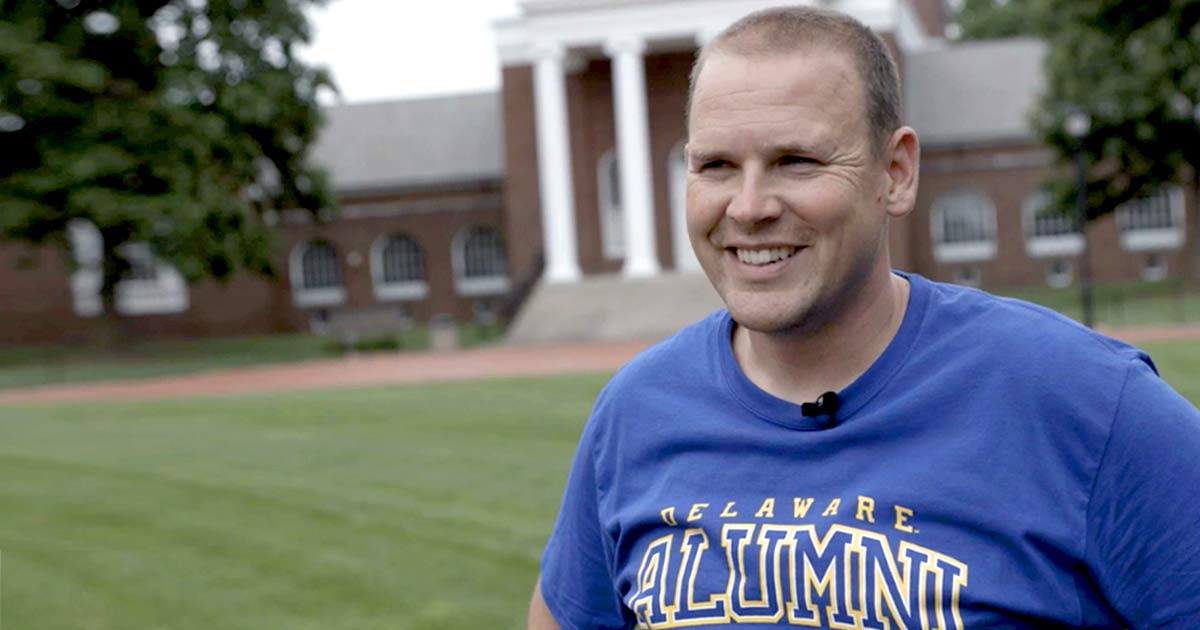 Making Every Minute Count
In case you missed it, the University released a Blue Hen Feeling video to demonstrate how UD alumni from every generation share similar experiences and moments that encapsulate how it feels to be a Blue Hen.
We turned the camera around on the director of the video, Mike Pfeifer, BSPA11, founder and owner of 1440 Film Co, to ask him about successes (and failures), his UD memories and how he keeps the memory of his father alive in his daily work.
Fun fact: Pfeifer made a cameo in the Blue Hen Feeling video with his then 10-month-old son, Finn.
What brought you to UD?
Growing up and just being around the area, going to football games when I was little … I think it was always just so cool being around campus that I just kind of always wanted to go here.
I actually did two years at Del Tech for free as part of a SEED program and then I came here to finish out my last three years at the University, so I got the best of both worlds.
How did UD help get you to where you are today?
I actually did not go to school for what I do today. I got a degree in community and organizational leadership, but I never thought I'd be into filmmaking. I always just had a camera in my hand as a kid. I would just goof around and make funny videos with my friends.
At UD, I spent a lot of time in Morris Library down in the media center. I would literally rent out cameras to shoot silly stuff or like start little side hustles and that's actually how I got into the industry. So just being here exposed me to the thing that I'm really passionate about.
Is there one side hustle project that was pivotal?
I would rent out the equipment to start shooting weddings to make 500 bucks on the weekend because like, cameras are expensive—they're three-to-four thousand dollars—and for a broke college kid, it might as well have been a million dollars. So, having that resource there kind of helped me get to the point where I am today.
There was also our leadership capstone project, where in true form for me, I talked our teacher into making a video instead of doing actual work. We got our entire class involved in it and we created this trailer for the conference the students were going to. Everyone loved it and everyone was a part of it and I think that was the first project where I was like oh man, this is fun, I think I could do this for the rest of my life and be really happy.
Is there a story behind the name of your company, 1440 Film Co?
Yeah, the number 1440: 14 is one of my lacrosse numbers and 40 was my dad's, and I always wanted to have a tribute to him because he passed away when I was younger. In my research when coming up with the company name, I also found out that there are 1,440 minutes in a day. And I really like that. There's this philosophy that if you're mindful of the number of minutes that there are that maybe you'll spend them a little more wisely. So, I really like that for a concept for our company. And, with my dad passing away, it's another reminder that time is precious and not guaranteed, so you might as well spend it doing stuff you love. And I love doing what I do.
Did you have any failures-turned-learning moments at UD?
I failed History of Rock and Roll because I missed the final. And my teacher lived in Britain and she moved for the summer and was not having any of my lame college kid excuses. And after that I was like, you know deadlines are important and I should pay attention to things. It was the only class I ever failed. I took it twice.
What professor at UD has impacted you the most?
When I think about my college experience, I'm so glad that I took classes with Tony Middlebrooks. He was one of my first professors that really challenged a lot of the ways I think. I just remember sitting in his classes and thoroughly enjoying every single minute that we were there. We're still close today, like I graduated almost 10 years ago, and I still keep in touch with him and I think that's a really cool relationship you don't see often.
Is your wife a Blue Hen?
Yes, Alina Wade Pfeifer, HS11. We met in high school, but we partied it up here at UD together. She was a better student than me, though!
What is the Blue Hen feeling to you?
Some of my favorite Blue Hen memories were oddly enough Wednesday nights at Iron Hill, when they would clear out all the tables and it was like college kid dance party. We had some amazing times there on Wednesday nights. But really my Blue Hen feeling is just being on campus and walking down the Green, it just brings back all those great memories with great friends.
What makes UD unique to other institutions?
I think the University of Delaware and Newark being so intertwined is unique. You don't even necessarily need to go to the school to appreciate it and to experience it and I think that's kind of cool.
Help a Hen
UD's crowdfunding platform provides an easy way to directly support campus projects, scholarships, programs and more.