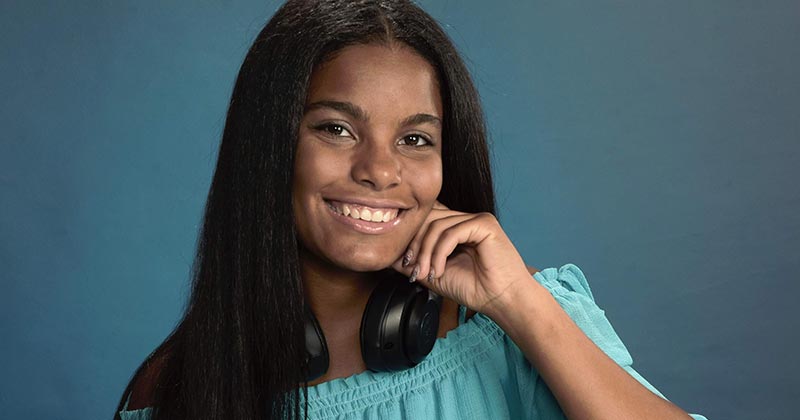 Focusing on the greater good
There are many ways to introduce Aniya Brown, ANR23.
A Eugene duPont Memorial Scholar, Brown is a junior majoring in pre-veterinary medicine and minoring in Spanish for healthcare.
She is also a dedicated student leader – serving both as president of the Solace Gospel Dance Team and an Honors Student Action Committee Leader for the People of All Colors and Communities Together student organization.
And then there's her service as a volunteer with the Brandywine Valley SPCA.
It's an impressive résumé –Brown is a prime example of how dedicated students in the Honors College are pursuing their varied interests with laser focus.
Through all she does, Brown stays grounded by concentrating on her ultimate goal.
"My goal is to make the world a better place, and I know I will be able to do that, whether I'm helping animals or helping humans," Brown said. "Whatever I put my mind to, I always give it 100 percent. What guides me is asking the question, 'What can I do with my knowledge to better the world around me?'"
Before deciding to attend the University of Delaware, Brown, a Delaware native, knew she wanted to pursue an honors education, seeing hands-on, intensive learning opportunities as a way to "do the most justice" for her education. Attending UD's Distinguished Scholars (DiScho) Weekend, where high-achieving accepted students who are finalists for prestigious scholarships are invited to campus, cemented her decision.
"It was a competition, but it didn't feel cutthroat, which appealed to me because college is a time when we should be building each other up and not tearing each other down. It felt like a conversation and not a test," Brown said.
There, prospective Honors students had the opportunity to meet with faculty and current Honors students and get a taste of their future experiences. Already considering pre-veterinary medicine, Brown had the opportunity to tour departments and see academics in action – which included a stop at the College of Agriculture and Natural Resources (CANR) campus to see the progression of lambing season and, almost, a sheep giving birth.
But once at UD, Brown also felt called to explore other areas of interest. Social justice and activism were becoming more important to her and, wondering if she should pursue a law career, Brown took both pre-vet classes and criminal justice classes her freshman year.
It was a unique and challenging balance. Ultimately, it helped her find her path.
Throughout the fall semester of her freshman year, Brown took part in a rotation on the CANR farm, working with horses, sheep, pigs and chickens. As part of that work, she was called late one night to help deliver piglets. One sow can deliver 12 to 20 piglets and, in the days following, Brown helped dock tails, notch ears and distribute vaccines as eight pregnant sows gave birth. It was exhilarating work.
"It showed me that I am emotionally drawn to this and I can be excited about it – even though I did a little bit better academically in my criminal justice class," Brown said.
And, she learned, choosing one major didn't preclude her from keeping social justice and activism part of her life.
Brown was part of a group of Honors students that helped establish People of All Colors and Communities Together (PACCT), a student organization focused on developing strategies for nurturing an antiracist culture on campus and beyond. As a Black and Native American woman, Brown personally recognizes the need for such work. With PACCT, she has found an "empowering and uplifting" way to drive conversations forward.
One successful project, which Brown helped lead, was the development of a workshop on issues of bias and privilege that members of PACCT delivered to their peers in First Year Seminar courses within the Honors College.
"Black Lives Matter is a movement that is close to my heart and the pandemic made me more adamant about social justice and showed me how much I do care about it," Brown said. "Through my work as an Honors student and with PACCT, I've been able to start conversations to get people thinking more deeply about things they might not have been before."
As Brown looks ahead to her senior year and life after UD, she especially values the opportunities that came from being part of the Honors College. Already, Brown has been able to explore a number of specific interests and see where various paths could lead.
"To me, being in Honors is more about the opportunities and experiences than about a GPA," Brown said. "The experiences that I have had, that I wouldn't have had had I not been in Honors, are the ones that will shape my opportunities and goals far into the future."
Help a Hen
UD's crowdfunding platform provides an easy way to directly support campus projects, scholarships, programs and more.