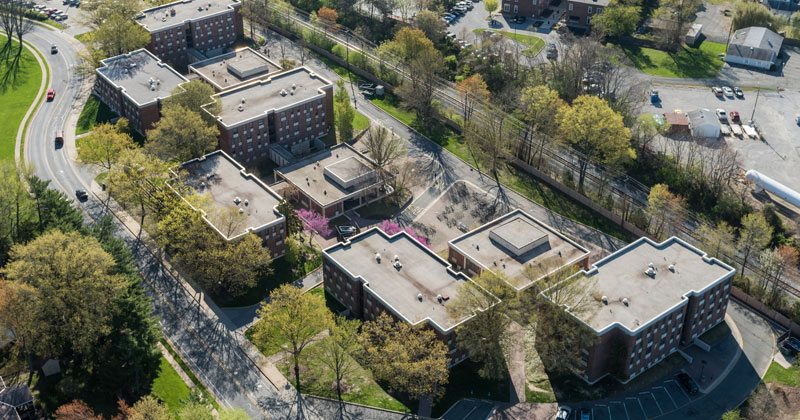 Rodney/Dickinson Reveries
With the demolition of the John Dickinson and Caesar Rodney Resident Hall Complexes last year, alumni from all decades reflected on and shared their experiences in these quirky-but-beloved buildings on campus. Here are a few submissions we received through UD Magazine in exchange for a brick from the buildings.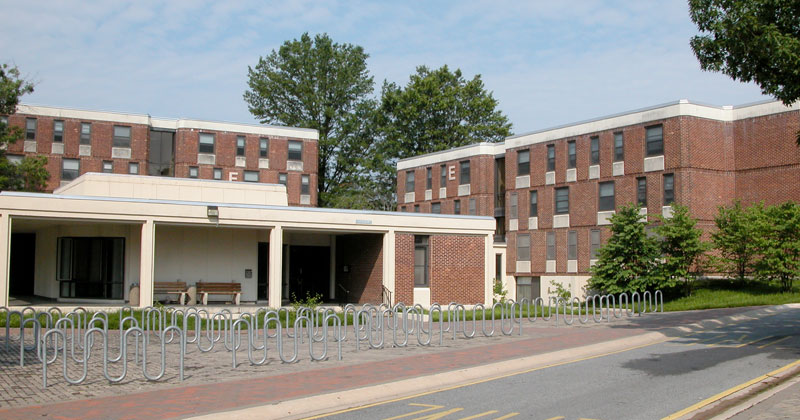 We made the best of our time in Dickinson A, including fun times during the spring of 1984 where we would hang out in the field across the street. On warm spring days, it was a great spot to lie in the sun, play frisbee or hacky sack.
On one occasion, we had the bright idea to use our blankets and bedsheets to create a firemen's throw. We had a half-dozen guys and girls holding the sides of the bedsheets and throwing volunteers into the air with the bedsheet and catching them on the way down. The lighter the volunteer, the higher they went. I happened to be one of the lighter ones, and when my turn came, I was tossed what felt like two stories in the air. On my return to earth, I made the mistake of coming down feet first, and went right through the sheets. After confirming I wasn't injured, we laughed our butts off, and proceeded to get reinforcement blankets to continue the fun. If only we had iPhones, we could have had our viral moment. However, the memories serve just as good.
-Alan Sefcik, AS87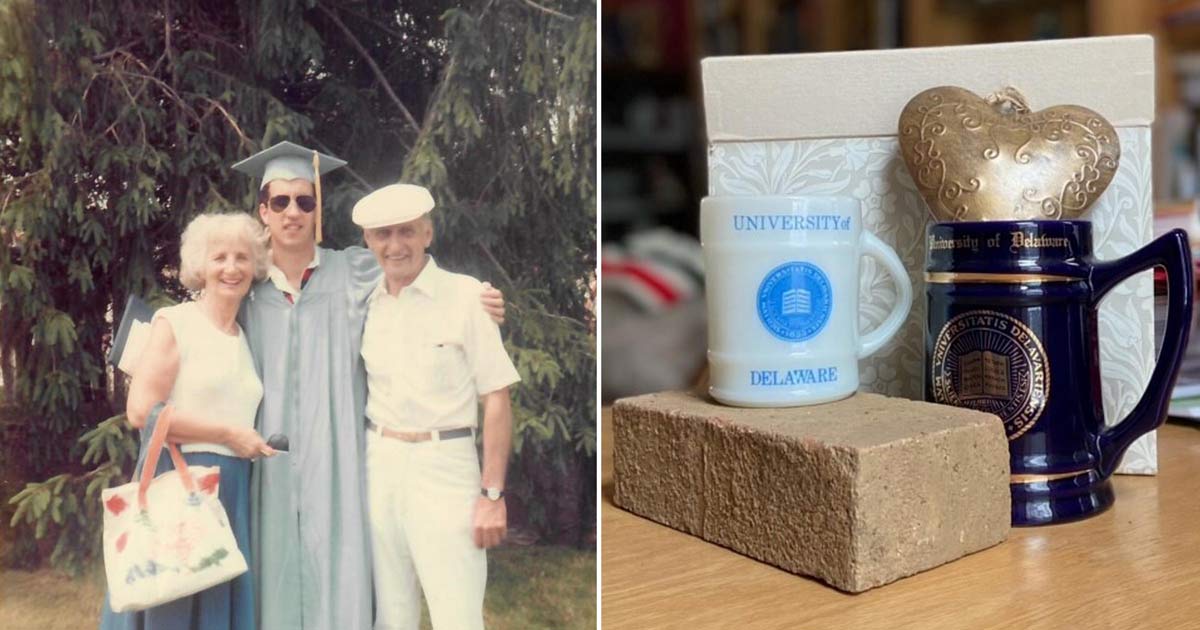 I was a Freshman Honors Program (FHP) student on the Wesley College campus my freshman year. When I came up to main campus my sophomore year, in September 1978, I lived in 363 Rodney E. Our brother floor was third-floor Rodney F.
The first night we were in the dorms, my roommate put a sign on our door, "Do Not Disturb, Studying." I didn't know she put the sign on the door, so when someone knocked on the door, I opened it. And there was Joe, from Rodney F, and he wanted to know what we could possibly be studying the first night we were in the dorms. After all, classes hadn't even started yet. I had no idea!
There were a lot of firsts in the Rodney dorm complex, for me and for a lot of other people. Most importantly, I met several people I'm still friends with today. It was a good time, the best time. None of these memories are exciting or important, but they matter to me, and they spark so much joy!
–Krys (Cook) Salvetta, AS82
Be careful who you meet on the first day of college!
My college journey began in the fall of 1978, from the back seat of my parents' overloaded car traveling from my home in Maryland to UD. I was looking a little green as I made my way up to my single room on move-in day.
In Rodney D, my parents asked another student, across the hall, to please watch out for me. How embarrassing! She, Marie, turned out to be one of my best friends! Today, 38 years later, we are still the best of friends.
As anyone can tell you, Rodney was originally designed with two living spaces paired with a single center "office" space. With a burgeoning freshmen class, these center spaces were converted to yet another single room. The ability to stretch my arms and touch opposing walls was not forgiving to my overpacked suitcases. Somehow, I managed.
Marie and I had a super nice RA, Karen. Again, 38 years later, Marie, Karen and I are still dear friends.
Back to the first day at Rodney. Marie and I went to the dining hall to eat and we met a guy named Scott. Scott introduced us to Steve Brown. Scott was a senior and Steve was a freshman, both residents of our brother dorm, Rodney C. Little did I know, but Scott was friends with my sister Lora, who had also lived in Rodney and had already graduated. It really is a small world!! Not only that, Marie, Scott and I are friends to this day.
Time rolled on, and I became better friends with Steve. We would go to the dining hall together, study at Morris Library and go ice skating, etc. I even went to him for boyfriend advice. One of our greatest pleasures was going for subs at Leonardo's Deli, when we allowed ourselves the occasional diversion from our dining hall meal plan. I wonder if the dining hall still has those "mystery pancakes" with leftovers incorporated into them from the dinner before?
One time, Marie asked, "What do you think about Steve as a boyfriend?" I said, "No he's not my type." We ended up dating our entire time at UD. Friends called us, "double B's," "Brown squared" or "the Browns." I guess I changed my mind!
WELL, we celebrated our 37th wedding anniversary last June and have three sons together–now grown. Thanks, Rodney and UD for bringing so many profoundly important people into my life!
–Sara K. Brown, EHD82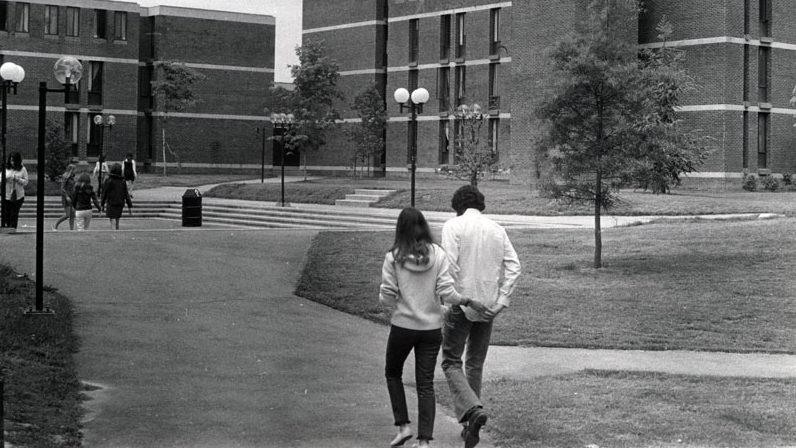 It's so fun to think back on my two years in Dickinson, 1975-1977. When my dad took me to move in, he knew I had chosen a co-ed dorm, but I'm not sure he understood that meant every other room would be filled with guys! The center lounge on each floor had been converted to a four-person dorm room, complete with bunk beds, locker-style wardrobes and desks. This is where I was assigned, and it was a great way to meet my floor mates as everyone wanted to check out the set up. My dad was trying to fix my bunk when a hot Italian guy—wearing nothing but the towel from his recent shower—poked his head in to see the lounge; my dad asked if he had a screwdriver and when he replied something to the effect of "yeah, and what a cool dad to be drinking so early in the morning," I was sure I was going to be packed up and taken home!
There were so many good times there. In the winters we sledded on dining hall trays down the hill next door. We ate many disgusting meals in the Rodney dining hall but were happy to return there in the evenings for movies, milkshakes and studying. We celebrated Halloweens in grand style with elaborate costumes parading throughout Dickinson. It seems crazy to think that we all shared one common phone per floor which was answered by anyone who happened to walk by, and everyone had those message boards on their doors. How many times did we race across the tracks to avoid being late for class on main campus (and how did we ever get used to the sound of those damn trains)?!
Through it all there was music! From our room it was usually Billy Joel, Dan Fogelberg, the Boss, Crosby, Stills, Nash & Young, and Fleetwood Mac. From up and down the hallways you'd hear The Who, Queen, Pink Floyd, the Eagles, Jackson Browne, the Doobie Brothers, the Doors and the Stones. I still love hearing the music of the 70s and it always takes me back to those days. Our time there included a lot of hard work, and a bit of growing up, but we sure had a blast on the second floor of Dickinson C, making friends and memories to last a lifetime!
–Andrea M. White-Collins, HS80
Help a Hen
UD's crowdfunding platform provides an easy way to directly support campus projects, scholarships, programs and more.