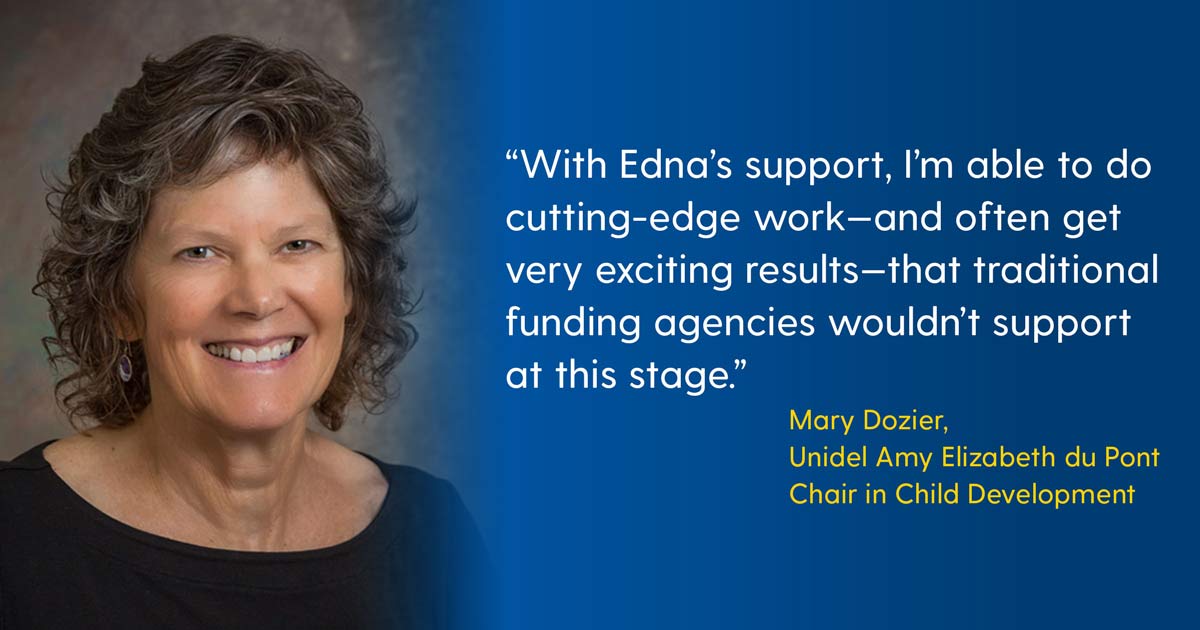 Investing in Relationships
Relationships and connections are the backbone of Mary Dozier's research—in the laboratory, the field and even through philanthropy.
As the Unidel Amy Elizabeth du Pont Chair in Child Development in the University of Delaware's Department of Psychological and Brain Sciences, Dozier researches the bonds between children and caregivers. The impact of her work is far-reaching and personal. In fact, Dozier and her team have trained about 1,000 coaches and practitioners in successful bond-building, ultimately benefitting children and their families in 20 states and 10 nations.
Her success is bolstered thanks to donor Edna Bennett Pierce, who met Dozier in 2005 at a dinner introducing UD faculty members. At the time, Pierce and her six children had endowed the C. Eugene Bennett Chair in Chemistry in honor of her late husband. But talking to Dozier struck a chord—Pierce had studied child development at her own alma mater and went on to have a large family herself.
"We had the same interests in early childhood," Pierce recalled. "If you can't handle problems before children are five, you're in trouble. Her research was going in interesting directions that I certainly would never have thought of."
It was a significant meeting for both Dozier and Pierce, and the start of a meaningful relationship between the two women. After seeing a presentation by Dozier and her students, Pierce decided to make a gift to specifically support Dozier's research. But she wanted to be an active supporter—and so each year she and Dozier catch up, often over lunch but lately on the telephone. She has continued the support every year, with the same request to stay updated.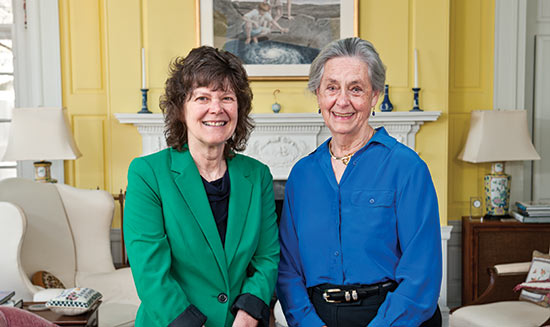 "With Edna's support, I'm able to do cutting-edge work—and often get very exciting results—that traditional funding agencies wouldn't support at this stage," Dozier says. "For example, to get a grant from the National Institutes of Health [NIH] you have to have evidence that what you're investigating works; it can't be the kind of exploratory work that Edna allows me to do."
At the heart of Dozier's work is the Attachment and Biobehavioral Catch-Up (ABC) program developed first in her Infant Caregiver Project. The 10 hour-long sessions help parents and primary caregivers establish and develop nurturing bonds with children who have experienced adversity through separation, institutional placements, neglect, mistreatment and other stressors. Some of these children have been in foster care or were adopted internationally. Some have experienced trauma or were born to mothers addicted to opiates.
Over the past year, Dozier's research has also nimbly navigated changes and challenges brought on by the coronavirus pandemic. Her lab was able to adapt the ABC program to a telehealth format, and, although a more rigorous study is needed to confirm, early data show the program is still effective.
Thanks to Pierce's committed support, Dozier's research opportunities have continued to grow, so much so that in 2019 she was recognized by the American Psychological Association with its Urie Bronfenbrenner Award for Lifetime Contribution to Developmental Psychology. Dozier also received numerous grants from the NIH and other agencies, as well as UD's Francis Alison Faculty Award, the University's highest competitive award for faculty. She credits Pierce's flexible support with providing her a solid foundation that could attract larger grants.
Even while Pierce has watched the project grow and read Dozier's research reports year after year, she remains pleasantly surprised at the results. Whatever her impact, she said, it is a happy byproduct of being intrigued and wanting to encourage a talented researcher.
"I don't know that I had a specific goal when I decided to support Mary's research, I simply thought her work was interesting and I was curious," Pierce said. "I'm rather amazed that I have had that much effect on somebody's life, other than my own family, and I hope that the impact of Mary's work and her research continues long into the future."
To find out more about philanthropic support for Mary Dozier's research, contact Doug Kleintop, assistant vice president of colleges and programs in the Office of Development and Alumni Relations, at kleintop@udel.edu.
Call Us to Share Your Memories
Listen to Blue Hens share blue-and-gold memories in their own words with the Remember When voicemail series.