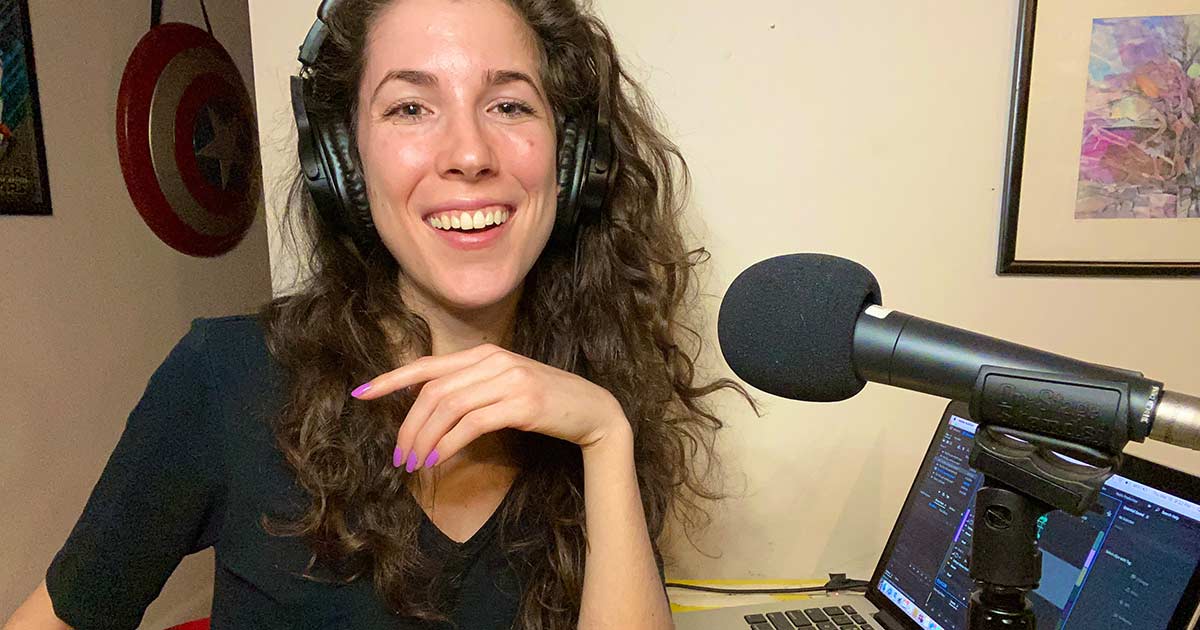 Q&A with Podcasting Alumna Alexandra Cohl, AS14
Alexandra Cohl, AS14, has taken standout lessons of inequity and anti-racism from her English Lit education at UD and has applied it to serve and spotlight women and people of color in the podcast industry. A current resident of Queens, NY, Cohl runs an online platform called POD.DRALAND, which centers on women-hosted podcasts and women in podcasting at large, and just launched her own podcast in line with her work called The Pod Broads: A Podcast About Women in Podcasting.
How did you get into podcasting and supporting women-hosted podcasts, specifically?
I always like to say that while the first show that got me into listening to podcasts was Serial—probably like many of us back in 2014—it wasn't the one that sparked my need to be in the industry. That didn't happen until I was in graduate school between 2017-2019. I was getting my master's in English Literature and had been teaching creative and essay writing since graduating from Delaware (also in 2014).
Around that time, I started listening to podcasts even more, and this time they were ones specifically focused on the career trajectories of women: those who were in freelance or artistic careers, entrepreneurs—basically anything off of that "traditional path."
I was binge-listening to so many women-hosted podcasts who were not just giving me great advice on work and life but also providing me with insight into things I may have never experienced first-hand and helping me check my own biases so I could improve my emotional intelligence. POD.DRALAND, my blog-turned online platform, kind of started as a thank you to them; I wanted to curate a space where their voices were showcased and uplifted. And, that's what I do: recommend women-hosted podcasts and feature independent women podcasters.
What were your motivators, in addition to the inspiration you found from other women-podcasters, for dedicating your work to uplifting women?
I developed this platform around the time that many reports about large-scale sexual harassment cases were coming out, and I was grappling with my own identity as a survivor of childhood sexual abuse and finally dealing with the PTSD I had (and still have) from that event.
My brand is all about listening to women, and a big part of my drive for ensuring women's voices are heard and respected in this industry (and in general) is because of the gender-based violence and lack of representation we consistently face. In podcasting, women make up only a third of the hosts on major networks and there continues to be a lot of gatekeeping and workplace harassment that affect both women and people of color.
What challenges did you face as you broke into the industry?
After graduating with my M.A. at the end of 2019, I realized very quickly that my credentials were going to look different from many of the other candidates who were applying to these podcast internships or entry-level positions. While I knew my editorial and story crafting skills were strong and I had years of experience there, pivoting industries can be really difficult and not having the same type of background as these other folks definitely fueled any imposter syndrome feelings I was having throughout the application process.
In a similar token, I wasn't in a position to do unpaid work (not to mention I am also against unpaid internships because they promote a level of gatekeeping that continues to breed inequity and underrepresentation in podcasting and other industries). So, I kept my teaching position (which turned virtual during the pandemic) and continued to develop my blog, building it into a larger platform and making more connections with podcasters I loved, admired, and wanted to help in any way I could.
Looking back, though I was disappointed at the time for not getting certain jobs or internships, I am now grateful I didn't get them. I don't think they were meant for me or for the type of work I really wanted to be doing. As those didn't come through, I started to organically get podcast clients for PR and social media work and began building out my own freelance business that is now doing really well and has given me the opportunity to work with smaller, independent podcasts like OwnYourStories and larger companies like Acast.

What are some of the standout stories women have shared with you through this unfiltered space on your podcast?
There are of course so many! But, two that come to mind at this moment are ones that have to do with each of these podcaster's relationships with their parents. The first one is from episode three, where I speak with Rita Phetmixay. She runs Healing Out Lao'd, which is both a podcast and movement centered on the Lao diaspora and on trauma healing through storytelling.
In our episode together, Rita reflects on a verbal altercation she and her mother had and then shows us in real time their conversation that was able to heal parts of their relationship. Rita continues to do the hard work of healing transgenerational trauma in her own experience so that she can continue to help others do it.
The other story that stands out is with Isabeth Mendoza on episode five of The Pod Broads. She had been working as engagement producer for a podcast I love called Truth Be Told. We spoke about her episode, Deportation Wounds, which features a conversation between her and her father who had been deported years ago and is currently living in Mexico while she lives in L.A. She shared with me about the emotional time of not just recording the episode but also the editing process; she reflected on how doing that episode was an act of healing in and of itself.
I am always so grateful for the women who share their stories with me and these reflections that they sometimes are having with me in real time. I think what is clear about their own podcast episodes and the ones they had with me is that this medium can really inspire such intimate exchanges when both individuals feel safe and are given space to be themselves.
How has your work impacted your view on the industry and on the resilience of women and people of color?
The more I have become immersed in the podcasting industry itself, the more I continue to see the harmful structures that we need to break down and reimagine, as well as the resilience of both women and people of color—especially Black women and other women of color.
As a white person who holds a certain level of privilege just from simply being white, it is absolutely my responsibility to ensure that the way I am moving through this industry is not harming Black people and other people of color and that my work is actively ensuring that their varied perspectives are heard.
The more I have been actively seeking out podcast episodes that speak on things that don't match my own lived experiences, the more I have been able to catch my own past blind spots, reflect on how I may have been contributing to these harmful structures, and continue to practice self-reflection as I move through this space so as to not repeat any of that.

How did your UD experience influence your career path?
I immediately think about a few key classes I had while studying English Literature at UD that were huge influences. I always say I am a writer first because so much of my other creative work stems from not just the skills I learned as a writer but the theories and readings that I had throughout my studies. Early on, I took a class with Professor Bernard Kaplan that centered on Gay and Lesbian literature, and two texts that still stick with me today are Giovanni's Room by James Baldwin and Angels in America by Tony Kushner. These were two stories that taught me so much about how the political is inextricably linked to the personal and they continue to inform the way I understand the world and shape my own career path. I also took multiple classes with Professor Heidi Kaufman that taught me so much about feminist theory and the portrayal of women in Victorian literature and how these portrayals continue to impact the way women are viewed and affected in society today. Not to mention that Professor Kaufman also helped me with my graduate school applications and helped propel me into the space that led to my current work.
Outside of classes, another big part of my UD experience that I now see was setting the stage for my work right now was being in the acapella group The D Sharps. It was one of the first all-girl groups I had been a part of (separate from a sleepaway camp experience at age 14) and it really began to show me how powerful and relaxing it was to just be in the community of women and how important it was to carve out those spaces for ourselves. A lot of times, girls are pitted against one another from an early age and told to see each other as competition, but something that I have learned is that when we support each other, it only benefits all of us.
You can find Alexandra Cohl at:
IG: @pod.draland
Email: poddraland@gmail.com
Web: POD.DRALAND PR and Social Media services
---
September 2021: Season two of The Pod Broads launched. Check it out here: https://thepodbroadspodcast.buzzsprout.com/1592776/9224654-the-pod-broads-season-2-more-dope-women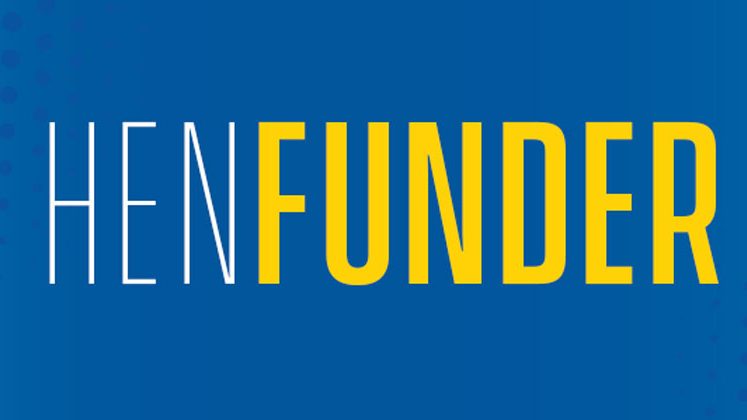 Help a Hen
UD's crowdfunding platform provides an easy way to directly support campus projects, scholarships, programs and more.