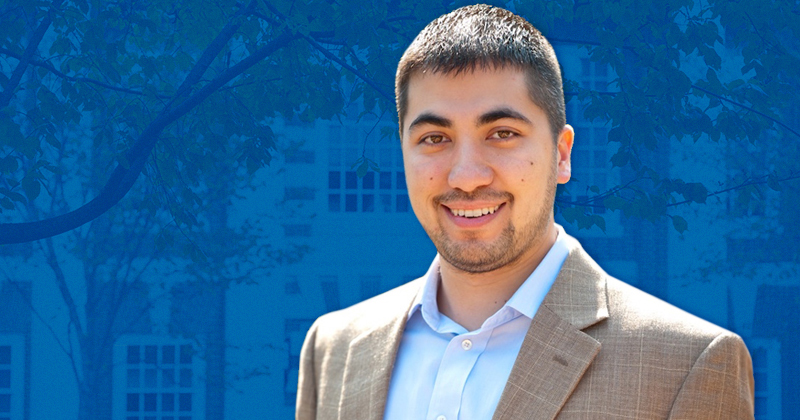 Q&A with Professor Mark Blenner, College of Engineering
Mark Blenner, a premier expert in biomanufacturing, didn't hesitate to join the faculty of UD's Department of Chemical and Biomolecular Engineering. With the University's reputation in biomanufacturing and support from alumnus John Witheford, EG51, through the John M. Witheford Faculty Recruitment Fund, it was an easy decision.
Blenner joined the University community in January of this year, and is already making progress on impactful research, building relationships and enjoying the perks of being a Blue Hen.
Below he shares some of his initial thoughts and insights.
Tell us the best parts about working and teaching at UD so far!
The best thing so far has been culture of UD and the Department of Chemical and Biomolecular Engineering. I've felt very welcome by the UD community and find a new and exciting potential collaboration multiple times per week. The collaborative nature of the faculty and the students has really stood out to me. While there are smart and hard-working individuals at UD, there is a common appreciation that the whole is greater than the sum of the parts.
Another thing I have really liked about UD is the Ammon Pinizzotto Biopharmaceutical Innovation Center, where my research lab is located. In addition to being smartly designed for biopharmaceutical research, the building is really well setup for chance run-ins that can lead to unexpected conversations about science and engineering.
Third, I'm enjoying the extensive selection of flavors at the UDairy Creamery.
What brought you to UD and what are you working on now that you are here?
The decision to move to UD was motivated by the excellence established in biomanufacturing. I strongly believe that UD is truly THE place to be for biomanufacturing research and education. Moving to UD has afforded me the chance to reevaluate what the future of biomanufacturing looks like – and what my research group, and others at UD, can do to develop the fundamental insights that can impact the way biomanufacturing is done.
We are working on methods to make cell line development (mammalian cells for biopharmaceuticals and non-model yeast for biochemicals) more efficient and derisked. We are also starting new work on understanding and overcoming what limits how long cells can be grown in a culture – which is a significant bottleneck for establishing continuous biomanufacturing.
Having become affiliated with the Center for Plastics Innovation, we have expanded our work on engineering microbial system to degrade waste plastics. Along with my colleague in CBE, Professor Kevin Solomon, we hope to find a part of the solution to the big plastics problem inside the gut of insect larvae. We know these worms are able to eat through plastics, but we're trying to figure out which microbes in the gut do the work and discover the enzymes involved.
The John M. Witheford Faculty Recruitment Fund made it possible for UD to recruit you. How does donor support impact you and your ability to teach and research at UD?
Donor support is essential. These funds have supported equipment and supplies for my early projects at UD. This investment in what we do really gives us the freedom to think grandly about solving the challenges of society. These funds support the Ph.D. students that develop their independent research skills on bold and important projects. Donor support for faculty recruitment and for research has a huge impact on teaching and education.
As a researcher, I'm constantly evaluating where the field is currently and where it's heading. Bringing that knowledge into the classroom is how we prepare our students not just for the job they'll have when they graduate, but also to prepare them for the job they'll have in 5, 10 and 20 years.
Coming Together for our Students
The Blue Hen Strong Fund provides immediate help for students suffering hardships as a result of the pandemic.