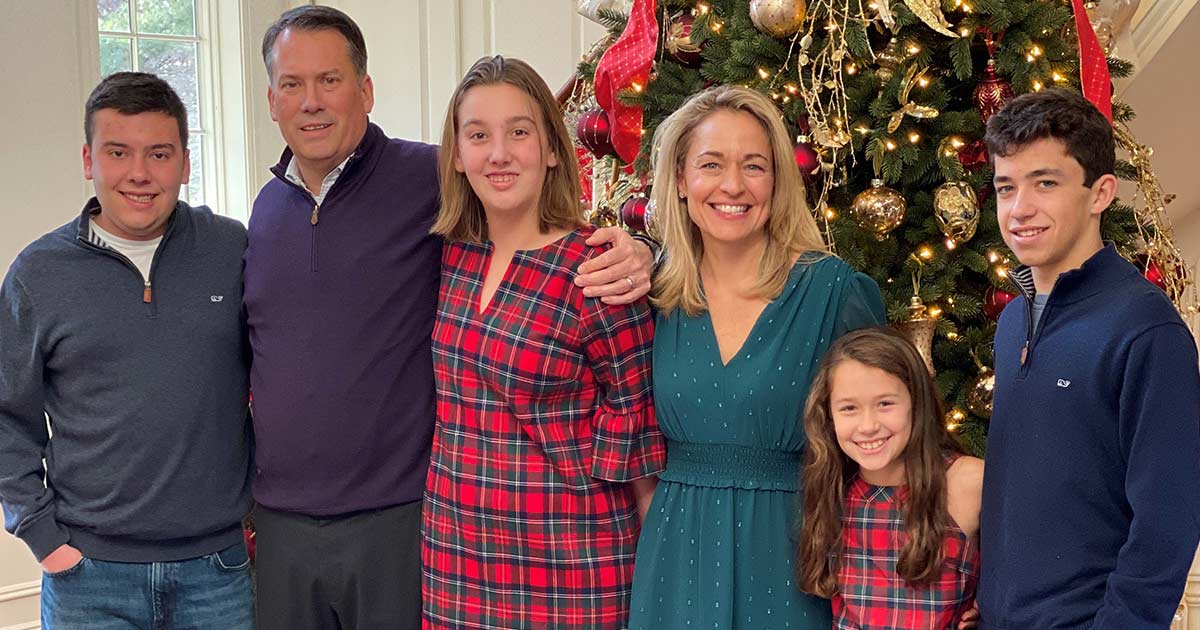 A Family Commitment to the Blue Hen Experience
On campus in the 1960s and '70s, Anita Crowley, EHD74, was not the average University of Delaware student. A woman in her 40s who was already busy as a homemaker, Crowley couldn't forget about her own degree, which she had started years earlier. She decided to return to school to finish her education. Eventually, she earned not only her bachelor's but also her master's degree from UD—and then returned to campus after earning her doctorate to teach as an assistant professor.
"I never thought much of it when I was a little kid, but when I think of it now, I am amazed that my grandmother went back to school when she did," said Brad Bono, AS91, a Delaware native whose mother also graduated from UD. "We're four generations UD now."
As alumni, mentors, volunteers and proud parents, Brad and his wife, Jennifer, BE97 are used to taking on new roles to support their alma mater. This past fall, they stepped up to join the Parent and Family Leadership Council, as Jennifer's son and Brad's stepson, Christian, prepared for a unique start as an incoming first-year student learning remotely. Alongside the parents and families of other current UD students, the Bonos are volunteering their time and leadership capabilities to help enhance and improve the UD student experience for all current Blue Hens.
"Christian's experience, even from afar, has been great and it's been fun for us in a different way, just knowing he is part of the same experience we had as Blue Hens ourselves," Jennifer said. "When I was a student, I definitely saw myself staying active after graduation, but I don't think I could have envisioned us being as active as we are and it's wonderful."
While Jennifer remained connected to UD as an alumna initially through events and friends from her sorority, the couple's connection grew in part through Horn Entrepreneurship, the creative engine for entrepreneurship education and advancement at UD. For about 10 years, Brad has been an active part of the Horn community, as a mentor and member of the advisory board. His first visit back to campus as an established alumnus, he said, "brought everything back" and the energy and creative ideas coming from Horn students encouraged him to stay involved.
Inspired by the success of the Horn Entrepreneurship program—now recognized as one of the top entrepreneurship programs in the country—as well as their growing ties to UD through Christian's experience, the Bonos decided to further their impact with philanthropy, including through the establishment of a scholarship. Thanks to their generosity, students with an interest in business and entrepreneurship can access the resources and opportunities needed to excel in their studies while learning dynamic creative thinking and leadership skills.
As committed alumni, proud parents and part of a growing Blue Hen family, the Bonos continue to support students who are eager to pursue their studies at UD—celebrating the legacy Anita Crowley started when she returned to school while looking to the future.
"My grandmother was so into the University of Delaware," Brad said. "She was over the moon when I was selected to go to UD, so she would be over the moon to hear we are still so involved with the University and doing what we can to help other Blue Hens have a similarly rewarding experience."
Coming Together for our Students
The Blue Hen Strong Fund provides immediate help for students suffering hardships as a result of the pandemic.