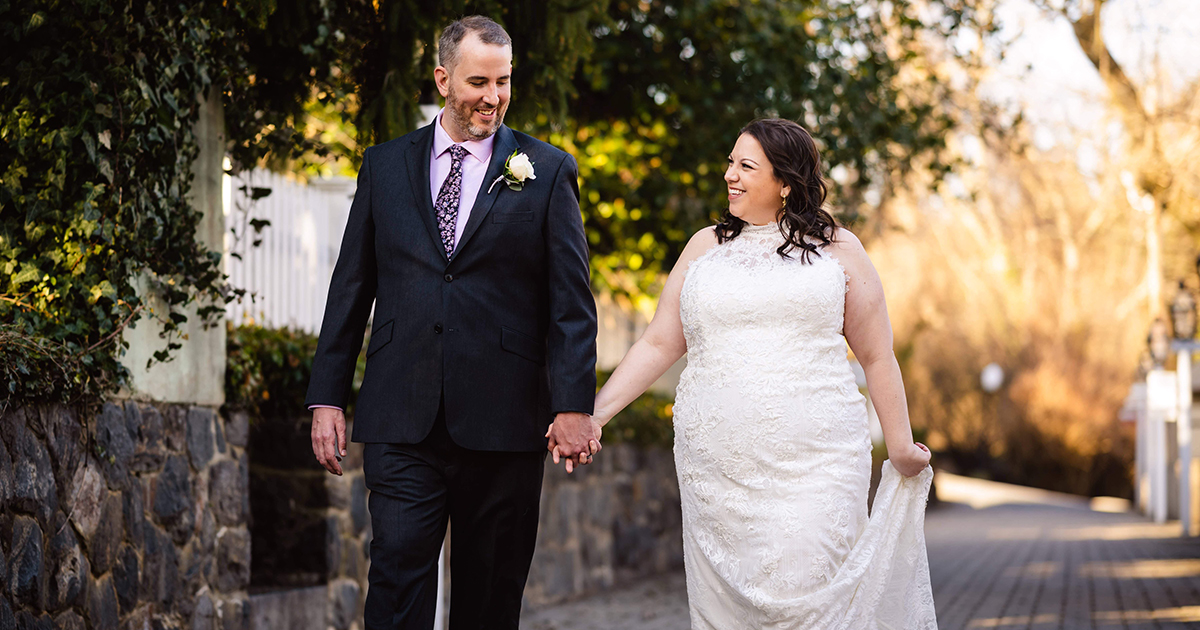 Advice from a Blue Hen: How to Save Money on a Wedding
Photo credit: Nick Wallace Photography
Lauren Anastasio, BE06, BE10M, knows about money. As a certified financial planner at personal finance company SoFi and a recent newlywed, Anastasio can share why she refused to go a penny over budget when planning her own microwedding, and will do the same in her forthcoming wedding celebration post-pandemic. Here, she shares the following tips on how Blue Hen couples can cut costs when planning the big day.
1. Take a Financial Snapshot: After agreeing on a set budget, my partner and I set up a SoFi Money vault to set aside money specifically for the wedding. I mapped out our income and expenses for the year to see what extra savings (not already allocated to retirement or other savings goals) we would have each month to go towards paying for the wedding.
2. Practice the Art of Compromise: My husband and I discussed the most important parts of the wedding we each wanted, and were able to prioritize which components to put more money behind and which we could cut costs on. Having an agreed upon budget, I made sure we didn't overspend and was prepared to make concessions to make it fit within the budget.
3. "Do It All" Venues Have Hidden Costs: We thought it would be easiest to choose a reception venue that would provide the catering, cake, bar service, flowers—the works. Signing one contract seemed much easier than shopping around for each individual service and we had hoped cost efficiencies came along with it, but we were surprised to see our price per guest tick up with every decision we made. If you have the time and energy it could be worth piecing together different vendors and trying to get the best price from each.
4. Allow Some Big Expenses to be Gifted: Weddings can be expensive. Your friends and family are aware of this fact and may wind up giving you a monetary gift. In some cases those who are close to you may enjoy the idea of their gift going towards your wedding day. When John and I had our small ceremony, our family members gifted their time and talents—my brother-in-law officiated our ceremony, his girlfriend did my hair and makeup, my mom gifted us the flowers for the day, and my sister bought our cake. This significantly cut back on the cost and also allowed our loved ones to provide very meaningful gifts to celebrate the day.
5. Don't be Afraid to Negotiate: Many vendors including DJs, photographers, florists, etc., had a rough go of it during 2020 and are anxious for business this year and moving forward. It's possible to support these business owners and cut your own costs at the same time. Rather than just accept a "wedding package" from a videographer for eight hours of service, ask if you can piece together the individual services you really want at a lower rate. You may decide you really only want 15 minutes of the ceremony, the speeches and first dance on video and give the videographer the rest of the night off. You don't have to pay for all the bells and whistles from every vendor if you don't want them.
6. Feel Free to Buck Tradition: Times have changed since your parents and grandparents got married, and the COVID-19 pandemic allowed many couples to be creative and do things a little differently than they had traditionally been done. If there are costly components to your wedding that are not particularly meaningful to you, ditch them! In my experience, most guests are too tired or busy dancing to even notice that dessert is being served, so we decided to skip the fancy wedding cake in lieu of a more casual and inexpensive option for our reception.
7. Try to Avoid Using the Word 'Wedding': I get it, believe me, you're thrilled about your partner and the big day and you want to shout it from the rooftops. The problem is, when vendors hear the word "wedding" they tend to see big dollar signs. My neighbor, a fellow UD alumna, was able to save over $10,000 on her wedding reception by telling her venue she was interested in hosting an anniversary party. The price per plate, for the same food, went from over $100/per person to $45.
Coming Together for our Students
The Blue Hen Strong Fund provides immediate help for students suffering hardships as a result of the pandemic.