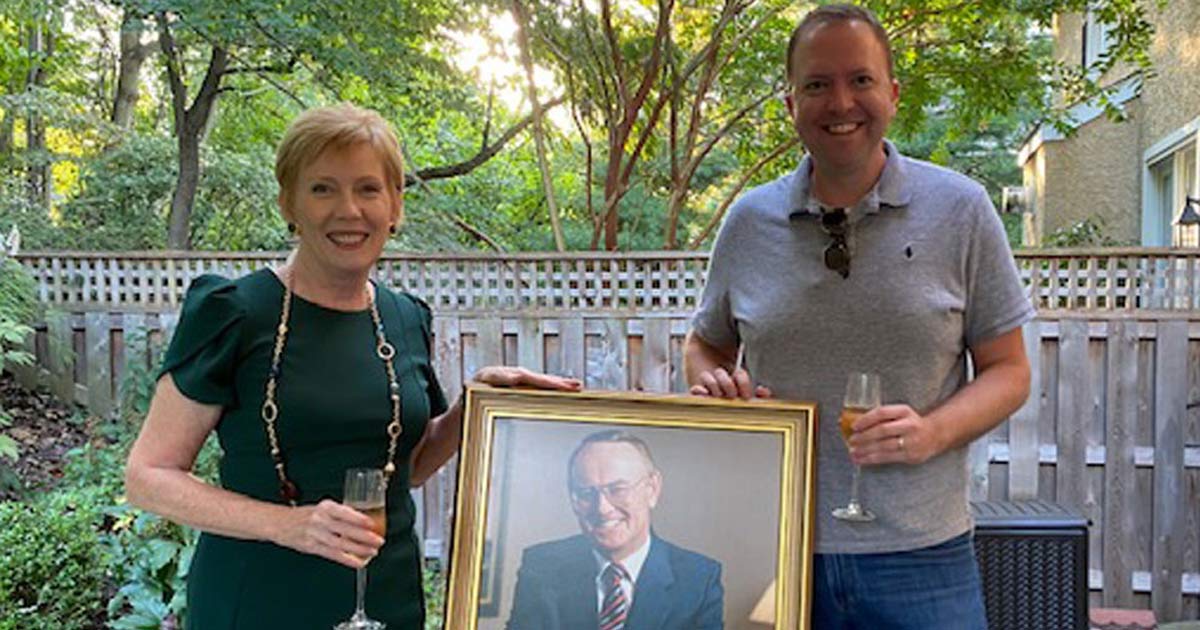 Forward Thinkers in Bio Engineering
Bernard Canavan always had his eye on the next big discovery, even after retiring from decades in the medical and pharmaceutical industries.
"He seemed to always be moving forward," said Helen Stimson, reflecting on her late father's life. "If an advancement was becoming established and more accepted, he moved on to explore the next innovation."
Stimson, chief operating officer of Adesis, Inc., a contract research organization supporting the pharmaceutical and biopharmaceutical industries, chair of UD's Biomedical Engineering Advisory Council and member of UD's Biopharmaceutical Innovation Board, wanted to honor her father's inquisitive spirit by ensuring that fellow innovators had the opportunity to pursue future discoveries.
In 2017, Stimson and her mother, Margaret Canavan, established the Bernard Canavan Faculty Research Award, which is used to reward and retain faculty members in the Department of Biomedical Engineering by supporting their research initiatives.
In 2020, Curtis Johnson, an assistant professor in the department and director of the University's Mechanical Neuroimaging Lab, became the second recipient of the Canavan award. With this support, he will deepen his research in understanding the health of the brain, and how it develops and changes during aging, using MRI scans. It will also support the work of graduate assistants, boosting their academic experience so they can successfully pursue future degrees and research.
"Helen Stimson has been a big champion of the department and the Canavan family has been there to help us grow," Johnson said. "We're a young department that is looking to both attract and retain the best people and do the best research, and she saw an opportunity to help take the department to the next level."
It was only in 2010 that Dawn Elliott, a Blue and Gold Distinguished Professor of Biomedical Engineering, founded the Department of Biomedical Engineering, which she now chairs. At that time, the department had the capacity to enroll 40 undergraduate students. Now, it accommodates up to 100 new undergraduate students each fall, in addition to graduate students. It is also rated among the top one-third of all biomedical engineering departments nationwide.
Stimson is confident her father would be passionate about supporting rising scholars and a new department full of potential and innovation.
Born in Fife, Scotland in 1936 to a coal mining family, Canavan was the first in the family to attend university and graduated first in his class in 1960. After graduation, Canavan immigrated to Canada for better opportunities and to begin his practice as a family doctor. Ten years later, he decided to join Wyeth Pharmaceutical, a division of American Home Products, as their Canadian medical director. He retired in 1994 as the president of the company but remained active in the industry as a board member on six different early stage biotech startups.
Canavan's story—of moving from being a doctor himself to a leader in the pharmaceutical industry—is inspiring to Johnson, the current holder of the award.
"His story is very impressive, as someone who was a physician and understood that world and then was able to look at what's coming in the future and find a way to drive those things forward. If I can do even a fraction of that, it would be incredible," said Johnson. "This award is an investment in the future, because the collaboration that can come from laboratory work and educating graduate students creates even more opportunities for future discoveries."
Stimson wonders what her father would think of today's biomedical landscape and how the industry has changed since his humble beginnings as a high-achieving medical student.
"I think he would be engaged and asking a lot of challenging questions, because there's a lot of work that the biomedical engineering team does on targeted drug delivery, which is a key to the biopharmaceutical industry," Stimson explained. "You can make a pharmaceutical product, but how do you get it directly to the tumor and not have it do damage elsewhere in the body?"
Through her family's faculty research award, Stimson sees the pieces coming together so that her father can continue to support bright people focused on making a difference. It's the kind of research that perhaps could have changed Canavan's life. He died of bladder cancer at age 66, and Stimson hopes that one day similar patients will benefit from biomedical engineering advancements, like artificial organs, which scientists are now researching in this new frontier.
"There's a lot of research that's gone on in bladder cancers since his death. You never know whether someone would survive or not," Stimson said. "But there are many things that were not curable 10 years ago that are today. When we invest in top scholars and mentors, we can imagine what biomedical engineers can accomplish in another 10 years."
Amplify Your Impact
Make your contribution to UD go further with a matching gift from your employer. Some companies even double or triple gifts!