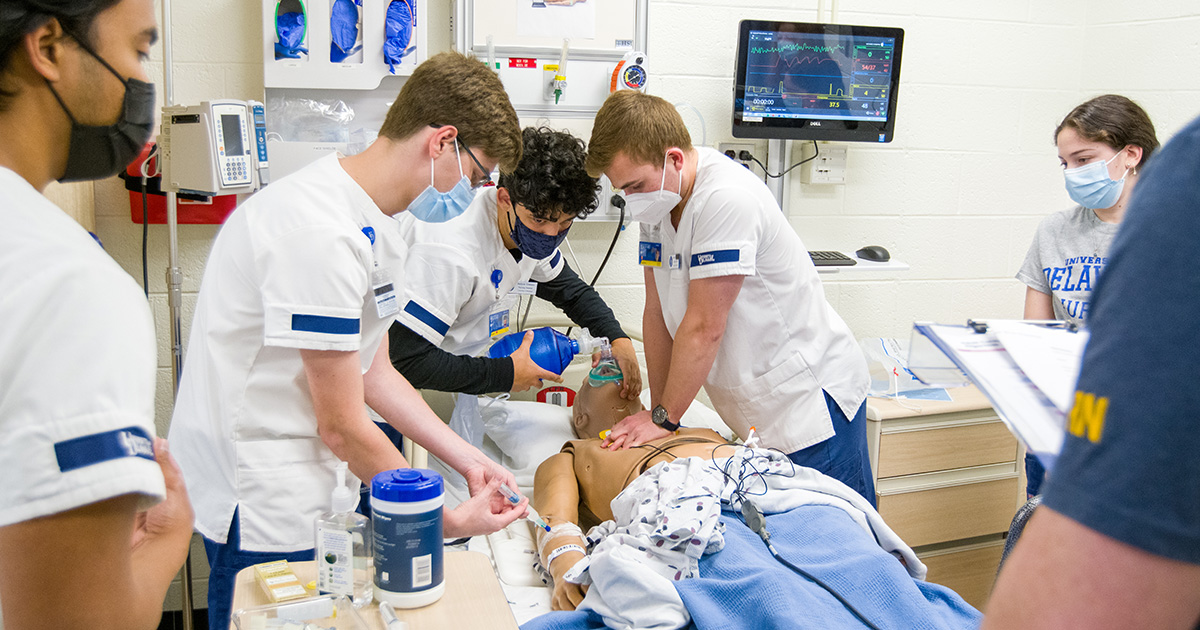 CHS Class of 2022 Spotlight: Nursing
May 27, 2022 Written by Amy Cherry | Photos by Ashley Barnas and submitted by graduates
We're honoring the Class of 2022 by shining the spotlight on some of the best and brightest graduates from the School of Nursing in the College of Health Sciences:
Sarah Stuart | Nursing Major
Three words to describe the UD CHS experience:
Memorable. Challenging. Fun.
Sarah Stuart remembers spending time with her mom at work in her younger years. He mother was a CAT Scan tech in a hospital in Wildwood Crest, New Jersey.
"I thought her work was really important, and I got to see how everyone in the hospital interacted with each other, and it was just a team that I saw myself wanting to be a part of."
"People would ask me what I wanted to be when I grow up – and I'd always answer with the same thing: 'I want to help people.'"
She toured the University of Delaware as a prospective student and distinctly remembers seeing the simulation spaces in McDowell Hall in the School of Nursing within the College of Health Sciences.
"I knew they had mannequins that we could do nursing tasks on. When I walked in the room, the lights were off, and they flicked on, and I wasn't expecting them to look so life-like," she said. "Now, four years later, I think they're just such an important part of education here. It's not a real patient, but it's the next best thing to it, and they can do literally anything with them, which is really great."
All pathways led her to enroll in the School of Nursing,
While her experience with mannequins helped shape her future as a nurse, she called clinical experiences from working at the VA Wilmington to a hospital in southern Delaware valuable too.
"I dealt with an elderly population, and it was nice to communicate with these patients who have experienced so much in life, and to form those relationships. We also had a great psychiatric rotation which mainly focused on talking to the patients and taking time out of your day to know them. I think that's so important."
She did her preceptorship at the intensive care unit at Beebe Healthcare in Lewes, marking the first time she'd work with COVID-19 patients during the Omicron surge in early 2022. The hospital wanted to hire on her the spot.
"You hear these stories of people walking into something knowing this is where they want to be," she said. "That's how I felt there."
She recalls learning how to include families in patient care an "eye-opening" experience and credits her time in the SON Simulation Resource Center with preparing her for some of those challenging. moments.
"You really have to figure out how to communicate with them and let them know what's going on while also taking care of that patient who's going through such a difficult time in their life," she said. "We've been given so many opportunities to work on patient interaction with real people through Healthcare Theatre and mannequins. It's been really formative."
She called her University of Delaware experience memorable, fun, and challenging.
"I feel challenged every day, but not in a way that makes me want to back down. All the professors and everyone on-board makes me want to keep moving forward. Everyone wants to see you succeed here."
Stuart has accepted a position as an ICU nurse at Penn Presbyterian Medical Center post-graduation.
Makaliah Abrams | Nursing Major
Three words to describe the UD CHS experience:
Shellshocked. Exhilarating. Comforting
For Makaliah Abrams, heading to the University of Delaware just made sense. She was close enough to home to see family on the weekends, but the small size of Newark and the stunning campus drew her in.
Hearing her mother's birth experience stories inspired her to choose nursing.
"I have pictures of me with my nurses. I love that. I want to be that for somebody else," she said. "Nurses have more patient communication. You get to know your patients on a deeper level than a doctor does, so it seemed like the perfect fit for me."
Abrams credits her simulation lab and healthcare theatre experiences with shaping her college experience in the School of Nursing within the College of Health Sciences.
"Starting clinicals our sophomore year gets our feet wet," she said.
She completed her preceptorship in the operating room at Bayhealth Hospital, Sussex Campus earlier this year.
SON kept her busy 24/7, but it's also what she'll miss most about UD.
"I'll miss the atmosphere of being at school. Coming to college was a big difference from high school. Being able to have that freedom but still having a schedule and regiment is what I'll miss," she said. "UD gives you a full-rounded experience as a college student—not just academic-wise—but also a social life. There are so many organizations you can get involved with, even within the nursing program. If you want to expand upon that, there's so much room and opportunity for you to do that."
Sam MacDonald | Nursing Major
Three words to describe the UD CHS Experience:
Rewarding. Fun. Enriching.
When Sam MacDonald was in high school, her grandmother had spent a lot of time in the hospital. That inspired her future career path.
"I got to see her interactions with the hospital workers and nurses, specifically, so I knew I wanted to be a nurse."
Since entering the University of Delaware's School of Nursing within the College of Health Sciences, she appreciates the hands-on experience she's had since sophomore year. She did a pediatric rotation at Nemours, where she wound up working part-time.     
"I got to interact with children who had cardiac defects, which was a very different thing that you'll see in the adult world," she said.
She also did rotations in medical-surgical and maternity wards at ChristianaCare as well as a preceptorship in the NICU. She called working through the COVID-19 pandemic a rewarding experience.  
"I liked being able to interact with patients and see them get better. In some clinicals, if we were there multiple times in a row, sometimes you'd see the same patients getting better and going from bed-bound to walking," she said. "It's nice seeing their progression and knowing we helped them progress."
During her time at UD, MacDonald played intramural sports, served as the event operations chair for UDance, was active in the Student Nurses Organization, and was a part of the Honors College. She appreciates the bonds she made during her first year in the Honors dorm.
"I got to meet a lot of people who weren't in my major, which was nice to not have the stress of everyone studying the same thing, and we could all just hang out and talk about what we liked outside school.
Come August, she'll be working at Nemours full-time and knows UD SON prepared her well. 
"It was amazing. It was such a sigh of relief to know I had a job waiting," she said.  
Shannon Gibbons | Nursing Major
Three words to describe the UD CHS experience:
Supportive. Humbling. Innovative
While at the University of Delaware, Shannon Gibbons had an aha moment during clinical rotations when she knew without a doubt that nursing was the career for her. That monumental moment involved an interaction with a patient.
"I picked up on a few things, and I presented them to the care team to really advocate on behalf of the patient. They empowered me to go do that, and my clinical instructor empowered me to have that moment where I first spoke up to a doctor and a nurse manager and present the case and my recommendations," she said. "That was the moment where I was like "I can be a nurse. I can do this, and I'm going to love it."
Her time in the School of Nursing's Simulation Resource Center also helped shape her.
"The simulation lab has been the best place to make mistakes, learn from them, and not feel embarrassed or ashamed because of them but know that you're not going to make those mistakes again because you learned from them," she said, "The healthcare theatre team has made our simulations feel so realistic. They've challenged me—they're not the type of thing you can study for and just spit out an answer. You interact with the healthcare theatre participants just like you would with a patient Those are the moments where I truly learned how to communicate and how to put in place interventions."
Outside of nursing, Gibbons was a Division 1 rower during her four years at UD and served as a summer scholar in the Health and Disabilities Lab.  She also volunteered with Sean's House, a mental health safe haven for youth.
Gibbons appreciates the interdisciplinary collaborations she's had within the College of Health Sciences, including time spent in the Physical Therapy Clinic and Healthcare Theatre and sees herself teaching and pursuing research opportunities in the future.
"These experiences helped me become a better nurse," she said.
After graduation, Gibbons is heading to the University of Michigan Hospital, where she'll be an emergency room nurse.
She encouraged current and prospective students to "go for it" and seek out interests beyond their traditional major. 
"Whatever you see that's in front of you that you think you're going to be passionate about – just try it. This is the perfect place to dip your toes in," she said. "I wouldn't want you to have any regrets for not trying something. Go do that research even if you don't know a bunch about the topic; don't be afraid to make mistakes—this is the place to do it because you will have the most support behind you to learn from those mistakes; and just invest in your professors—get to know them. They want to mentor you. You are going to get the best professors, and you're going to get the most supportive environment to succeed."
Heather O'Connor | Nursing Major
Three words to describe the UD CHS experience:
Enlightening. Adaptable. Agile.
Heather O'Connor knew she wanted to follow in her older sister's footsteps and attend the University of Delaware.
She enrolled in the School of Nursing in the College of Health Sciences, where she found her mentor, Jennifer Saylor, associate dean of faculty and student affairs in SON.
"She took me under her wing," she said. "She's been an important person for me and taught me a lot about how to become a really good nurse. She's also forced me to do a lot of things which make me uncomfortable, but in the long run have made me a stronger person, a stronger nurse, and a stronger professional."
During her time at UD, she attributed early clinicals and her winter study abroad experience in the British Virgin Islands with helping define her career goals.
"We got to do clinicals there. It was so cool to see a different healthcare system than the one we have here in the United States," she said. "I was one of the older students on the trip, so I got to show around younger students, and I really like teaching so that was a helpful moment."
She enjoyed dipping her toes in a variety of medical units so she could figure out her favorite.
"You get Med-Surg twice, you get maternity, you get pediatric, you get psych, even long-term care--if that's something you're interested in. Her preceptorship in the Neurocritical care unit at ChristianaCare made her future pathway clear.
"Having that one-on-one preceptorship is just really awesome because you really get to feel what it's like being a real nurse, having 12-hour shifts and patients of your own," she said. "You get to see things you normally wouldn't get to see."
After graduation, O'Connor will be working in the medical stepdown unit at Johns Hopkins Medicine in Baltimore, Maryland. She credited Diane Rudolphi, senior instructor in the School of Nursing, with inspiring her and mentoring her through the years.
"It's such a pipe dream to think about ever working there, and it's real."
Training to become a nurse during the COVID-19 pandemic has only nurtured her love for her career.
"It made me feel very resilient. Our whole class and the school did a really job at adapting because we didn't know what was going on. There was no precedent set for a pandemic. That was difficult, but I think nursing is all about being really adaptable because you go into a shift and whatever happens happens, and you have to deal with it."
Carley Brosovich | Nursing Major
Three words to describe the UD experience:
Memorable. Special. Great.
Carley Brosovich's parents inspired her career choice. Her father works in emergency medical services, and her mother is an elementary school teacher. She's combined their passions in her mission to become a pediatric nurse. 
"I grew up working with kids, at my church, volunteering, at an elementary school for children who couldn't be in a traditional school for different behavioral and physical reasons. I've always gravitated towards…working with kids and going back to the community around me."
She called the Simulation Resource Center and Healthcare Theatre program within the the College of Health Sciences' School of Nursing unique opportunities not found at other schools.
"Having an actual person and getting their real-time feedback helped us grow as students," she said.
Her clinical rotations included working in the hematology and oncology units at ChristianaCare as well as a clinical rotation in the cardiac unit at Nemours Children's Health.
"Starting our clinicals so early, getting that hands-on experience sophomore year is something a lot of people don't get. It just builds that confidence as a younger nurse and really just helps us excel," she said. 
While she hopes to one day work in a NICU, Brosovich has accepted a position as a pediatric nurse in the GI and respiratory medical/surgical unit at Nemours after graduation. She's also feeling melancholy about leaving UD, a place, she knew from the very start felt like home.
"Nothing has ever felt wrong about being at UD. I've always felt so comfortable."
CHS Class of 2022 Convocation Video
Some of the top graduates from the Class of 2022 talk about why they chose the University of Delaware's College of Health Sciences, what they loved most about their majors and their UD experience, and what lies ahead for their bright futures.
CHS 2022 Graduates: youtube.com/watch?v=ixhGdDebNls