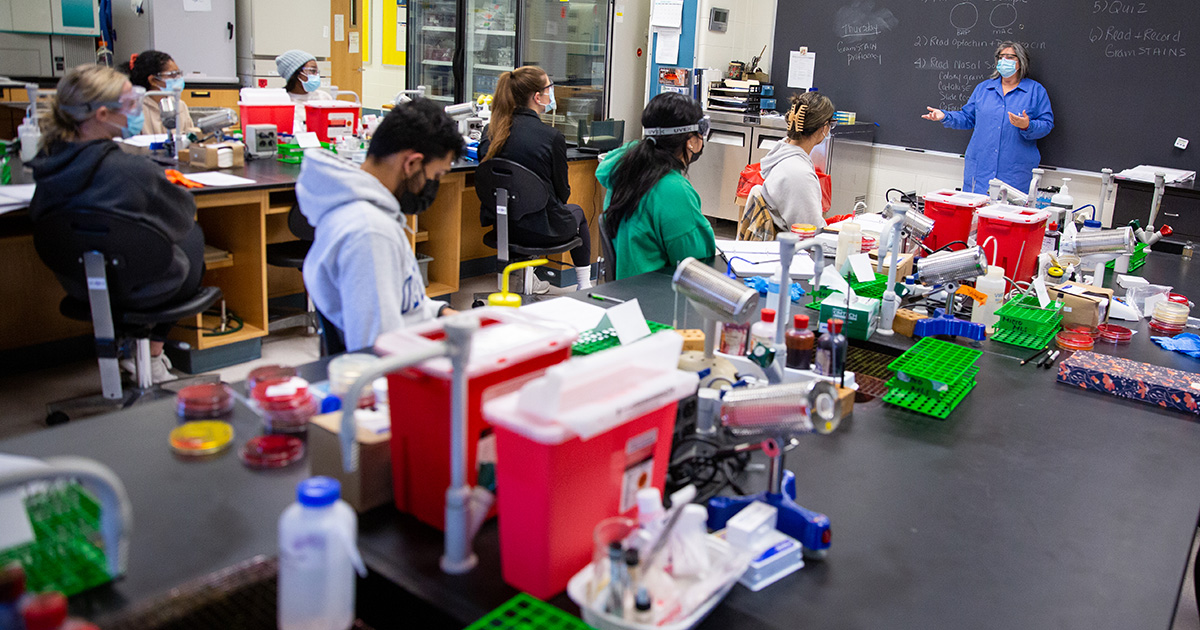 CHS Class of 2022 Spotlight: MMS
May 27, 2022 Written by Amy Cherry | Photos by Ashley Barnas and submitted by graduates
We're honoring the Class of 2022 by shining the spotlight on some of the best and brightest graduates from the Medical and Molecular Sciences Department in the College of Health Sciences:
Jill Canavari | Medical Laboratory Science
Three words to describe the UD CHS experience:
Memorable. Happy. Grateful.
Jill Canavari came to the University of Delaware unsure of exactly what she wanted to study. She knew she wanted to enter the healthcare field, but wasn't certain medical school or nursing was for her.  She learned about the medical laboratory science major within the College of Health Sciences and enrolled in her spring semester of her first-year. 
"It's a very under-the-radar kind of major. When I explain it to people they say, 'Wow that's really cool.' And it really is. It's something I never really knew or thought of coming into college, but once I found it, I knew it was something I would enjoy."
During her time at UD, she's completed rotations in the chemistry department at Children's Hospital of Philadelphia, the hematology unit at ChristianaCare, the blood bank at Hunterdon Medical Center in New Jersey, and in microbiology at UM Harford Memorial Hospital in Havre de Grace, Maryland
"I really enjoy the chemistry. It's really cool how much it pertains to patient care, and there's so many things you can test for. I like knowing the background—what the patient has, what we can do to adjust it, why these levels are what they are—and the collaboration between having a lab science background and being more on the frontside of patient care," she said.
After graduation, Canavari wants to work in either a blood bank or a microbiology lab. She ultimately plans to pursue her master's or further her education and become a physician's assistant.
Canavari loved the personalized learning experience she received in the Medical & Molecular Sciences Department at CHS. 
"All the professors are very hands-on, and they do get back to you. The classes are super niche to us—all these different departments, learning their background and learning everything it has to do with patient care and healthcare, and then also having the labs to back it up," she said.
But she also adored UD's "big school" feel.
"I loved UD from the moment I walked on the campus. I thought it was beautiful; the people were so welcoming," she said. "It's just a really happy place. I'm grateful for everything—for my friends, for the professors, for the school itself. It's the best place, and I've loved it ever since I stepped foot on this campus." 
Jocelyn Coholich | Medical Diagnostics Major
Three words to describe the UD CHS experience:
Inspiring. Irreplaceable. Rewarding.
Jocelyn Coholich chose the University of Delaware because of its versatile location – near both the Delaware beaches and Philadelphia.
She entered UD as a pre-physician's assistant major but ended up switching to medical diagnostics within the College of Health Sciences – a decision she's glad she made.
"The Medical and Molecular Sciences Department is here for you. They're going to support you every step of the way along your journey. They provide you with opportunities to experience the job on-site. The shadowing opportunities have been really important to me," she said.
She attributes networking opportunities and opportunities to shadow doctors, physical therapists, and nurses with making her CHS experience valuable.
"I really appreciate how we get to work with different disciplines of health. So, we're working with kids from nursing majors and other health professional sciences—exercise science—we've worked closely with them. It just gives us a well-rounded education."
At UD, Coholich participated in club lacrosse and joined the Food and Culinary Club and volunteered with Lori's Hands, which trains student volunteers to make weekly visits to community members living with chronic illnesses. Her participation in the Honors College, though, was a defining moment which helped her decide to go to medical school.
"The curriculum is a little more intense, but definitely manageable if you budget your time well. I really liked that there were small class sizes in a larger university. I could have the best of both worlds, where I could form close relationships with professors, but also have that 'big school' feel and get to know a lot of different people."
CHS Class of 2022 Convocation Video
Some of the top graduates from the Class of 2022 talk about why they chose the University of Delaware's College of Health Sciences, what they loved most about their majors and their UD experience, and what lies ahead for their bright futures.
CHS 2022 Graduates: youtube.com/watch?v=ixhGdDebNls