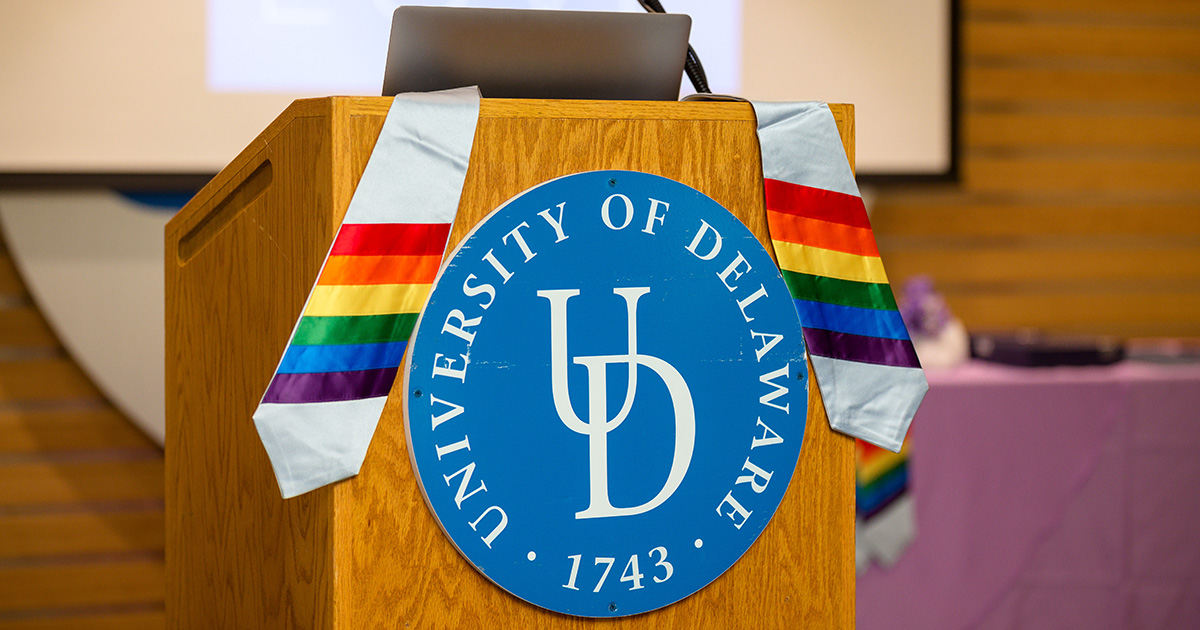 Building a community
June 22, 2022 Written by Amy Cherry | Photos by Kevin Quinlan/University of Delaware and submitted by Melanie Medrano
Nursing student returns to her high school to enhance diversity, equity and inclusion efforts
Growing up in predominantly white Chester County, Pennsylvania, Melanie Medrano, didn't have a lot of role models who looked like her.
Medrano, who's entering her second year as a nursing major at the University of Delaware, is Hispanic. Her parents immigrated to the U.S. from El Salvador. She attended Conestoga High School in Berwyn.
"There weren't a lot of educators who understood my culture, my language, or my family and that fosters a feeling of isolation, especially when you're trying to figure out your identity. For kids of color who belong to other cultures, there's this whole other side of you that's very important to you that's not represented in your high school community. It can be very ostracizing and stressful."
Adding to that stress, Conestoga's rigorous curriculum.
"There's this atmosphere of high-performance that comes not just from teachers, administrators, but also the kids themselves," she said. "There was this mentality that whatever you did, you have to be the best at it."
Medrano was desperately searching for an outlet. Her sophomore year at Conestoga, she joined the Students Organized for Anti-Racism (SOAR) initiative. It started with 50 students and blossomed to more than 200 in a few years. During her time with the organization, Medrano learned how to be an antiracist student leader.
"But above all else, I gained a community and sense of understanding and acceptance from my friends and peers that I had never had before. I met students and faculty that understood a lot of the different facets of my identity and the struggles I face because of it."
That sense of community drove her back to her high school so she could foster it for others. During her first year in UD's School of Nursing within the College of Health Sciences, Medrano returned to Conestoga High School to start the Alumni Project, an extension of SOAR.
"There are more kids going through the experiences that I went through, and they're not getting the help that they need. What they were going through was exactly what my experience was like. I knew what to say to them and what they needed to hear pushed me to do all of this."
Since founding the organization, Medrano and about a dozen other alumni have hosted two workshops for juniors and seniors at Conestoga in March and June. The March workshop took on a theme of gratitude and appreciation as it sought to build a sense of community.
"The March workshop was centered around why you do diversity equity and inclusion work, why it matters to you, and what you want to get out of it," she said. "A lot of them had been pushing really hard to do work and make change before they leave Conestoga, and I wanted to slow them down a little bit and really get them to sit with themselves and realize why this work matters to them."
The workshop in June was a more informal, community conversation on ethnicity, intersectionality, colorism and representation, the first-generation American experience, and cultural and language.
Medrano spends a lot of time listening to students and recalled one moment that resonated with her when a Colombian student told her how much her efforts meant.
"It was crazy to hear that me coming back and talking about my experiences that I'm doing for her what my role model has done for me. That got me super emotional," she said.  
Medrano's work with the Alumni Project is also tied to her freshman year Introduction to Population Health class, which includes an understanding of cultural competency and social determinants of health relative to diverse and vulnerable populations.
"Service-Learning and community engagement is at the heart of the nursing profession as well as the University of Delaware. Students in this course engage in 28 hours of service learning throughout the semester," said Jennifer Saylor, associate dean of faculty and student affairs for the School of Nursing. "This is one of the most rewarding courses to teach in the School of Nursing. The freshman students' service-learning projects are impressive and assist so many local and national communities."
Like most high schoolers, Medrano couldn't wait to get out of the familiar hallways, but now she loves going back to her alma mater and called it "healing" for her too. 
"Stepping back into that space is something I value so much and why community-building is at the core of all of this for me. I get to help them, but also everything they're saying, I feel too," Medrano said. "I just want to give them a sense of community that I think I never had and show them that there are people who know what they're going through. It sounds cliché, but they're not alone, and I want to instill in them that you don't have to do something very loud or showy or activist-like to be making change."
Medrano plans to continue her work with the Alumni Project in her sophomore year at UD as she works to recruit newly graduated Conestoga High School students into the fold.
"I want to have the most recently graduated alumni be the ones working most closely with the student body because that's where their connections are strongest," she said." As I get older, my focus is going to shift on building my life and career."
She wouldn't rule out working on diversity, equity and inclusion efforts at UD in the future.
"At UD, it's the same demographics on a larger scale. In the nursing major, it's predominantly white females," Medrano said. "There's definitely work to be done at UD."
But she has found some outlets. Medrano joined the HOLA Club. 
"Never in my life have I seen this many Latino kids in one room—so that was great."
And her roommate is Black.
"We're so thankful we have each other so we can understand what it's like to be students of color at UD." 
As an aspiring nurse, Medrano also stressed the importance of ensuring healthcare providers look like the community they're serving. That's also an ongoing goal of UD's School of Nursing. 
Saylor was awarded a Highmark Blueprints for the Community grant which enabled SON to establish the Highmark Diversity Scholars program that empowers students from underrepresented backgrounds to succeed through financial assistance and mentorship.
"The Highmark Diversity Scholars program is just one part of many efforts the School of Nursing is undertaking to create a more inclusive environment and ensure that the healthcare workforce matches the population in Delaware and beyond," Saylor said.
While Medrano is not part of that program, she knows the importance of the role she plays in creating a more diverse healthcare workforce.
"All of my identities and every part of who I am is something I take into everything and going into nursing that's no different. That's oftentimes what I hold on to when I'm struggling through classes, I ground myself in the fact that I have so much to offer and knowing that there's so much work that needs to be done," Medrano said.