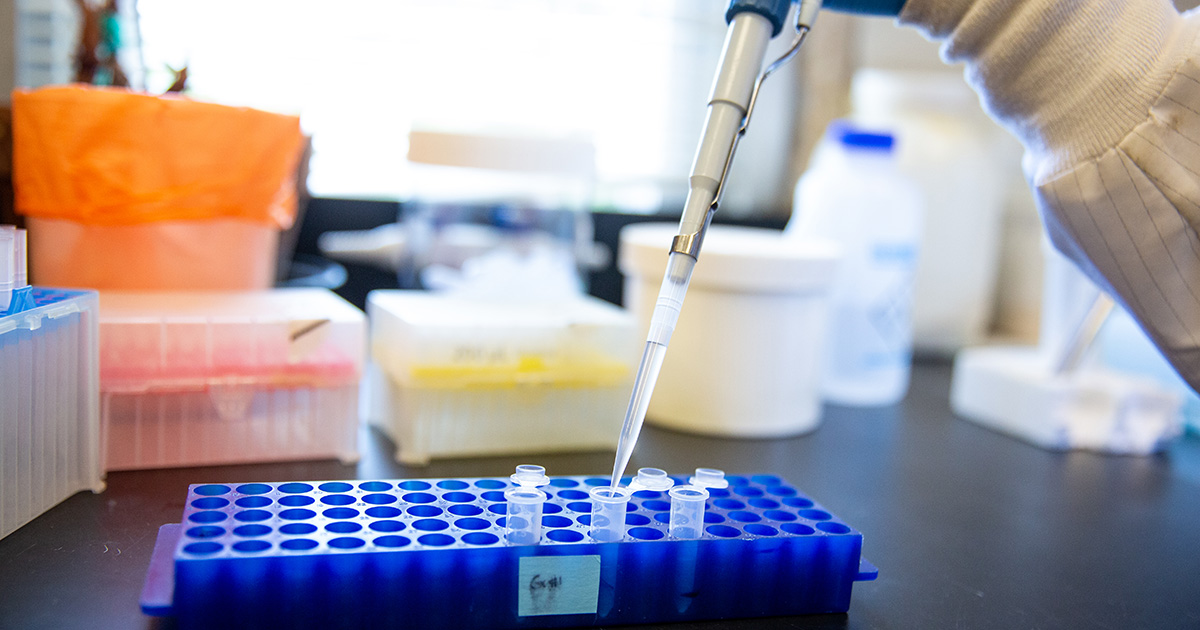 Medical & Molecular Sciences welcomes new faculty
August 31, 2022 Written by Amy Cherry | Photos by Ashley Barnas
The Medical and Molecular Sciences Department welcomed two new faculty members in the spring semester while a longtime instructor took on a new role within the department.
Andrew Hollinger joined the department as an instructor and program director of the master of science in medical laboratory science. Kimberly Walker is an assistant professor and director of medical diagnostics. Heather Walters, who's been with the department for more than a decade, took on a full-time position as an instructor and director of the forensic science minor.
Learn more about all three and what inspired them to pursue careers in medical and molecular sciences.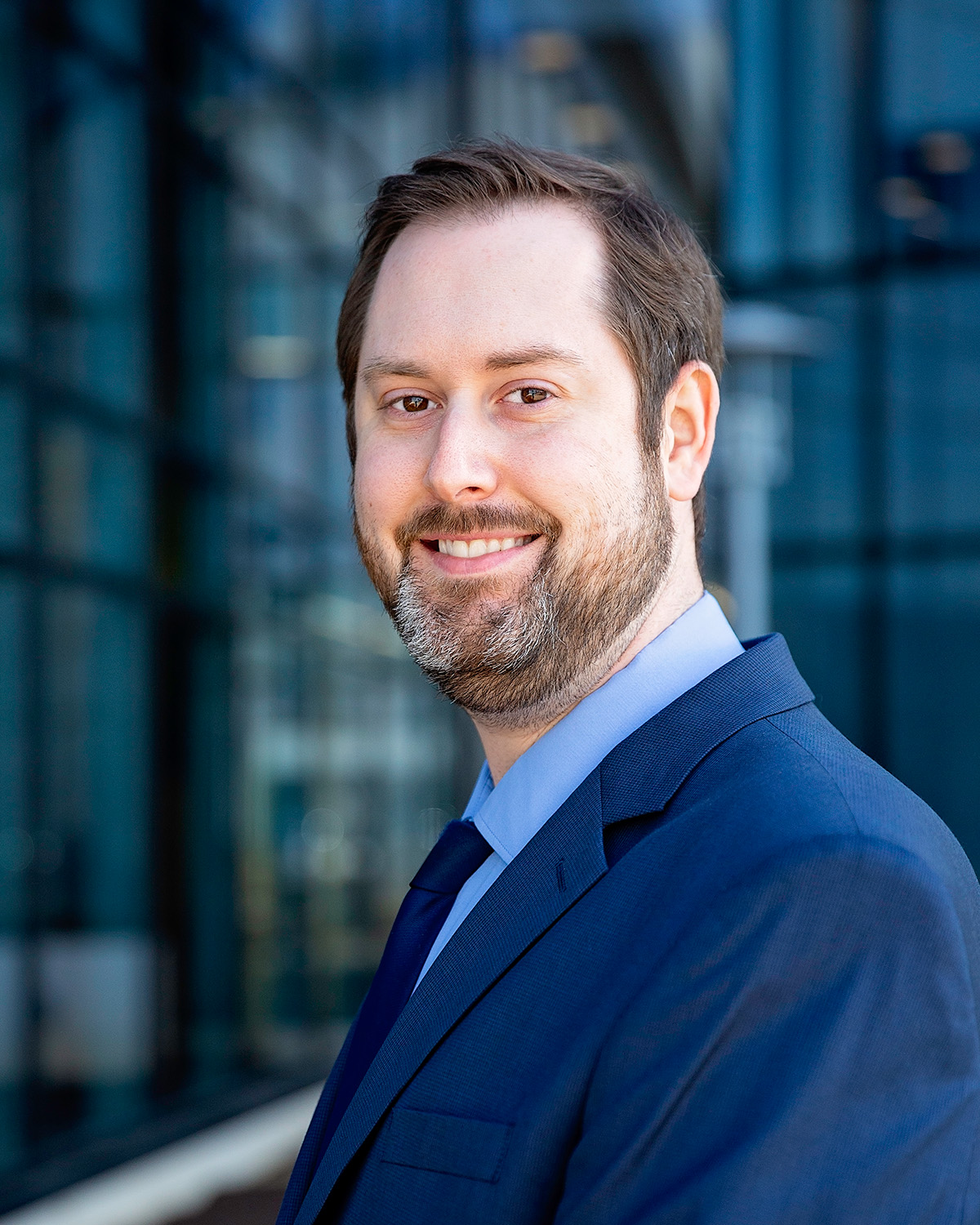 Andrew Hollinger
Andrew Hollinger joined the Medical and Molecular Sciences Department in UD's College of Health Sciences in the spring of 2022 as an instructor and the program director for the master of science in medical laboratory science.
This fall, he'll be teaching a mix of undergraduate and master's students in Phlebotomy and Clinical Immunology and Medical Virology along with the lab that coincides with that class.
For the past decade, Hollinger worked as a medical laboratory scientist and microbiology supervisor for Bayhealth Medical Center's three laboratories, playing a pivotal role in helping those labs get through the COVID-19 pandemic. He now serves as a technical consultant for Bayhealth's labs
"I think about the apex of being a supervisor in a medical laboratory, and what is the apex more than a pandemic? That's what you're there to respond to."
Hollinger graduated from UD with a bachelor of science in medical laboratory science and called his return to campus a true full-circle moment.
"A few of the instructors and professors who I'm now colleagues with taught me," he said. "It's nice to give back to the program that helped me get to where I am and see the future generation of students who are interested in medical laboratory science. I'm really interested in preparing them for their careers and trying to recruit students to be part of this profession because right now it's a really difficult time due to the shortages."
Medical laboratory science is a little-known profession that plays a vital, behind-the-scenes role in a patient's diagnosis.
"While medical laboratory scientists often never see patients, it's important for them to remember that they're not just dealing with a blood tube. They're dealing with a patient's life and their future, potentially, depending on the test results or the diagnosis—so that's something they should always think about," Hollinger said. "It could be your best friend's mother or your grandmother. You never know who that person will be. But you should treat everyone and every specimen equally."
Hollinger called the medical laboratory science profession both challenging and rewarding.
"Knowing that you're helping a patient get better or helping a doctor find a diagnosis so the patient can be treated, that's really impactful," he said.
In his free time, he enjoys spending time at the park and the zoo with his wife, 4-year-old son, and 1-year-old daughter. He also enjoys kayaking and golfing.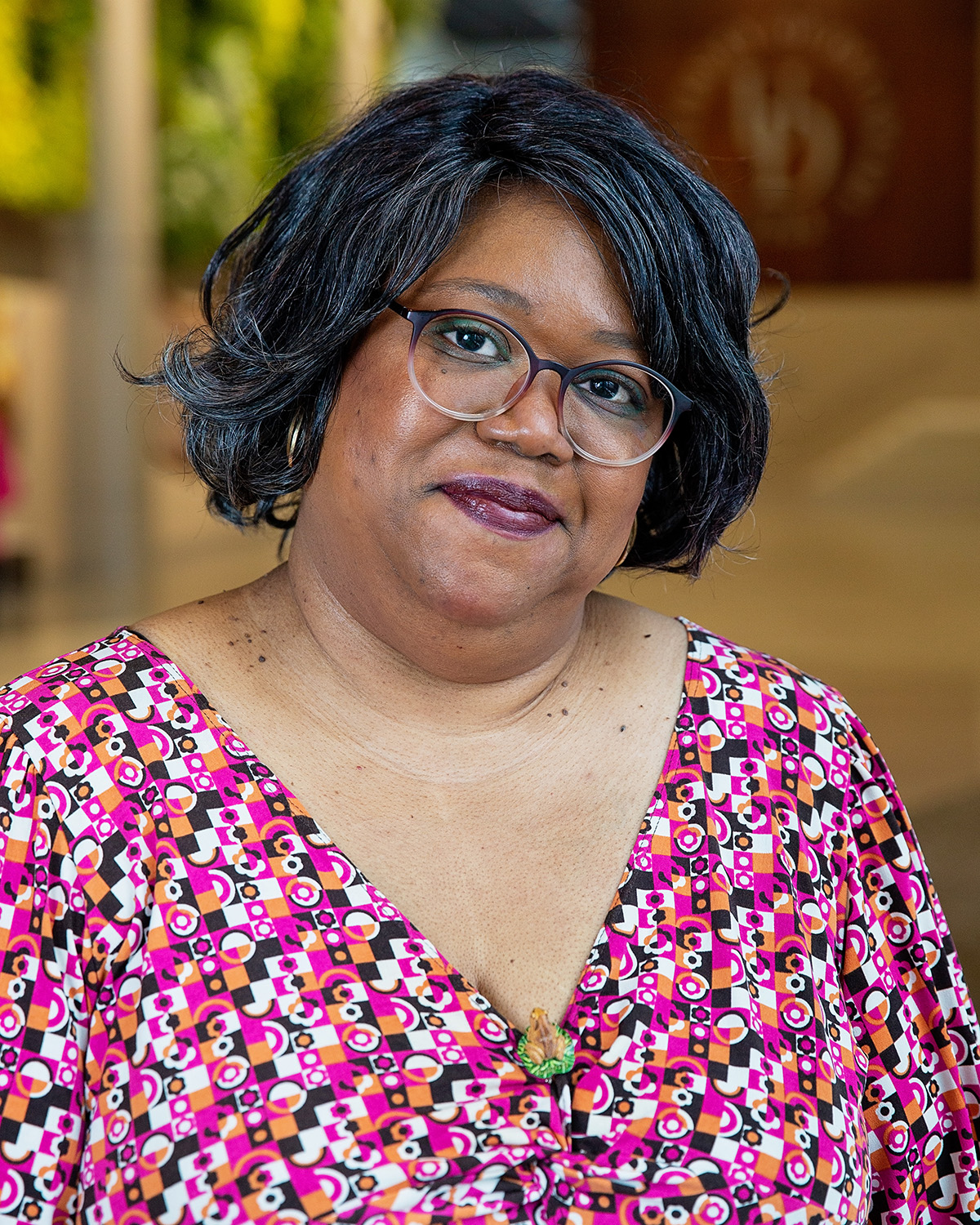 Kimberly Walker
Kimberly Walker joined the University of Delaware last spring as an assistant professor in the Medical and Molecular Sciences Department (MMS) and the director of medical diagnostics.
"The University of Delaware has a renowned reputation and a track record for graduating talented students, so I was quite happy to have the opportunity to come here," Walker said. "I love the students. These students really work hard; they really keep their nose to the grindstone, and when they don't understand something, the questions they ask make perfect sense."
Last spring, she taught a graduate course in management and undergraduate clinical chemistry. This fall, Walker will be teaching a mix of undergraduate, graduate, and honors MMS students in clinical microbiology and mycology and for the first time, urinalysis and body fluids.    
"Microbiology will be a lot of fun for me. I'm a microbiologist, so I'm hoping to get students on the right track in using newer technologies that are now utilized in a clinical lab setting. There's a lot of non-culture ways to identify microbes now, so we won't focus quite as much on how to streak the plates and identify bacteria. We'll add new techniques to accomplish the same goals."
In her new role with the College of Health Sciences, Walker is on a mission to advocate for her profession and educate the public about the pivotal role medical laboratory scientists (MLS) play in the clinical setting.
"For the most part, the medical laboratory scientist is unseen by patients. If you ask somebody what a nurse does, they can explain it. If you ask them what a clinical laboratory scientist does, they don't know. It's the one healthcare profession that nobody recognizes, and I'd very much like to change that," Walker said. "It's about awareness. We've got to make sure our elected officials understand the field and get them involved. We need to work with laboratory-focused organizations. Outside my office, there's a proclamation from the governor recognizing Medical Laboratory Professionals Week. It's things like that. We really need to get a whisper campaign going on social media."
With medical laboratory scientists being the unsung heroes of the COVID-19 pandemic, she pointed to monkeypox as another potential opportunity to further raise awareness about the role of the MLS.
"The disease is far less lethal than COVID, and we may have an opportunity to talk about the medical laboratory scientist who will perform those tests," she said.
Walker brings more than a decade of teaching experience with her to UD. She was most recently the program director of the Medical Laboratory Technician program at Lorain County Community College in Ohio, directed a master's program in medical laboratory sciences at the University of Maryland, and worked on a portfolio including clinical laboratory policy at the American Society for Microbiology. She was also an American Association for the Advancement of Science Congressional Fellow for late U.S. Senator Paul D. Wellstone
In her free time, she enjoys live music, especially gospel, salsa, old school R&B, and soft rock. Her favorite show of all-time: Cher.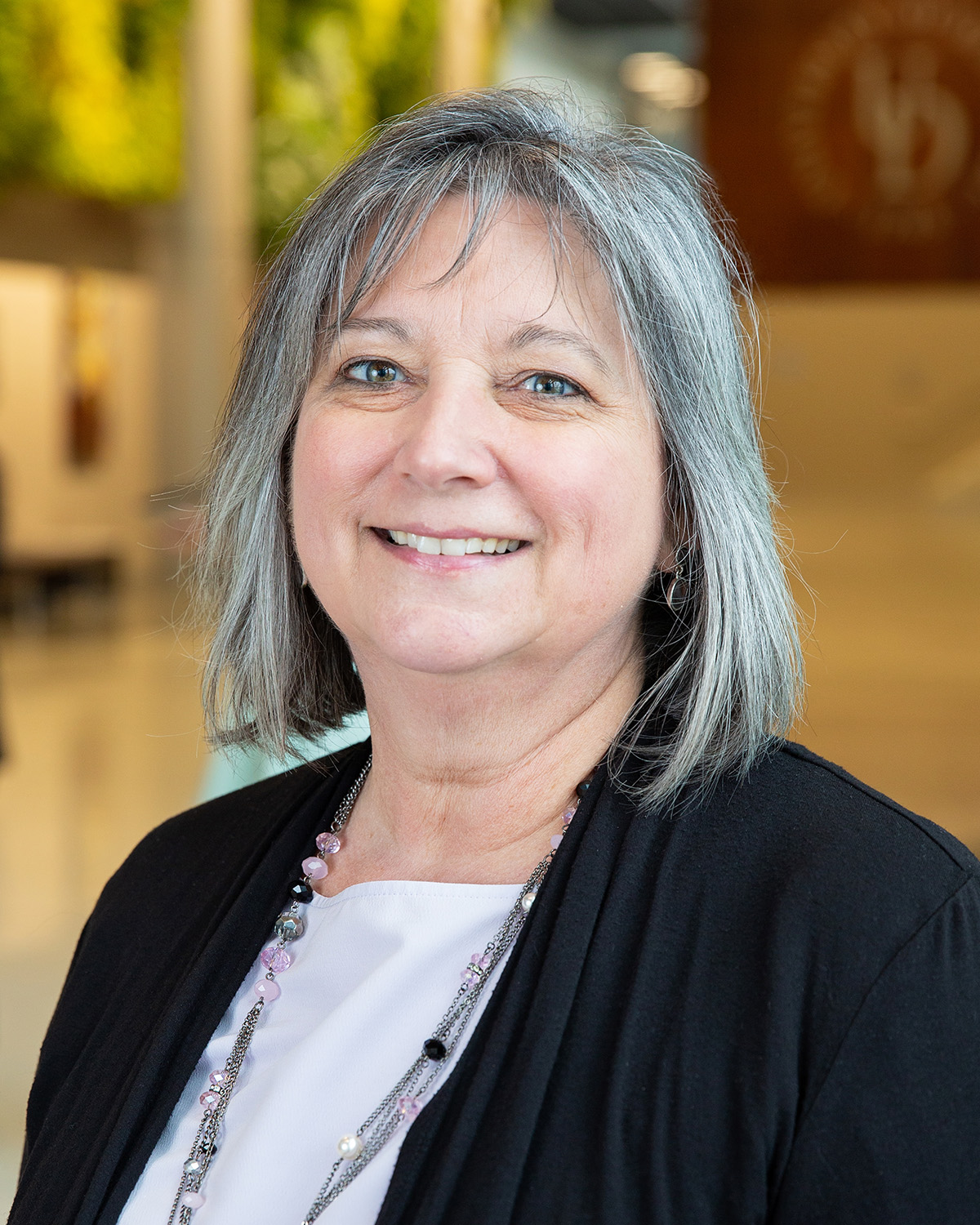 Heather Walters
While Heather Walters has been with the University of Delaware's Medical and Molecular Sciences Department for 15 years, this past spring she became a full-time instructor and director of the forensic science minor.
This fall, she's teaching the undergraduate course, Medical Microbiology Infectious Disease. She'll also be co-instructing in the Medical Laboratory Science Lab while overseeing the forensic science class that's taught by pathologists who serve as adjunct professors.
"Being a healthcare professional is really important, and I hope they learn something that they can apply in the field. Microbiology is a lot of memorization, and if they can comprehend it and understand it, it will serve them well," said Walters.
Walters graduated from UD's College of Health Sciences in 1988 with a bachelor of science in Medical Laboratory Science and worked in Christiana Hospital's microbiology department for the next two decades. She left ChristianaCare full-time in 2007 to make the transition to teaching and obtained her master's degree in education from UD in 2019.
Walters was planning to walk in commencement ceremonies in the spring of 2020 alongside her husband, who graduated with a master of business administration from UD, and her daughter who got her master of education from UD.
"All three of us were going to walk in 2020, and due to COVID, it never happened," she lamented. "We celebrated in our own way and got our photo out front with a graduation sign."
While Walters is proud of the ways in which the MMS Department adapted during the COVID-19 pandemic, this semester, she's looking forward to a semester that's largely COVID-free.
"We flipped from totally face-to-face to totally online in 2020, which was extremely difficult for lab-based classes. But flipping to an online format has really enhanced my teaching, and a lot of what I learned through COVID, I've applied now that we're back to face-to-face instruction," she said. "In the fall of 2020, MMS was among the 9% of classes that came back in-person. We created all the COVID protocols and modified all our labs. But I'm still using the online format to make a better learning experience for my students. Recognizing that you can do things differently and still achieve your goals--that's something I've embraced and will continue to do."
In her full-time faculty role, Walters also hopes to spread greater awareness about the various Medical and Molecular Science majors and career paths.
"Students don't know anything about the career path," she said. "But one of our departmental goals is to reach out to high school students, and the technical schools, and attend more career days."  
She added, it's important for parents to know too:
"Your student will graduate with a job."
In her free time, Walters leads worship at her church, plays piano, and enjoys gardening and spending time with her two grandchildren, ages 1 and 3.