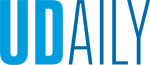 UD Hyrdoponics Club discusses growing food without dirt: youtube.com/watch?v=tbP_tGLB6NQ
The future of food
Article by AJ Rubinetti Photo courtesy of Evyn Appel | Video by AJ Rubinetti September 07, 2023
Hydroponics Club and UD Dining provide students with local, sustainably sourced ingredients
A blossoming partnership between a student group and University of Delaware Dining is changing the way students eat on campus. During the spring of 2023, the UD Hydroponics Club began growing fresh herbs with no soil and minimal water in two aeroponic towers in Caesar Rodney Fresh Food Company and Pencader Dining Hall. The club, which includes many sustainable food systems majors, sees this step as the start of a more sustainable dining culture at UD.
"How the tower works is there's a reservoir with nutrients and water on a timer," said Rachel Wynkoop, a sophomore honors student. "It trickles down through the center tube which coats the root system of the plants in a nutrient film."
The roots don't have to search for nutrients in the soil, so the result is much more rapid growth. Working on membership and restaurant coordination, Wynkoop is a proud member of the Hydroponics Club, which formed on campus in the spring of 2022. The club is open to members of all majors and hopes the dining hall project exposes more students to their work.
"We wanted to have a display on main campus, especially in the dining halls, so we can bridge that connection," emphasized club president Evyn Appel, a junior honors sustainable food systems major. "The tower is a way for people to learn where their food could come from in the future, and really educate them about what sustainability could mean in regards to where we get our food."
The towers were made possible by UD fundraising efforts on Giving Tuesday and I Heart UD Giving Day. The club raised enough funds to not only buy and maintain the towers, but also expand their reach. The students sell the hydroponically grown produce to UD food institutions UDairy Creamery and Vita Nova, as well as external restaurants like Main Street's Peach Blossom Eatery.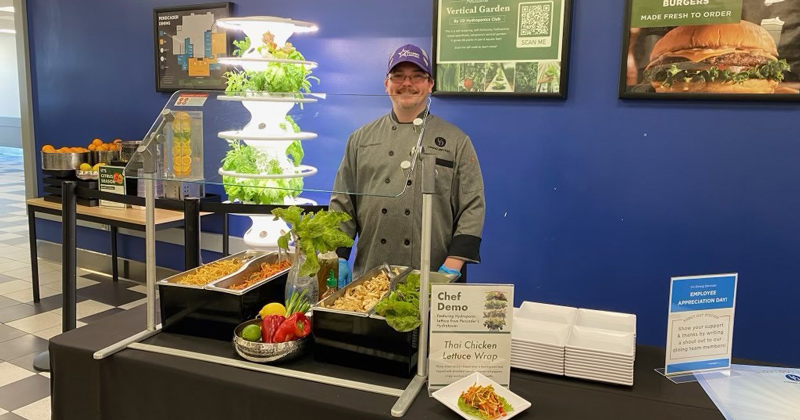 While the dining halls source only a small amount of their food from the towers, the small step is leading to more opportunities. Through a UD Dining cooking demonstration, curious Blue Hens indulged in a tomato mozzarella dish with a balsamic reduction featuring basil grown from the hydro-tower.
"It's a conversation starter," said Eric Bringman, resident district manager at UD. "I don't think there's a single student that came back from winter break that didn't stop and say 'Wow.'"
With their beaming rings of light and bounties of leafy greens, the towers are hard to miss. Dining officials took notice of all the attention. They planned a new project for the upcoming school year, expanding on the two current towers to implement hydroponic growth on a larger scale.
"Sustainability is really important, especially to UD Dining, because it impacts our future," said Jennifer DeDomenico, marketing manager of dining services. "We try to operate more efficiently with the future in mind and to be more sustainable within our practices and our scope."
UD Dining already established environmentally conscious methods in their operations, such as sourcing ingredients from local companies and featuring sustainable seafood every Friday at Caesar Rodney. Both organizations are looking forward to collaborating again, with director of operations Michael Ryan calling it "another dimension to the dining program."
"Taking steps to promote sustainability is so important for big organizations like the University of Delaware," Wynkoop said. "How we can change the way that food is produced is the first step in the future of food systems and how places like UD Dining get their food."
The club's end goal is to empower students by teaching them to grow their own food. The result is both sustainable and satisfying.
"Being able to quite literally eat the fruits of your labor is a really fulfilling feeling," Wynkoop said.