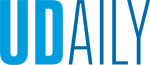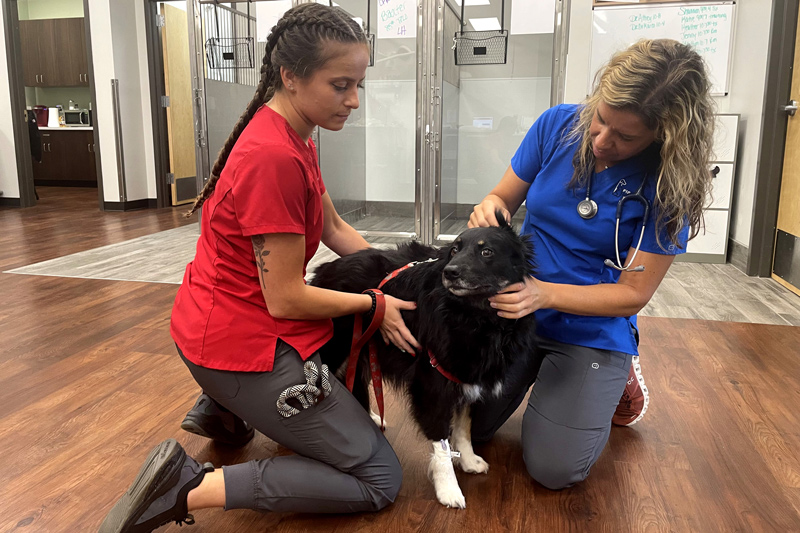 Urgency for pets
Article by Kate Zincone Photos by Darshaye Robinson September 12, 2023
UD alumnae navigate the challenges of veterinary medicine at First State Urgent Vet
Pandemic pets blissfully enjoyed more time with their owners as work and school transitioned to a remote environment. Even more lucky animals were adopted. To them, this unexplained increase in company, play and quality time was a treat. But, especially when more households have pets, what happens when all of these animals — new and old — get sick?
The University of Delaware's College of Agriculture and Natural Resources alumna Amanda Lawrie asked herself this same question. Both veterinarians, she and her husband witnessed a drastic change in the field of veterinary medicine beginning in the early months of 2020.
Pet ownership skyrocketed, but the unprecedented times also brought a simultaneous decrease in practicing veterinarians. Suddenly, general practices adopted lengthy waitlists, even for long-standing clients, and emergency rooms experienced extended wait times, often six to eight hours, even for life-threatening cases.
"I was brainstorming what was going to have to happen for us to be able to get pets in to be seen," said Lawrie, a UD Class of 2003 graduate. "On the human side, they do urgent care. It became obvious that that's what we were lacking on the veterinary side."
With nearly two and a half years between conceptualization and opening day, Lawrie opened First State Urgent Vet — the first walk-in wellness center for animals in the First State — on Dec. 5, 2022 on Concord Pike in Wilmington, Delaware. A second location is already in the works on Paper Mill Road in Newark.
"It was scary. I left a job where I had been for 13 years and wasn't even sure that it would be successful," said Lawrie, who is the chief medical officer of the practice. "Every single person that took a job with us took that same kind of leap, which was impressive."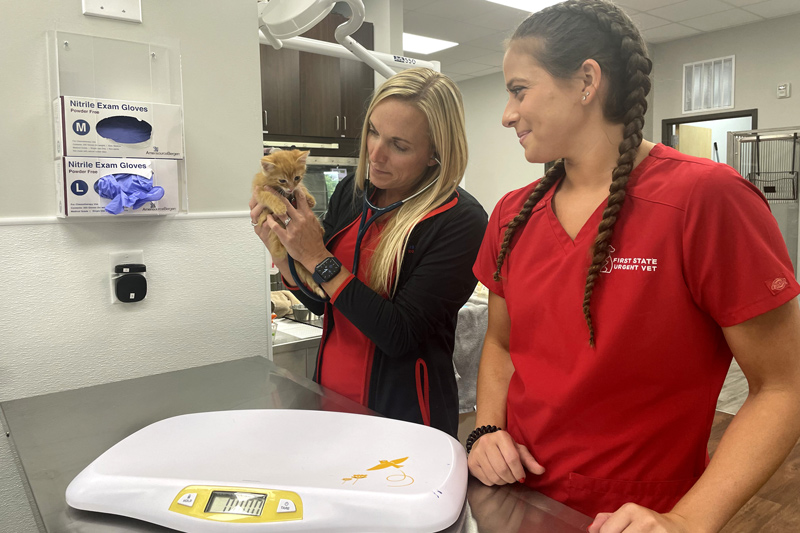 Having accessible urgent care fulfills a need within veterinary medicine, accommodating pets who otherwise can't get assistance. Providing this resource supports general practitioners and emergency veterinarians that are overwhelmed by the sheer number of animals in need.
"People are typically used to calling their vet and having their vet be available same-day," said Stephanie DeMarco, a UD Class of 1997 alumna and doctor of veterinary medicine at First State. "It became very regular that clients would be calling their hospitals and they would be getting told, probably at best, 'in a couple of days,' but sometimes it's weeks before they can be seen."
Outside of First State, DeMarco doubles as an adjunct professor at UD, teaching pre-veterinary medicine majors. Alongside roughly 25 additional employees, including UD Class of 2001 alumna and medical director Danielle Downs, First State is composed of practitioners with a wide range of experience.
"We spent a long time with a long list of clients that we've had great relationships with; we're all at a point where we're excited to do something different and fulfill a need for our colleagues," DeMarco said. "There's nothing more heartbreaking than having a client that you absolutely adore and you want to see their patient, but the fact is that there are truly so many minutes in the day."
The critical care and general practice experience between the entire First State team let them utilize their unique skill sets, teach one another about their specialties and help as many pets as possible.
"If it's a life-threatening emergency, ideally you would go to an ER or ICU that has 24-hour care and emergency surgery capabilities," Downs said. "But for all those illnesses in between — the same things you would go to an urgent care for — we're here."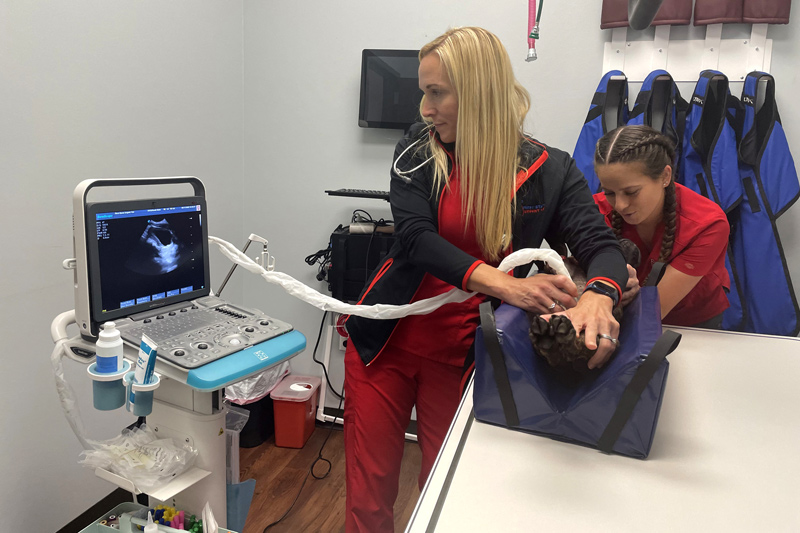 First State typically treats non-life-threatening issues and does not offer overnight care, but does have the resources to see and stabilize trauma patients in an emergency. The team works closely with local hospitals to transfer animals for large-scale procedures and it has a mobile surgeon that performs complicated procedures weekly. Several staff members also have surgical experience, providing ample insight when working on a patient.
"I anticipate [urgent care] ultimately being the biggest change in veterinary medicine in a long time," Lawrie said. "I think they will pop up everywhere."
Downs added, "There are a few [urgent cares] popping up around the country. This is the first one in this area. Previous urgent cares are mostly around the major U.S. cities — New York City, Boston, Philadelphia, Los Angeles. There wasn't much outside of that, and only a handful."
By introducing this concept to Delaware, Lawrie and her staff hope to solve some of the deeper issues plaguing the field of veterinary medicine. For instance, many patients don't have an ongoing relationship with a general practitioner, but their condition requires prolonged care that is best managed by a primary vet.
"We want to be able to give those patients back to the general practices so that they can continue to have those relationships and we can all work together," DeMarco said. "That's really the only way that this is going to get better."
Despite the misconception that veterinary medicine is purely cute and fun, veterinary technicians and support staff are often underappreciated and overworked, resulting in poor mental health. The UD alumnae are very cognizant of this industry-wide issue. They emphasize the importance of treating all staff with respect and care amidst the stress of this ever-changing profession.
"The biggest thing that sets us apart as a practice is not just that we're an urgent care facility," Lawrie said. "Veterinary medicine in general is in this huge transitional state as a profession and we're trying to be part of how it changes for the better."