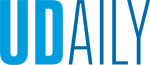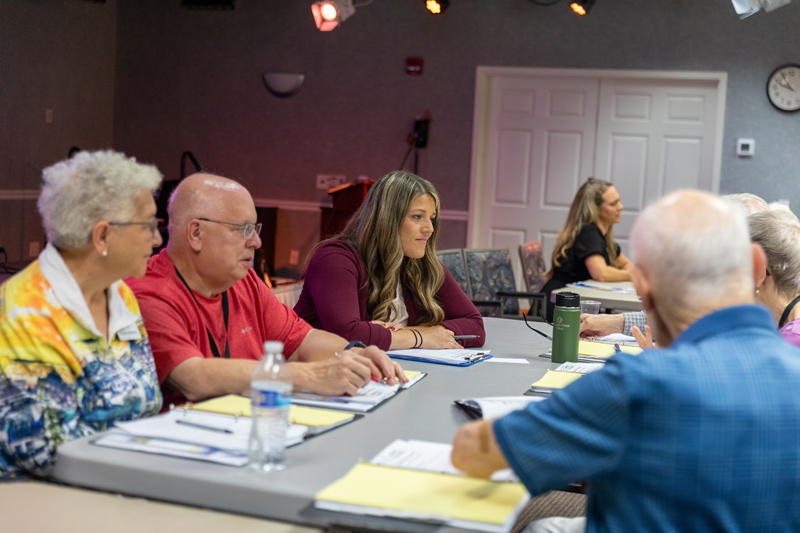 Promoting brain health
Article by Amy Cherry Photos by Ashley Barnas September 25, 2023
Delaware Center for Cognitive Aging Research brings brain wellness workshop to the community
Rita Willis remembers taking a cognitive screening test a few years ago, where a clinician asked her to remember five words. She recalled three of the five words and was told: "That's a tad low for your age."
It surprised her. As the daughter and caretaker for her mother, who died of Alzheimer's at 97, the 86-year-old Willis wanted to do everything within her power to change her trajectory.
"I remember what it's like to care for someone with Alzheimer's, and I'd like to spare my children from that," Willis said.
She signed up for the University of Delaware's Delaware Center for Cognitive Aging (DECCAR) Brain Wellness Information, Support, and Empowerment (Brain-WISE) workshop, which aims to educate older adults about modifiable risk factors for dementia and empower them to take the first steps toward making health behavior changes. The pilot program, made possible through generous support from the Howard W. Swank, Alma K. Swank, and Richard Kemper Swank Foundation, launched this summer at Jenner's Pond, a retirement community in West Grove, Pennsylvania, where Willis lives.
The program was born from Memory Ambassadors, a UD collaboration with ChristianaCare, which saw 800+ older adults over six years and successfully increased visits to primary care doctors. But Matthew Cohen, associate director of DECCAR, saw a need to develop the program further.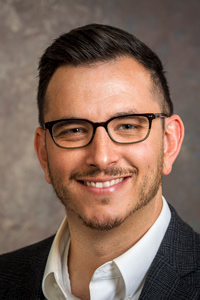 "Sustained lifestyle and behavior changes are needed to reduce the risk of dementia," Cohen said. "Everyone knows they're supposed to eat right and exercise, but this in-depth education series focuses on what specifically is needed to promote good brain health and reduce dementia risk. It also includes personalized feedback and counseling about risk and protective factors."
Cohen, a neuropsychologist and associate professor of communication sciences and disorders, developed the more comprehensive brain health education program in conjunction with Mindy Myers and Kimberly Van Buren, speech-language pathologists from UD's Speech-Language-Hearing (SLH) Clinic and with input from Tara Leonard, Beth Orsega-Smith, and Donna Paulhamus, colleagues in the Department of Health Behavior and Nutrition Sciences.
In six sessions over three weeks, Jenner's Pond residents learned about dementia and Alzheimer's, the importance of primary care for managing chronic conditions like hypertension, and how to keep the brain healthy with exercise, nutritious eating, good sleep and stress management, memory support, and hearing health. Voluntary cognitive and hearing screenings were also available for attendees and administered by supervised graduate student clinicians.
"Many people presume that genetics is the only determining factor, and if they had a parent or sibling who had Alzheimer's, they're doomed — and for almost everyone, that's not the case," Cohen said. "About 40% of cases of dementia can be delayed or prevented."
The premise instills hope in Willis, who needs to focus on higher-quality sleep and improvements to her diet. 
"I'm very active physically and mentally; I swim four days a week for an hour and walk my dog three times a day, but I'm high energy, so getting to bed at a regular time is difficult for me," Willis said.
"I have a salad every night, and I've always loved berries," Willis said, but added, "I love sugar, but I'm trying to focus more on chickpeas. I found this to be such a positive approach and real steps I could take to prevent the onset of Alzheimer's."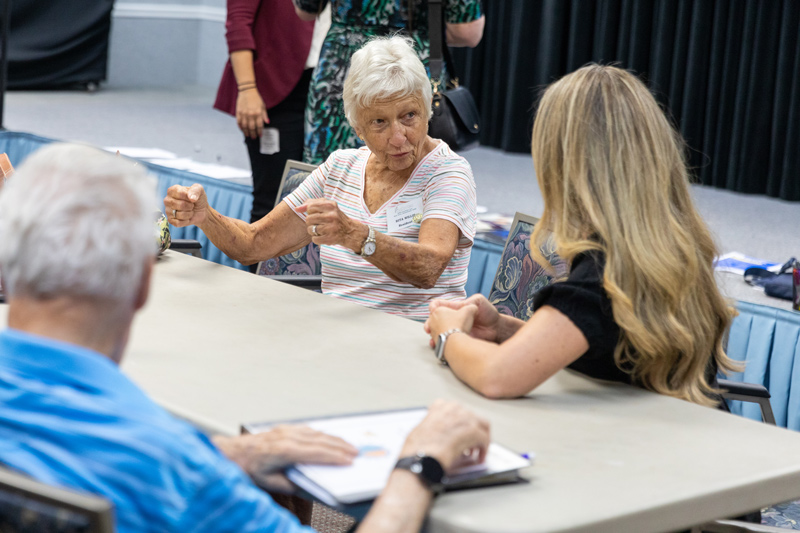 In addition to education, the workshop offers practical tips and tricks.
"So, if you can't enact every part of a brain-healthy diet, we help participants think of small ways to incorporate aspects of a more Mediterranean-style diet," Cohen said. "Or if you can't fit in a full 30 minutes of exercise at once, break it up into 'exercise snacks' by taking a 10-minute walk two or three times a day." 
The workshop also focuses on setting attainable goals.
"We try to drive home — nobody is helpless, and they can change their lives," said Mindy Myers, a clinical educator at UD's SLH Clinic. "It's one thing to say, 'I'm going to eat better,' but to set specific goals and create plans to make that happen is key." 
Len Freedman, who's lived at Jenner's Pond for over six years, found value in goal setting.
"Diet is one aspect I've realized I need to work on along with my flexibility and balance," Freedman said. 
The workshop also placed residents in small group discussions, where they could set attainable goals together. Graduate students in the Speech-Language Pathology (SLP) program within the Department of Communication Sciences and Disorders played a pivotal role in facilitating those conversations and conducting cognitive testing.
"Working with aging adults will make me a better clinician," Julia Cameron said. "I've learned so much by interacting with this population; I'm just soaking it all in so I can apply the knowledge to my placement at Peninsula Regional Medical Center, where I'll work with older adults with cognitive difficulties." 
Second-year SLP student Gracie Goetz said this experience solidified that she's on the right career path.
"Face-to-face interactions like this help you realize this is truly a helping profession," Goetz said. "You must want to help and talk to people; through this, I've realized that's something I really love. It's powerful to have an impact on people's lives." 
Erin Michalcewiz, who's in her second year of the SLP master's program, hopes to work with older adults.  
"Every person has their own story, and cognitive difficulties impact everyone differently," Michalcewiz said. "Realizing those differing impacts is something I must be mindful of in my future practice." 
As an educator, incorporating a learning component for graduate students into these workshops was critical for Van Buren. The clinical supervisor and educator at UD's SLH Clinic worked to ensure the program included experiential learning opportunities for SLP master's students.   
"We need to educate the younger generation of practitioners so they understand cognitive changes and can implement strategies and practices into their therapy sessions to counsel older adults," Van Buren said. 
As a clinician, Van Buren wants to see more programs like Brain-WISE.   
"When patients come to the clinic, we wonder— what if they had come in five years sooner? Brain wellness must play a larger role in preventative healthcare," Van Buren said. 
The Brain-WISE workshop was so popular that there's a waiting list at Jenner's Pond. Cohen, Van Buren, and Myers plan to launch a second session at the retirement community this fall but also aim to expand the program to churches and senior centers in underserved communities. Brain-WISE by DECCAR and the SLH Clinic is a shining example of UD's community engagement efforts to extend beyond the Newark campus and meet people where they are. 
"The public is wildly misinformed about Alzheimer's disease and dementia, and the stigma surrounding it makes it difficult to engage with people about research," Cohen said. "Our community outreach arm aims to build trust with diverse communities and provide high-quality, vetted health information, reduce stigma, and instill hope to encourage folks to make health behavior changes." 
The success of the program will be gauged through questionnaires immediately after the conclusion of the series of workshops and again at the three-month mark. But Cohen has already noticed positive behavior changes in Jenner's Pond residents, whom he observed banding together to advocate for healthier dining offerings and exercise at the YMCA next door — proof the program is working. 
"Launching programs like this in places where people already live together can be empowering because we know that health behaviors are best changed together," Cohen said. "By delivering the intervention to people who are already together, they can support and hold each other accountable more naturally."