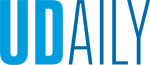 Honorary doggree
Article by Amy Cherry Photos courtesy of Shawn Horrocks May 23, 2023
Medical diagnostics major and veteran, service dog to be honored at graduation ceremonies
Shawn Horrocks and his 7-year-old Black Labrador retriever dress up in matching costumes for Halloween every year.
Shawn and Vinny would show up to the University of Delaware's campus for class dressed up as Batman and Robin or wearing matching dinosaur costumes.
Horrocks and his service dog will be donning a cap and gown at the College of Health Sciences Convocation on Friday, May 26, and the University Commencement on Saturday, May 27, both in Delaware Stadium. As Horrocks, a medical diagnostics major with a pre-physician assistant concentration accepts his diploma at the CHS Convocation, Vinny will be awarded an honorary doggree.
"I submitted the request kind of as a joke, but he deserves it; he's been to every single class with me," Horrocks said. "I like to think of Vinny as the College of Health Sciences' unofficial mascot."
When the Department of Medical and Molecular Sciences (MMSC) received the unusual request, they were happy to seek University approval and pleased to see the request granted. Horrocks and Vinny have been "students" together in three of MMSC Senior Instructor Leslie Allshouse's classes over the years.
"Shawn epitomizes the term perseverance when faced with challenges," Allshouse said. "Vinny is always by his side and a welcome guest in the class, and it is heartwarming to know that Vinny will be recognized with Shawn at Convocation."
Allshouse will be cheering loudly along with the rest of the MMSC Department for Horrocks and Vinny at the CHS Convocation, and called this a special moment of recognition.
"Having had a father and brother in the Navy, and one of my sons currently serving as a naval flight officer, I feel deeply indebted to Shawn and other students, faculty, and staff who are serving or have served in the armed forces," Allshouse said.
Horrocks was able to attend UD in large part due to the GI Bill, which provides educational assistance to service members, veterans, and their dependents. In late April, Horrocks was also recognized by the MMSC Department, receiving the Resilience and Armed Forces awards.
Vinny, too, has provided exemplary service to Horrocks. He has a near-perfect attendance record, missing just one class over four-and-a-half years for surgery.
"He failed that final, but I'm sure he made it up at some point," Horrocks said with a laugh.
He trots across the Green with Horrocks with his stuffed hedgehog in tow that he's had since he graduated from the service dog academy. On the last day of classes each semester, Vinny goes "off duty" and plays with his hedgehog with the rest of the class. 
During the past four years, Vinny was the definition of a good boy most of the time. 
"Sometimes, Vinny would groan mid-class when he was bored," Horrocks said. "As a handler, we're taught to ignore that, but he quickly learned that if he groaned a little bit louder each time, he'd get my attention."
Vinny's noises made for a little comic relief in what's otherwise a rigorous course load. 
"I would not have finished this journey without Vinny," Horrocks said. "I was an awful student my first time around. Now, as an older student at 30 coming back, I genuinely loved it. It was a different mindset this time around."
Horrocks was paired with Vinny after he was medically separated from the U.S. Marine Corps following a leg injury he suffered during combat training after he saw one of his buddies go down with a broken ankle. 
"We could see the finish line; we were about a mile out," he said.
Horrocks put his buddy on his back, and his buddy's pack on his front, but only made it 20 feet before he heard an audible pop and went down himself. It would take two years for him to get an x-ray and a proper diagnosis. 
"Within five minutes, the orthopedist knew exactly what was wrong with me," Horrocks said. "I had a fracture which healed itself and turned into a femoroacetabular impingement." 
He went from using a cane to being forced into a wheelchair because he couldn't move his leg. Horrocks was medevaced from Japan to Hawaii for surgery, and after months of extensive physical therapy, he was told that the odds of him staying in the Marine Corps were low. 
"But I had to give it a chance because I loved it," he said. "Being in the Marine Corps was the first time I ever felt like I was home." 
Unable to recover, Horrocks was sent to Quantico to begin the medical separation process. A piece of him died that day. 
But his spirits were renewed when he met Vinny through Wounded Warrior Project and Semper K9, a nonprofit in Virginia that strives to rescue both shelter dogs and disabled veterans. The perfect pairings go to veterans with psychiatric or mobility challenges free-of-charge. When asked whether he wanted to be paired with a service dog, Horrocks exclaimed: "Abso-expletive-lutely!" The two have been inseparable ever since.
"Vinny has been the single best thing that ever happened to me," Horrocks said. "He is legitimately the reason why I'm still alive. I went through some very, very dark times getting out of the Marine Corps because I felt like I was leaving family and friends. I was on three medications for my mental health, and now I take zero because he's the permanent fixture in my life. He's that anchor point; he's my best friend."
Horrocks, who finished his coursework after Winter Session, is now working alongside his best friend as a biomedical engineer for Infusystem, where he fixes and maintains infusion systems like IV pumps at hospitals in Virginia. There, he's putting his medical diagnostics degree to work.
"When I walk the halls, I see patients, and my degree helps me link their conditions and what's happening in the hospital around me," he said.  
Now, as he prepares to return to UD's campus, another place he's called home for so many years, Vinny will once again be at his side. And soon they'll have framed diplomas hanging side-by-side in Horrocks' new home. 
"Vinny changed my life," Horrocks said. "He definitely saved my life."