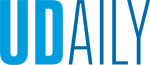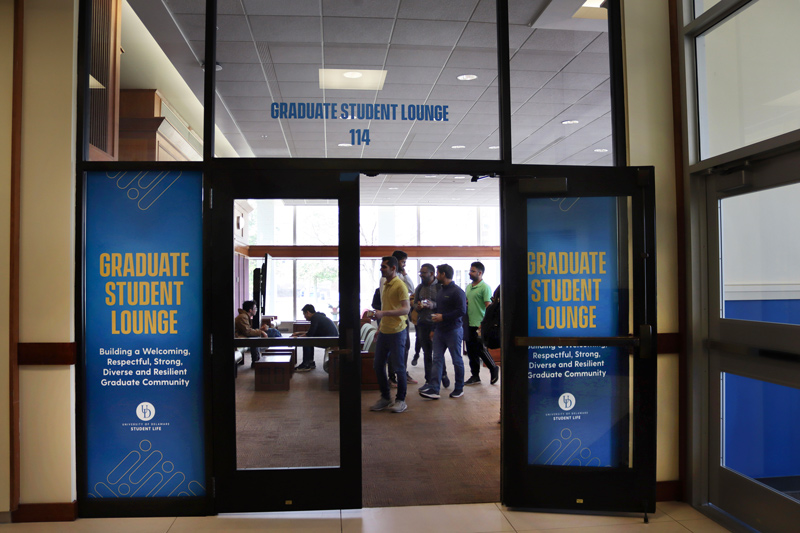 Graduate Student Lounge opens
Article by Adam S. Kamras Photos by Kathy F. Atkinson, Cindy Dolan and Eric Tommer May 16, 2023
Student Life provides impactful gathering space to foster cross-disciplinary connections
With a cup of his favorite UDairy Creamery Delaware River Mud Pie ice cream in hand, Lou Rossi proudly makes his way around a spacious room in the University of Delaware's Perkins Student Center chatting with graduate students like he owns the place, or is at least the maître d'.
Though the dean of UD's Graduate College and vice provost of graduate and professional education does not have any official paperwork that designates him as the proprietor, the generosity and efforts of people like José-Luis Riera, UD vice president of student life; Tony Doody, UD executive director of university student centers; and Gil Johnson, UD senior associate director of university student centers; have enabled Rossi to take pride in and care for the space as if it were his establishment.
Previously known as the East Lounge or Room 114, the 1,643-square-foot area next to the Esports Arena was recently designated as the Graduate Student Lounge. After having a soft opening during Graduate Student Appreciation Week, which commenced with a UDairy with the Dean event, Riera and his Student Life team hosted a grand opening ceremony to officially award the room to the Graduate College.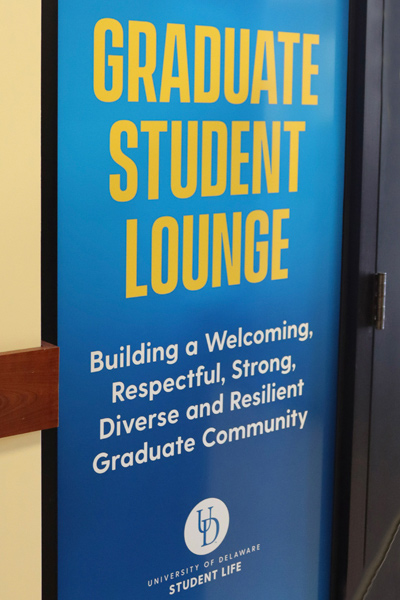 Much more than just serving as a hangout space, the Graduate Student Lounge is a sign of the emphasis being placed by UD on graduate education, evidenced by the 2019 establishment of the Graduate College to dedicate itself to the needs and aspirations of the University's graduate students and postdocs.
"The Division of Student Life, in very close partnership with the Graduate College, has certainly been on a laser-light focus commitment to continue thinking about how we support graduate students," said Riera. "We are becoming an institution and a Division of Student Life that when we say students, we are thinking critically about undergraduate and graduate students.
"Thinking about all the different ways graduate students contribute to our campus, we recognize that they have needs that are distinct from undergrads. We see the student centers and the physical space on our campus to be space that we want graduate students to have an affinity for, to see the resource that there is in it, and to have a place to get out of their department."
With comfortable soft seating for casual lounging, as well as high-top tables and chairs for study, work and social engagement for up to 50 people, the lounge features a 96-inch monitor on a portable cart for presentations, a gas fireplace for winter ambience, base cabinets for storage, and a granite countertop that holds a microwave oven and Keurig coffee maker. It also has an ADA-compliant door opener and a card reader that limits access solely to graduate students.
"Not too many years ago, we found out how much we can do alone in our apartments, labs, basements and wherever," said Rossi. "We also discovered how much we missed being together. I am hoping this is a space where we can all be together and have all the important informal conversations that graduate students have."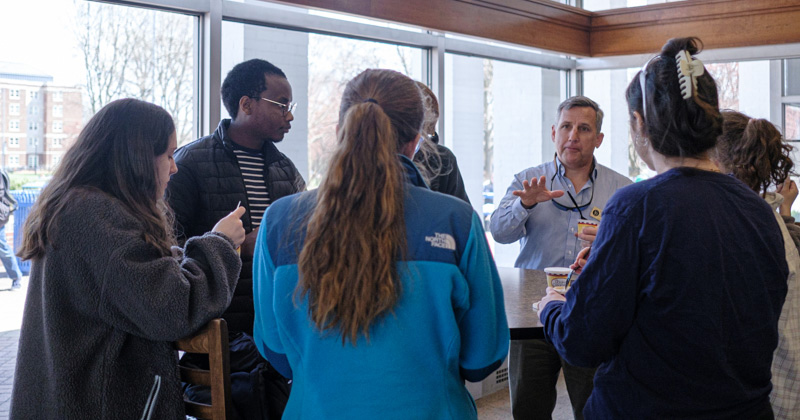 To foster the dialogue at the UDairy with the Dean event, Rossi facilitated conversations between students of varying disciplines. After hearing from a microbiology student about her interdisciplinary graduate program, he guided her to a group of chemistry and biochemistry students on the other side of the room.
"I always ask students about their program of study and the sorts of problems they are solving or learning about," said Rossi. "When I see connections with others in the room, I introduce them to one another."
Although Rossi jokes that graduate students put up with him because he is their dean, he said it is important for them to make connections and build networks among their peers since it is crucial to achieving later success.
"Incremental work comes from working with the same people and using variations of the same ideas," said Rossi. "Transformative work tends to come from bringing together new ideas from new people. Also, I think there is something healthy and pleasant about meeting someone new who has a little something in common with you."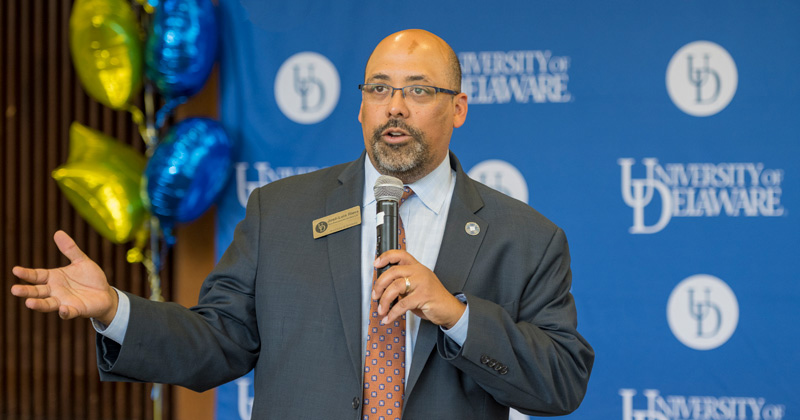 Riera also envisions the lounge as a great location for students of varying programs to convene and talk shop, as well as take a respite from the rigors of graduate education.
"We all need the ability to get away and, increasingly, frankly, for even your professional development, you need to be able to talk across disciplines," said Riera. "We all know that it is hard for two or more graduate students to be together and not talk about graduate-level work. That's great. It's organic. That's how you come up with new research proposals, new ideas and discovery, all kinds of things. This could be that space. It could also be a space just to take a mental break."
Along with UDairy with the Dean and an Equity Coffee Hour cosponsored by the Office of Institutional Equity and graduate student affinity groups, the Graduate Student Lounge was the site of a free Graduate Student Appreciation Week professional headshot photo session, donated by UD graduate alumni Michael K. Mayeda and Steven Traylor, for 70 graduate student leaders and graduate students within a year of receiving their degrees. Activities also included one-on-one consultations about UD mental health services and resources and a UD for Women's Empowerment presentation in other campus locations.
William Repetto, Graduate Student Government president, attended several of the Graduate Student Appreciation Week events as well as the grand opening celebration and appreciates the emphasis being placed on graduate education at UD. Like Riera and Rossi, he sees the lounge as a place for graduate students across departments to gather informally and form a unique graduate student culture at the University of Delaware.
"At UD, where research is a top priority, I think it is important to have time to center some of the people making the biggest contributions to research — graduate students are one of those groups," said Repetto. "We facilitate class sessions and sometimes teach full courses ourselves. We also participate in the service activities of the University and serve as advocates within our own units. To see a week in appreciation of our efforts means a lot."
Rather than having to schedule rooms throughout the campus for diversity, professional development and other types of events, the lounge provides a consistent location for graduate student programming. Rossi, who said the Graduate Student Lounge is well on its way to becoming a vibrant hub for graduate activity, plans on being a regular visitor and host, whether or not Delaware River Mud Pie ice cream is being served.
"A grad dean is always happiest when surrounded by grad students," said Rossi. "The Graduate Student Lounge provides me with a great space to touch base with students and hear from them directly about how things are going."