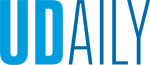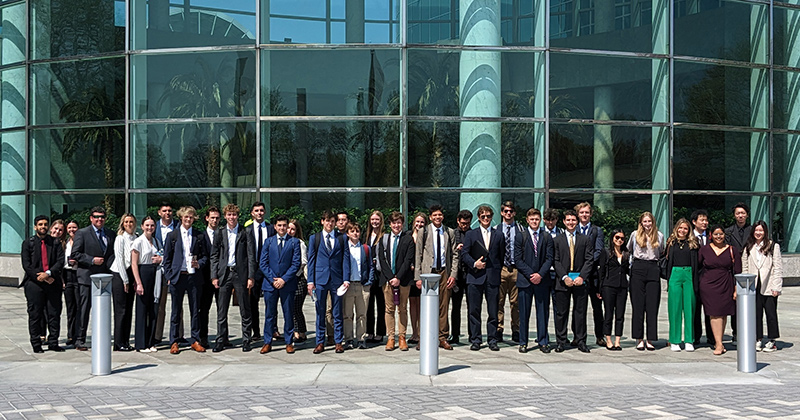 Commercial real estate lessons
Article by Andrew Sharp Photo courtesy of John Stocker May 30, 2023
Lerner students meet experts in the industry during visit with UD alumni in the New York metro area
Dozens of students skipped class and went to Long Island for the day, but their professors raised no objections.
Playing hooky was sanctioned in this case because the University of Delaware Alfred Lerner College of Business and Economics students were taking part in Transformational Experiences in Finance, an initiative to provide chances to meet and network with professionals. The 36 students boarded a bus to Long Island on April 20, where they visited ACRES Capital, a commercial real estate lender run by Lerner College alumnus Mark Fogel, who graduated in 1990.
Howland Redding and John Stocker, assistant professors of finance at Lerner, led the outing.
Students heard from Fogel, the CEO, and other industry experts in a panel discussion. They got an introduction to what's involved in the day-to-day world of commercial real estate, Fogel said, along with how the industry encompasses a wide range of specializations like engineering, architecture, law, finance and development. Students had a chance to ask questions, and network afterward with company executives.
"Talking to people who have been in the industry for years and hold positions such as CEO and CFO and hearing their outlook … it's invaluable to be able to pick their brains like that," said Alex Everard, a finance major who went on the trip.
Redding said the idea is to enhance student learning by giving them a look inside a corporation and a chance to meet executives and see what really happens in the business world.
Students took advantage of the opportunity. Redding said the group was professional and on-task, making conversation and seeking out people during the networking lunch.
"Our Blue Hens have some really inquisitive young minds, and you can see the wheels turning," Redding said. "We got to meet with some real heavy hitters, which was great."
The panel included CEO Fogel; Glen Weiss, executive vice president of office leasing and co-head of real estate at Vornado Realty Trust; Michelle Kleger of Kensington Vanguard National Land Services; real estate attorney Michael Webb; and Richard Persaud, CFO of ACRES.
In addition to Fogel, Weiss (Class of 1991) and Kleger (Class of 2013) also graduated from the University of Delaware.
"Reaching out to alumni from UD, is I think, also a super powerful tool, just because it's so interesting to see how vast and really how rich that community can be," said Brian Carbajal, a sophomore majoring in financial planning and marketing. He appreciated their willingness to mentor fellow Blue Hens.
Carbajal said he had never thought much about commercial real estate, but it was eye-opening hearing about opportunities in the world of high rises.
Fogel and other alumni are working to build interest in a real estate minor at UD. When he and Kleger started investigating, he said, "We realized that there are so many University of Delaware graduates that work in the commercial real estate field and all of them kind of fell into it."
Redding plans to teach a real estate finance class this fall. "I want to see students interested in real estate finance … both Mark and I have had success in that industry and know it's a good fit for students coming out of college."
It's quantitative work that deals in cash flow, he said, making it ideal for finance students.
Carbajal was especially interested in the stories panelists told about finding their way in their careers. Fogel spoke about majoring in accounting, then switching to property management before landing in his current field. Kleger shared about starting out as a hospitality major who got a job at a hotel before realizing she didn't want to pursue that track.
"Seeing how they went from UD to where they are now, a lot of them weren't even interested in real estate when they first started college," Carbajal said, and hearing from the examples of these established professionals was powerful for students like him trying to choose a life path.
Of the students, Fogel said, "I thought they did a really great job, sort of doing their research on the company and being prepared to come in with a lot of questions about what it is that we do and about the real estate market in general." It was also good for ACRES to connect with potential future employees, he said.
Everard called the trip a "once in a college experience." A friend of his attends another school of business, he said, and hasn't had a chance to do anything like this.
"I think it's a really unique opportunity for Delaware students," Everard said. "And it really just shows how we're leveraging our alumni network for the betterment of the students."