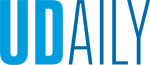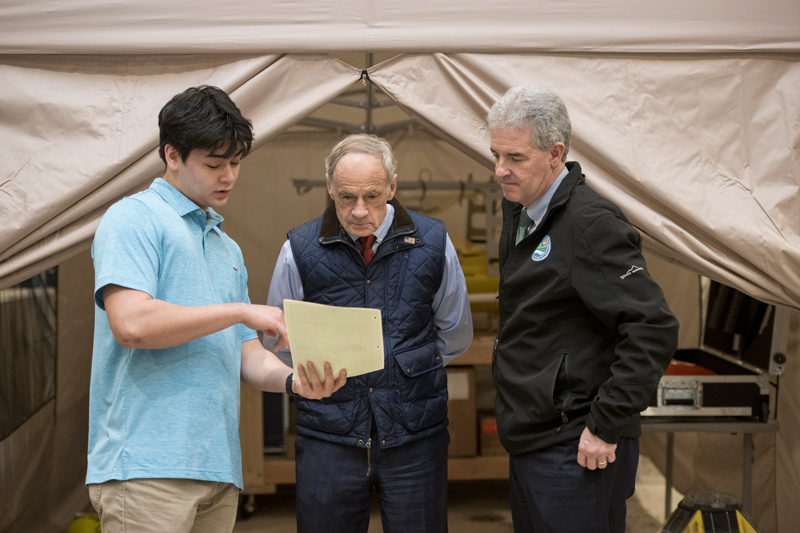 UD coastal research draws fresh federal focus
Article by Beth Miller Photo by Kathy F. Atkinson January 24, 2023
New Water Resources Development Act expands potential partnerships with Army Corps of Engineers
The tour could have lasted hours, given the breadth of the University of Delaware's environmental and water resources research, but U.S. Sen. Tom Carper kept it short and sweet — just long enough to see a few examples of the expertise available to the U.S. Army Corps of Engineers.
The Army Corps has a long to-do list, with passage of the new Water Resources Development Act of 2022 that authorizes more than $37 billion in projects and research aimed at improving, managing and protecting the nation's water resources.
Carper, Delaware's senior senator and chair of the Senate Committee on Environment and Public Works, was a co-author of WRDA 22, which was signed by President Biden in December as part of the National Defense Authorization Act for fiscal year 2023.
Among the objectives of the legislation is to better align the Army Corps' civil works projects to address climate change and improve shoreline protection and restoration projects in areas especially vulnerable to the effects of climate change.
WRDA 22 also authorizes expansion of the Army Corps' research partnerships with four universities, including UD, the University of Missouri, the University of Oregon and West Virginia University.
UD has world-class expertise in environmental and coastal research across multiple colleges and departments, focused on coastal processes and resilience, disaster research and water quality, including the College of Earth, Ocean and Environment, the College of Engineering, the Disaster Research Center and the Water Resources Center. Many collaborative and interdisciplinary projects are aligned through the UD-based Delaware Environmental Institute (DENIN), which has almost 200 affiliated researchers working in biogeosciences, climate, environmental monitoring, food and water security, habitat and biodiversity as well as related human dimensions.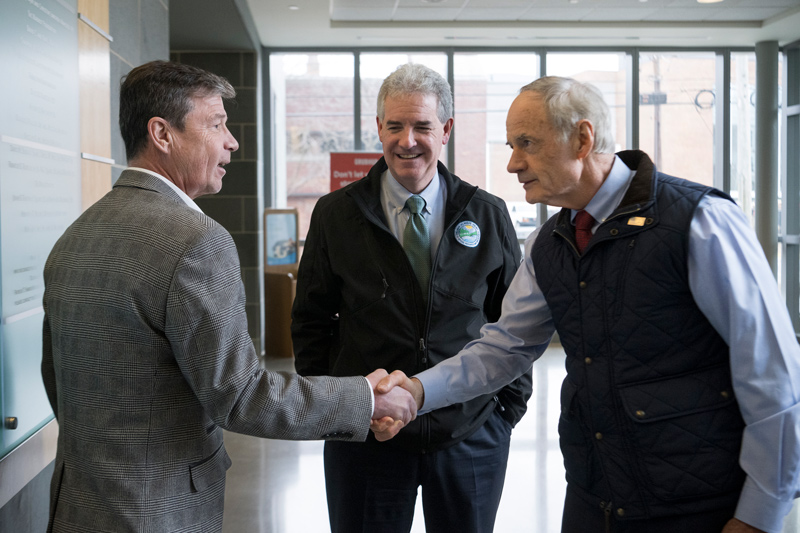 Many of these researchers are experts in areas of critical concern to the Army Corps, including water resources, hydrology, water quality, coastal restoration and soil sciences.
And that's what Carper and his guest, Shawn Garvin, secretary of the Delaware Department of Natural Resources and Environmental Control, came to see during their visit on Friday, Jan. 13.
With 45 years in public service to Delaware — including three terms as state treasurer, five terms in the House of Representatives, two terms as governor and four terms in the Senate — Carper knows the importance of coastal regions to Delaware. All of the state is classified as a coastal zone and the state has the lowest mean elevation — 60 feet — in the nation, making preparation for sea level rise, flood risk and extreme weather of critical importance to the state. 
"We're always trying to figure out how to harness technology to address real challenges and problems on our planet," he said. "How do we do good things for the Earth and create jobs and opportunities?"
Carper and Garvin toured several labs in the Harker Interdisciplinary Science and Engineering (ISE) Laboratory and the nearby Center for Applied Coastal Research. They visited the Water Quality Laboratory and the Isotope Laboratory.
These facilities have state-of-the-art equipment and allow for a broad scope of study — including water and soil contamination, effects of sea-level rise, emerging contaminants, the global carbon cycle and measuring many kinds of environmental materials.
They heard about multiple projects, including:
The study of hydrology and how groundwater moves and its effect on beach stability, erosion and flooding issues at the coastline, presented by postdoctoral researcher Rachel Housego.

Studies of the interface of agriculture and water quality, with a focus on phosphorus, presented by Deb Jaisi, associate professor of environmental biogeochemistry

The use of Orbitrap mass spectrometry for detection and analysis of materials such as nitrogen and phosphorus, presented by postdoctoral researcher Katelyn Gray

Methods of isolating specific materials for study, from doctoral student Tony Hollenback

Research on how trees may one day contribute to "green" plastics, presented by master's student Robyn O'Halloran

Study of the physical and hydrological properties of soil, from postdoctoral researcher Jing Yan

Multiple aspects of coastal engineering research, modeling and simulation, from Prof. Tian-Jian "Tom" Hsu, director of the Center for Applied Coastal Research, and the use of underwater sensors, discussed by undergraduate student Harrison Fleetwood
"One of the most encouraging things we saw and heard here today was how trees may hold the secret to enabling us to replace single-use plastic," Carper said. "That is very exciting and we're anxious to bring that technology to a committee hearing this year."
UD's research was cited in a release from the Senate Committee: "Thanks to the research conducted at the University of Delaware, our coast is more secure, water quality has improved, and our ecosystems continue to thrive. For the first time, WRDA 2022 authorizes the Corps to partner with the University of Delaware to take advantage of this world-class institution's research."
The Act has benefits for all three Delaware counties, with authorization of environmental infrastructure programs up to $35 million each.
Overall, the WRDA 2022 authorizes 25 new projects in 14 states and Puerto Rico, with feasibility studies authorized for new projects in 30 states and Washington, D.C.
Though it does not include funding for projects — that money comes by way of Energy and Water Development appropriations — it authorizes new investment for many initiatives, such as addressing increased flooding risk and severe storm damage around the nation, restoring ecosystems, predicting the effects of ongoing climate change, improving levee safety, inland waterways and water resiliency. The Act also has specific measures meant to ensure equitable solutions for tribal communities and areas that have suffered from systematic inequality.