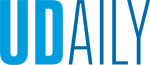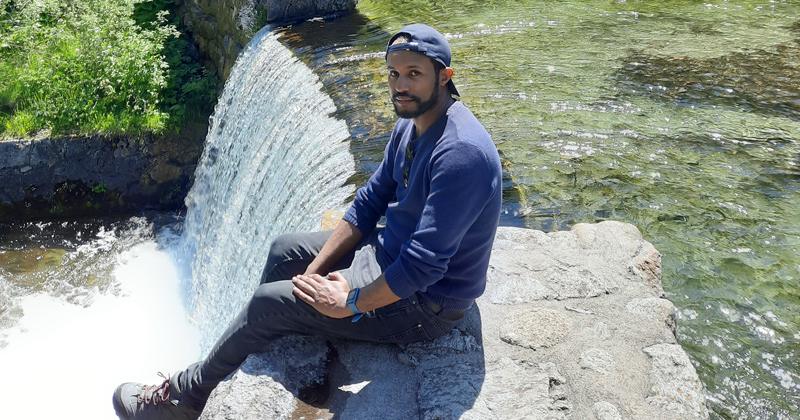 Solving water scarcity
Article by Adam Thomas and Risha Inaganti Photo courtesy of Endalkachew Kebede August 28, 2023
UD doctoral student draws on experience growing up in Ethiopia to help solve water crises in his home country and beyond
Growing up in Ethiopia, University of Delaware doctoral student Endalkachew Kebede became interested in researching water at an early age. While the country has abundant water resources, with a population of around 120 million people, Ethiopia still faces economical water scarcity issues and not everyone has access to clean, drinkable water.
Kebede, a doctoral student in the Department of Geography and Spatial Sciences, has faced the challenges of water scarcity firsthand. Because of his experience, he developed a deep interest in studying water and trying to discover a way he could possibly help with a scientific contribution to resolving the water crisis in his country and beyond its borders.
"The water is there but those waters are not exploited and used for the community, mostly because of lack of infrastructure and management issues," said Kebede. "As a person who grew up in that area, I've always been curious about how to contribute to the general public in a way that improves the availability of water resources, and improves water security, as well as minimizing the impact on the environment."
Kebede's journey to learn more about water began as an undergraduate student at Haramaya University in Ethiopia, where he also received his master's degree in irrigation engineering, working on comparing hydrological models under climate change.
After finishing his two degrees, Kebede worked as a university lecturer and researcher in Ethiopian universities, as well as an irrigation infrastructure engineer in the Amhara Bureau of Agriculture, before deciding to take a big leap and expand his horizons by earning his second master's degree in water science and engineering from IHE Delft Institute for Water Education in the Netherlands.
After looking for doctoral programs that dealt with water sustainability and the intersection between food, water and energy, Kebede decided to apply to UD. He arrived at UD last year and works with Kyle Davis, an assistant professor in the Department of Geography and Spatial Sciences and the Department of Plant and Soil Sciences and a resident faculty in the UD Data Science Institute.
"The University of Delaware's distinguished reputation as a research institution significantly influenced my decision to apply," said Kebede. "Furthermore, Dr. Davis' research focus on environmental sustainability aligns well with my research interests. The research projects undertaken in the lab, especially those focused on sustainable food systems, crop and irrigation mapping, have deeply intrigued me and Dr. Davis' significant contribution to this field, as evident from his published research and accolades, further motivated me to seek an opportunity to collaborate with him."
Kebede works in Davis' lab on updating global maps of irrigated and rainfed areas.
Through his work, he was recently awarded with a Consortium of Universities for the Advancement of Hydrologic Science, Inc. (CUAHSI) Hydroinformatics Innovation Fellowship. The Fellowship is given to scientists to create and share a hydroinformatics product with the CUAHSI community and supports projects that result in a product that can be shared within one year of funding.
With his proposal, Kebede will develop a data set for the 21st century, from the year of 2000 to 2020, that will look to understand how the spatial and temporal operations of irrigated field crops have changed since the start of the 21st century. He explained that data for the spatial, temporal valuation, changes and trends of irrigation and drip feed areas exists at global, national, and even local levels.
"This data can be used for different models, and also be used as basic information to measure a nation's progress for sustainable agriculture, food security, and water resource management," said Kebede. "There have been several efforts for developing these kinds of data sets, but most of these data sets have been prepared before the 21st century and are kind of outdated. Agricultural data and agricultural areas are dynamic. So we need consistent, timely, spatial data feeds to understand those spatial trends to understand how climate change or water resource extraction are linking with and also affecting the environment."
Kebede also said that working in Davis' lab at UD has been everything he had hoped for, as he not only gets to research environmental sustainability, he also gets to collaborate with students from over 10 different countries.
"Working in Dr. Davis's lab provides me with a unique opportunity to collaborate with highly renowned researchers in my field of study from across the world. This diversity has been enriching and transformative for me," said Kebede. "Collaborating with individuals with unique perspectives, cultural influences, and knowledge has broadened my understanding of various subjects. The exposure to a multitude of ideas and approaches, effective communication and collaboration, as well as interdisciplinary exposure are the significant advantages of working in such a diverse environment. Beyond academics, it has also enriched my personal growth."