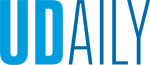 Video about a camp for children who stutter: youtube.com/watch?v=xbeI2wzpNdQ
Camp Dream. Speak. Live.
Article by Amy Cherry Photos and video by Ashley Barnas August 09, 2023
Summer camp for children who stutter helps them become effective communicators
At Camp Dream. Speak. Live., children who stutter, ranging in age from 4 to 15, set up shop on the University of Delaware's main campus, grabbed the microphone, and proudly shared their name and that they have a stutter, and what they want the world to know about stuttering.
"Stuttering is much more common than people might think," said Elias, 12, of Brooklyn, New York.
"Stuttering is genetic and runs in people's families, and 1% of people in the world stutter, and it's more boys than girls," said Raheem, 9, of Newark.
Too often, children who stutter and their families are told they must overcome or reduce their stuttering to pursue their dreams. This false and damaging notion that stuttering is a problem that needs fixing is precisely what Camp Dream. Speak. Live. seeks to reverse. By instilling children who stutter with confidence and resilience, Camp Dream. Speak. Live. teaches kids to become effective communicators and advocates for themselves.
Camp Dream. Speak. Live. was founded by Courtney Byrd at the Arthur M. Blank Center for Stuttering Education and Research at the University of Texas at Austin through generous philanthropic support in 2014. The camp has a waiting list a mile-long, with children and their families hailing from all over the country to participate in the evidence-based Blank Center CARE Model programming, provided at no cost.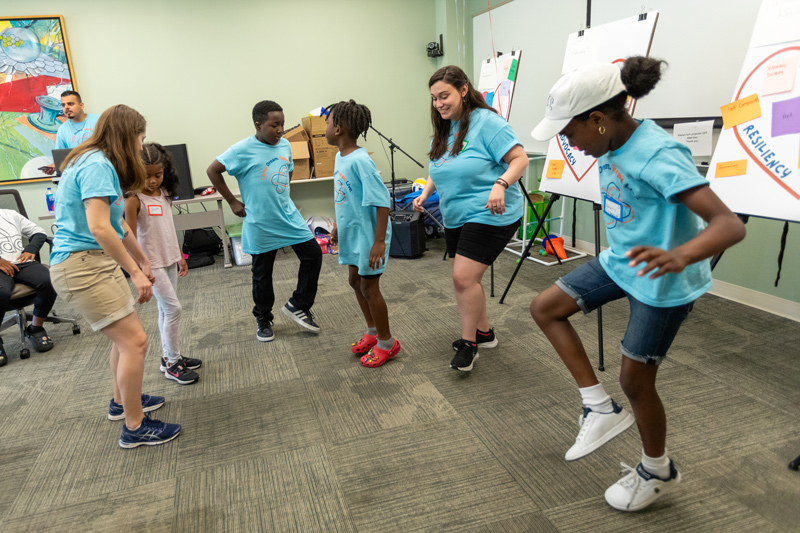 "Families come from all over, which is really a testament to their support system and their desire for answers, and their gut instinct that, maybe, what they've been told by a speech therapist or a doctor might not be resonating with them as true," said Lauren Henchey, assistant director of clinical research at the Blank Center.
Blank Center research shows that 99% of speech therapists work with someone who stutters, but just one in five would say they feel confident treating those patients. 
"We're trying to shift in a paradigmatic way to help speech therapists feel confident and competent so they can best support those who stutter," Henchey said.
Evan Usler, assistant professor of communication sciences and disorders at UD, championed bringing the program to UD's STAR Campus, home to the College of Health Sciences, from June 26-30, 2023. UD is only the second American university system to host Camp Dream. Speak. Live.
On the surface, Camp Dream. Speak. Live. looks like a typical summer camp with dancing, magic and reptile shows, scavenger hunts, ice cream and pizza. 
"But underneath the surface is an intensive therapeutic program, where kids learn to be effective communicators by showing them that they're naturally effective communicators," Usler said. "Even though they may stutter, that doesn't mean that they can't use good eye contact, stand up straight, and use a strong voice to project their thoughts and feelings."
Juan Cortez was running from his stutter his entire life. He didn't meet another person like him until he was in his 20s, and he linked up with the Blank Center. Now, he's a DJ and ambassador for Camp Dream. Speak. Live.
"This program changed my entire life," he said. "I thought I had to get my stutter fixed, and they showed me that it's OK to stutter and to embrace my stutter. They've pushed me to advocate for myself and be more confident, and I've evolved so much as an emcee, a businessman and a person who stutters."
At the close of camp one day, he played Lovely Day by Bill Withers and was quick to point out to the children that the famous singer-songwriter is a person who stutters just like them.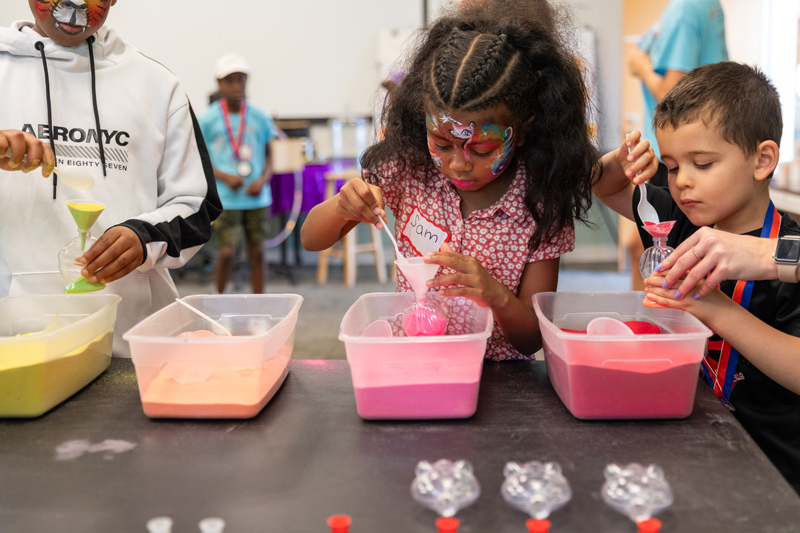 The camp also empowers children by providing many opportunities to engage in challenging communication situations, like taking them to UDairy to place their own orders. Amaris, 11, of Fishkill, New York, ordered vanilla ice cream and water.
"It was hard but fine," Fernandez said. "I learned stuttering isn't something you should hide. When speech therapists tell you to 'talk like a robot' – don't. It helps you stutter less, but it's not who you are. Most people don't talk like robots; if you do, I'm sorry, but you shouldn't change the way you speak for someone else." 
Usler, who stutters, called the self-disclosure step pivotal. 
"A simple self-disclosure that you stutter is a huge move we are nudging the children to make, and it can have dramatic effects on how they feel about themselves and how they communicate," Usler said. "We're changing their way of thinking; they shouldn't self-disclose only because it makes them feel better but because they're also increasing the understanding of what stuttering is to a larger audience who may not have exposure to stuttering. So, education about stuttering is a major piece of the program."
Usler wishes he had a camp like this growing up. 
"When you're a 4- or 5-year-old child and suddenly talking becomes difficult, and you look around, and for some reason, you can't say a certain sound or a certain word, or you can't say your name — that's a hard thing to wrap your head around," Usler said. "Here at camp, we tell them they can stutter all day long, and it won't affect their communication skills. In fact, children and teens learn at Camp Dream. Speak. Live. that stuttering openly is part of becoming an effective communicator."
When kids first arrive at the camp, some are quiet and shy, but dramatic changes are observed in just a few short days as kids go from nervous and anxious to comfortable and excited. 
"Some of these kids may have spent their whole life being afraid of speaking, but within a few days, in many instances, they've done a complete 180," Usler said. "For our campers, this is a first step towards self-acceptance. The more you talk, the more you realize people aren't going to judge you for the way that you talk."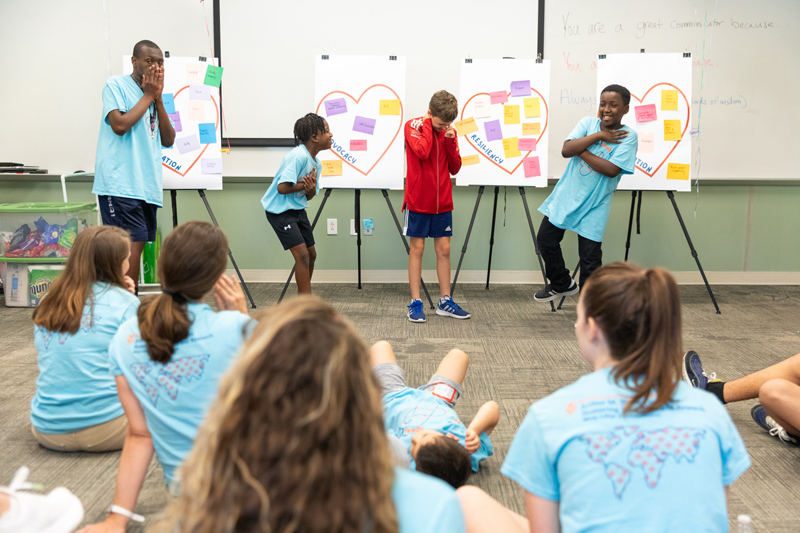 Nicole Binkley, a student clinician obtaining her master's in communication sciences and disorders, has a brother and sister who stutter. She feels lucky to have been assigned this summer intensive experience.
"It's been the best experience of graduate school so far," Binkley said. "You learn so much more as a clinician by interacting with kids every day, and these kids have grown so much." 
Megan Massano, who's getting her master's in communication sciences and disorders, appreciated the experiential learning opportunity. 
"I could sit in a three-hour class and get lots of good information, but it doesn't prepare you for what you encounter once you're in the field," she said. "On day one, the kids made very little eye contact and were quiet; then suddenly, they're laughing together, making friends, asking questions, and using their voices more. It was awesome to see." 
The differences were palpable. 
"The group of kids who came in quiet and unsure are now leaders, educators, and people who will go out into the community to educate and advocate," said Carly Aaon, a clinical educator at UD's Speech-Language-Hearing Clinic. "They're completely different kids than those who walked in the door at the beginning of this week."  
The dramatic changes the team was fortunate to observe in participants and graduate students left Henchey proud. At closing ceremonies, kids taught their parents and loved ones everything they've learned. 
"We see kids learning to use tools that are going to change their lives for the better and change the world," Henchey said. 
"It takes a ton of hard work to move the dial a little bit to end stigma, and it takes everyone. This is an incredibly important partnership, and it's so encouraging and inspiring to see UD fighting the good fight here in Delaware." 
Next year, Usler aims to double the size of the camp, and with the Blank Center's waiting list, that shouldn't be a problem.
"I love seeing kids' faces light up when they come in early in the morning for camp," Usler said. "The fact that we have a camp about stuttering, and young kids who stutter want to be here, that's just amazing." 
Many of the kids would love to attend the camp again if they had the opportunity. Pollinger found the most value in learning about different communication tools. 
"I've learned to use body language, my hands, and facial expressions," said Pollinger with excellent eye contact. "I've also learned about self-disclosing my stutter and advocating for myself. Having a stutter is much harder than people might think, but many people who spoke to us have attended this camp before, and that's empowering. It can change your life."