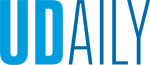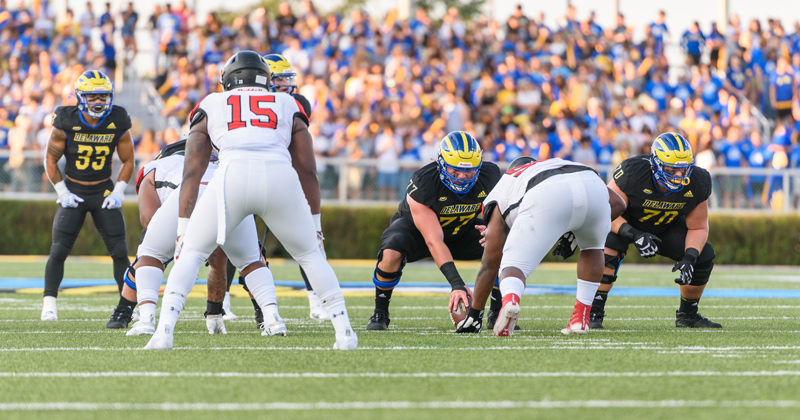 Football player, agribusiness major
Article by UD Athletic Department Photo by Scott Campbell September 23, 2022
James Prince is an offensive lineman for the Blue Hens
Throughout the summer months, Delaware football student-athletes can generally be found in the athletic facilities, either in the weight room or out on the practice fields working on individual skills. Senior offensive lineman James Prince was usually alongside his teammates as they prepared for the 2022 season; however, he would often show up in the evenings covered in dirt and mud.
This is because Prince is majoring in food and agribusiness marketing and management, and his summer internship was not like many others. He worked at Willard Agri-Services in Worton, Maryland, where he spent a lot of time in the field learning the ins and outs of the business side of farming.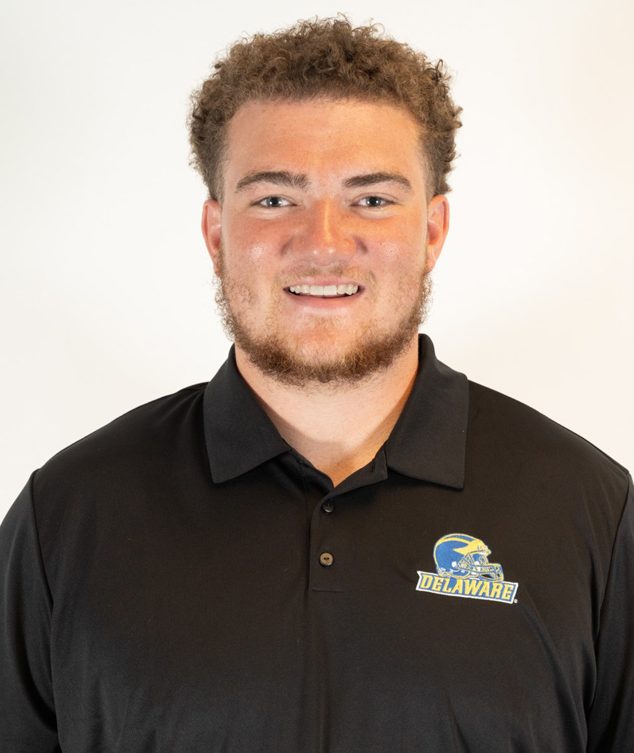 "My responsibilities included crop evaluations and value-added services such as yield estimates and coordinating the flow of information between the customer and the sales rep," Prince said. "I performed yield estimates throughout the growing season to provide customers with an idea of what yields could look like. I stayed in constant communication with my sales rep, sending scouting reports so the accounts had a real-time picture of what was going on with their crops."
According to Kelly Davidson, an assistant professor in the program, the food and agribusiness marketing and management major includes all of the economic transactions and functions that occur in the food system. The field of study includes all of the skills and knowledge required for these transactions to occur from the farm gate to the consumer's plate. The program is part of UD's College of Agriculture and Natural Resources.
Prince helped to analyze threats to crops — such as identifying particular weeds, insects and diseases — and recommend how to contain such dangers. All of that information can help determine the size of a single crop and therefore provide a prediction for the economic value of the crop.
UD has nearly 700 student-athletes, but Prince is the only one in his major, a stat that baffles him and Davidson considering the draw of both the quality of the agricultural business program and Delaware athletics. For Prince, his passion for the agricultural field comes from his stepmother and several influential family friends.
"From working on a pistachio and almond farm in California to corn and soybean here in the Delmarva peninsula, I have been exposed to a lot of different parts of agriculture," Prince said.
Prince's journey to Delaware is unusual. He grew up the son of a football coach and therefore moved around a bit.
"Growing up in different places allowed me to not set my sights on a school close to home, and go where the best opportunity was," Prince said. "When I was coming out of high school, it was at Howard University where my dad was coaching and I was majoring in supply chain management, which fit right in with what I want to do."
After the 2019 season, Prince transferred from Howard to Delaware, where he had attended camps while growing up.
"I am forever grateful for my time at Howard, but coming to UD has been one of the best decisions I've made," Prince said. "There were a number of different schools that had some of the things I was looking for in a school. Fortunately, I chose to visit Delaware during the first spring practice of 2020. After that and the continued conversations I was having, I knew this was the place for me."
Through his first two seasons with the Blue Hens, Prince appeared in 13 games, playing various positions on the offensive line. He will have one more year of eligibility after the 2022 remaining should he choose to take it. However, despite his strong football background, he knows that his calling may be away from the gridiron.
"My parents have always taught us not to be limited by the sports we play, but instead the impact we can have on our communities and each other," Prince said. "My three siblings and I all have or are currently playing Division I sports, but our passions and careers outside of the lines are what we hope to be defined by. Going into agribusiness, I want to work in consulting and risk management to help clients work on sustainability, disruptive trends and new technologies that are shaping the agriculture landscape every day."