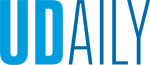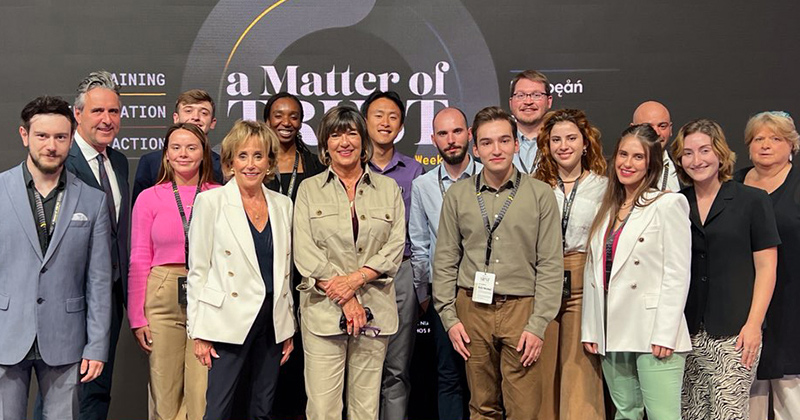 Regaining public trust in journalism
Article by Christine E. Serio-Shively Photos by Sebastian Jannelli October 24, 2022
UD's Stavros Niarchos Foundation (SNF) Ithaca Initiative joined a global discussion on the distrust in media and how it affects public policy
In a world full of rapid-fire, evolving ways to get our news, it's not always easy to know what sources to believe or how to decipher the truth among conflicting reports.
The Stavros Niarchos Foundation (SNF) Ithaca Initiative in the University of Delaware's Joseph R. Biden, Jr. School of Public Policy and Administration is working to help make it easier to differentiate between fact and fiction and to highlight how the distrust in media affects public policy.
SNF Ithaca Initiative staff and students developed and led a series of sessions on trust and truth in the media and democracy at iMEdD's International Journalism Week in Athens, Greece from Oct. 5-9. iMEdD (incubator for Media Education and Development) is a nonprofit journalism organization, created with the exclusive donation of SNF. This year, their annual forum was an exchange of experiences, opinions and knowledge among international journalists, students and media organizations. The forum focused on the underlying causes, consequences and solutions for regaining public trust in journalism.
"The issue of trust in the media is important, and it was both significant and meaningful for Biden School students, faculty and staff to participate in the iMEdD experience and engage in robust dialogue regarding practical, actionable solutions," said Amy Ellen Schwartz, dean of the Biden School. "Policymakers and their constituents alike draw on input from multiple sources, including traditional and social media, to inform their thinking about policies and public issues. Deeper trust in media, and other political and civic institutions, will foster civil discourse and allow us to address greater challenges, together."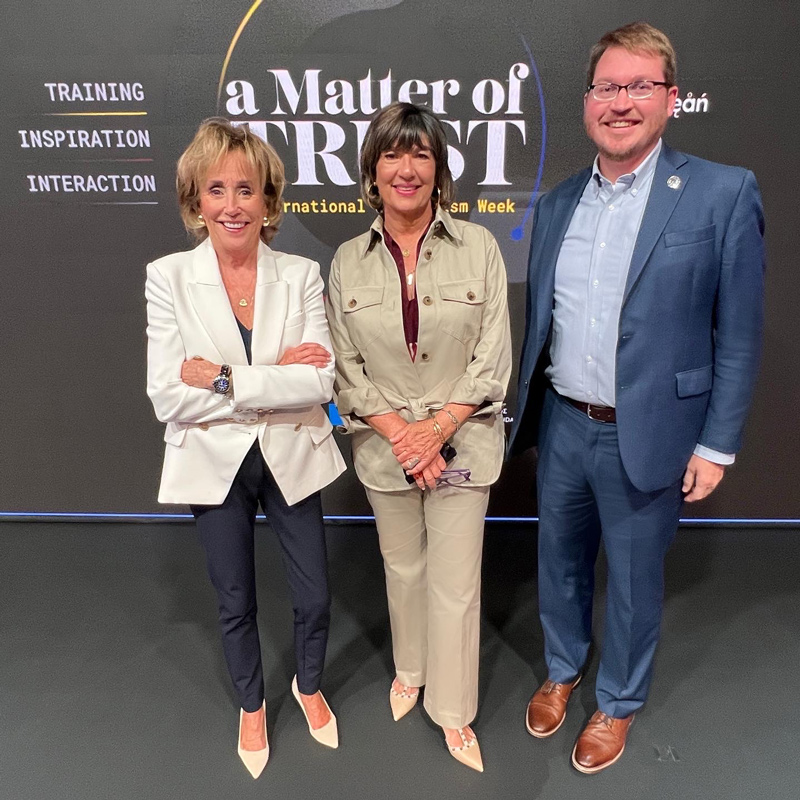 During the forum, Stavros Niarchos Foundation (SNF) Chair of Civil Discourse Timothy J. Shaffer led two sessions called Citizen-Centered Journalism in Polarized Times: The Role of Civil Discourse in the Mediated Public Square. He focused on community-engaged journalism and the role of civil discourse in identifying and addressing common issues. The session explored what it means to be a civic professional in a climate where there is little trust in professional journalism as a vital democratic institution.
"The public interest principle can be effectively traced back to Aristotle's Politics. So, as we participated in the conference in Greece, it's striking to think about the long history shaping our Western political philosophies rooted in the very place we were discussing the relationship between media and democracy," Shaffer said. "When we think of democratic institutions and civil society more generally, how we know and act is shaped, in large part, by media. So, we do well to examine public policy and the influence news media organizations have on the production and implementation of public policy."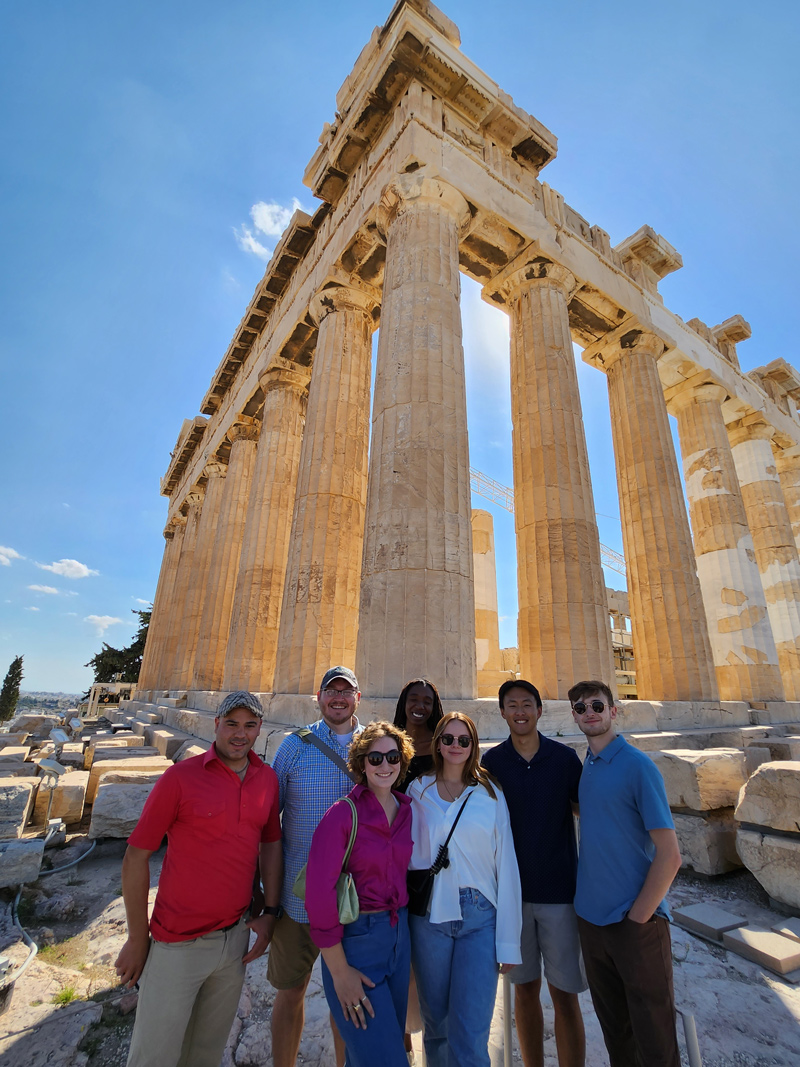 In addition to Shaffer, five SNF Ithaca Student Leaders participated in the week-long forum. These UD undergraduates, representing diverse academic backgrounds, political ideologies and lived experiences, included Katelyn Fuller, Luke Halko, Jeff Lin, Onaedo Okoye and Hannah Rigoglioso; Fuller, Lin and Rigoglioso are Honors students. The UD students were joined by five Greek students from the Biden School's partner institution, Aristotle University, in hosting a Student Voices Panel. The panel discussed how they experience the media's influence on democracy. The session was coordinated by SNF Ithaca Fellow John Della Volpe, who also serves as the Harvard Kennedy School's Director of Polling and as an MSNBC political contributor.
"I'm thankful SNF Ithaca's commitment to student education has extended to inviting me to the conference where I could listen and learn," said Lin, class of 2023. "The conference fell squarely in line with the issues we're interested in, that of discussing the role our media and news networks play in informing the public on important events, helping them to be better citizens. I think today we're seeing the greatest diversity of media consumption in the history of the world. Social media has given more people the ability to express themselves to a wider audience. But with that probably comes less peer review and administrative oversight, especially on crucial current events of policy issues."
The delegation from the Biden School was rounded out by SNF Ithaca Program Manager Pablo McConnie-Saad, Biden School Assistant Dean Sebastian Jannelli, Biden Institute Executive Director Catherine McLaughlin and Biden Institute Chair Valerie Biden Owens. Biden Owens hosted a public conversation with CNN Chief International Anchor Christiane Amanpour on The Role of Media in Democracy.
"Free speech is the foundation of journalism in democracy," Biden Owens said. "Athens was the birthplace of democracy. So, it is fitting that we are having this discussion where it all began. Thank you to Anna-Kynthia Bousdoukou and the iMEdD team for inviting the Biden School to engage in this critically important conversation."
The combination of student, faculty and staff representation at the conference aligns with the SNF Ithaca Initiative's efforts to prepare students for success both in academics and their journeys beyond UD.
"I've appreciated SNF Ithaca's commitment to studying the principles of effective citizenship in a democracy and putting them into practice," Lin said. "Not only do the faculty and staff study these issues, but they work to equip us students to empower others in the skills we learn, both during college and after we graduate."
About the Stavros Niarchos Foundation (SNF) Ithaca Initiative
The Stavros Niarchos Foundation (SNF) Ithaca Initiative was launched in the University's Biden School in 2021 as a national home base for students beginning journeys toward responsible democratic citizenship. SNF Ithaca seeks to advance civil discourse and civic engagement, protect the mediated public square and support a healthy democracy.
About the UD Biden School
Established in 1961 and named in 2018 for the University of Delaware's most distinguished alumnus, the 46th President of the United States, the Joseph R. Biden, Jr. School of Public Policy and Administration prepares students with the knowledge and skills necessary to engage in research and public service activities to improve the quality of life in communities around the world. The Biden School's faculty, staff, students, and alumni create and use interdisciplinary, nonpartisan research, and empirically based analysis to inform effective decision-making and policy and to improve leadership and administration. The Biden School partners with organizations from all sectors to discover innovative and equitable solutions to the critical challenges of our time.
About the Stavros Niarchos Foundation (SNF)
The Stavros Niarchos Foundation (SNF) is one of the world's leading private, international philanthropic organizations, making grants to nonprofit organizations in the areas of arts and culture, education, health and sports, and social welfare. SNF funds organizations and projects worldwide that aim to achieve a broad, lasting, and positive impact for society at large, and exhibit strong leadership and sound management. SNF also supports projects that facilitate the formation of public-private partnerships as an effective means for serving public welfare. Since 1996, the foundation has committed more than $3.4 billion through over 5,200 grants to nonprofit organizations in more than 135 countries around the world.