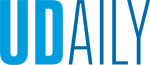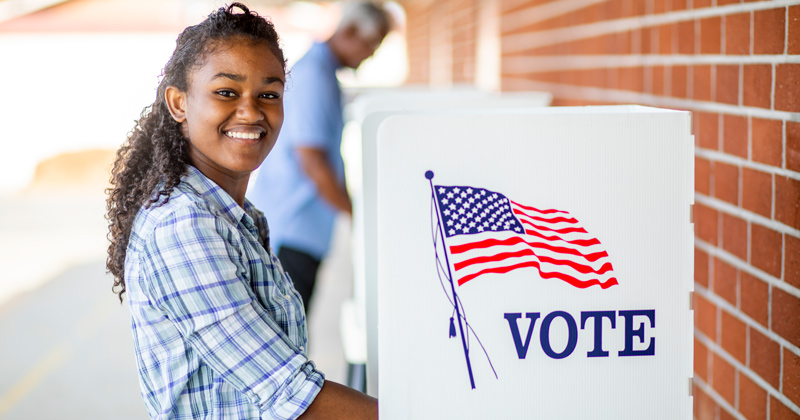 Poll: Democrats on track to win Delaware elections
Article by Center for Political Communication Staff Photo by iStock | Graphics by Stephanie Bowman Doroba October 21, 2022
UD Center for Political Communication poll finds incumbents with big leads among women, New Castle County voters
Democratic incumbents in Delaware hold solid leads in the upcoming elections for U.S. House representative and state attorney general.
A new University of Delaware Center for Political Communication poll finds that 50% of registered voters say they'll vote to re-elect Democrat Lisa Blunt Rochester to the U.S. House, while only 33% support her Republican opponent, Lee Murphy.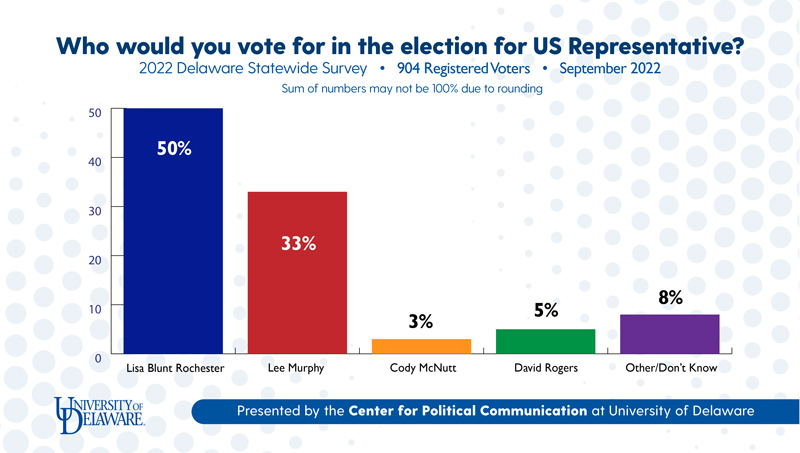 In the state attorney general race, incumbent Democrat Kathy Jennings leads Republican Julianne Murray by 13 points, 53% to 40%.
"The poll results suggest the Democrats are on track for a good election night," said Professor Phil Jones, research director of the Center for Political Communication. "Driven by support from women and New Castle County voters, both incumbents look set to return to office."
Women voters boost Democrats' leads 
Consistent with national polling, the Democrats' leads are driven by a large gender gap. Blunt Rochester leads by 33 points among women, 59% to 26%, but is effectively tied with Murphy among men, 40% to 41%.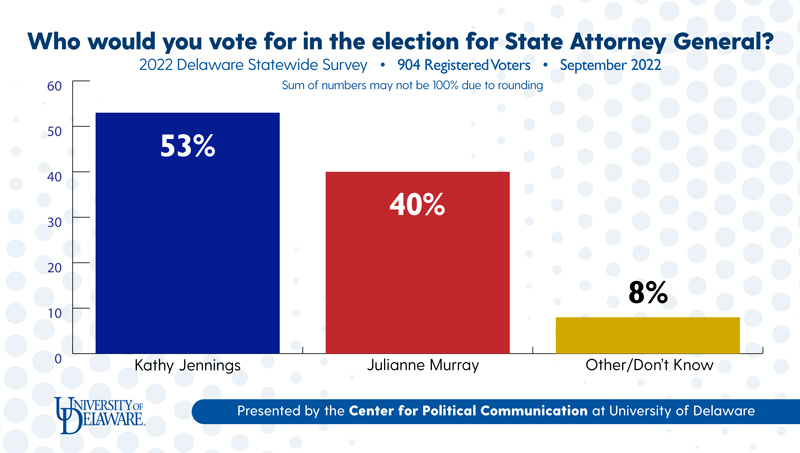 "The gender gap in support for Blunt Rochester has grown since the Supreme Court's overturned Roe v. Wade earlier this year," said Jones. Polling from the University of Delaware Center for Political Communication in 2020 showed a 13-point gender gap in support for Blunt Rochester. This year the gap is 19 points.
The Democrats lead by large margins in New Castle County (61% to 25% for Blunt Rochester, 63% to 31% for Jennings). The races are more competitive in Kent County, where Blunt Rochester leads 46% to 27% and Jennings leads 49 to 37%. The Republicans' only leads come in Sussex County, where Murphy is ahead 56 to 27% in the race for Congress, and Murray ahead 61 to 33% in the AG race. 
Mostly high approval ratings for incumbents 
The poll results also show high approval ratings for most of the elected officials not on the ballot this year. Voters have favorable opinions of Governor John Carney (61%), Lt. Governor Bethany Hall-Long (65%), and U.S. Senators Tom Carper (61%) and Chris Coons (55%).
"There is solid support for Democrats across the board,'' said Jones. "Despite the expectations of a national Republican wave, Delaware's status as a blue state is not being swept away any time soon."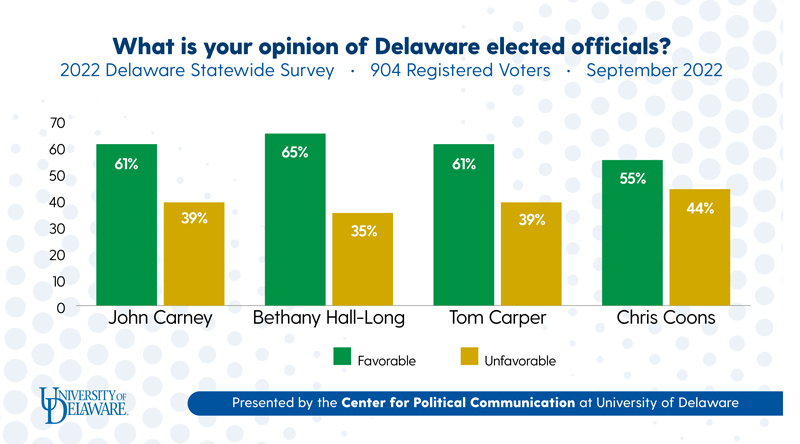 About the study 
The 2022 Delaware Statewide Voter Survey was funded by UD's Center for Political Communication (CPC) with support from the College of Arts and Sciences. The study was supervised by the CPC Research Director Phil Jones, a professor in the Department of Political Science and International Relations.
The study was fielded by Issues and Answers Network and obtained telephone interviews with a representative sample of 904 registered voters in Delaware. 59% of respondents were interviewed on a landline telephone and 41% were interviewed on a cell phone. Interviewing was conducted from Sept. 14-29, 2022, in English. Samples were drawn from a list of Delaware registered voters.  
Statistical results are weighted by gender, age, race, Hispanic identity, and county to match the population parameters of the adult population in Delaware. The margin of  sampling error for the sample of registered voters is ± 3.3 percentage points. Overall,  the cooperation rate was 5.0% among cell phone users and 4.8% among landline users.