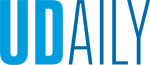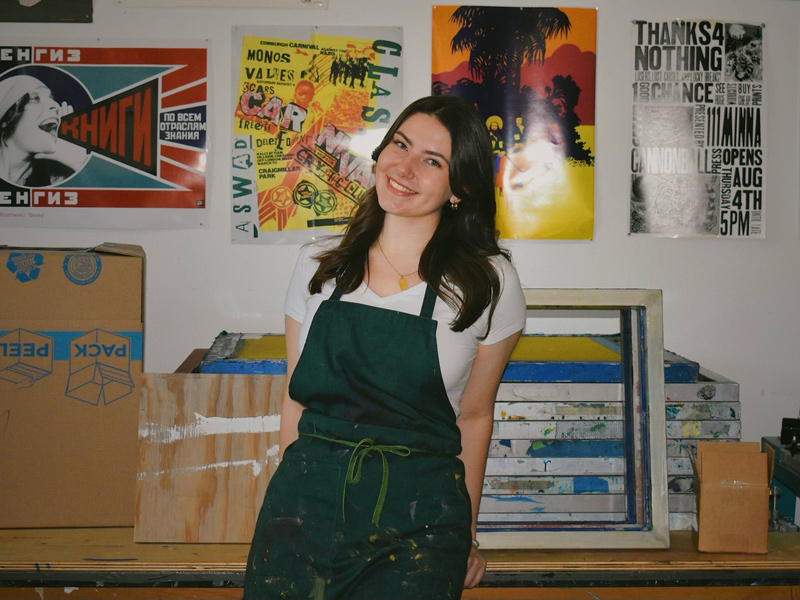 Communicating a musician's sound — visually
Article by Karen B. Roberts Photos by courtesy of Maura Kelly and Moira Gervay | Illustration by Jeffrey C. Chase October 07, 2022
UD undergrad uses graphic art and design to help music come alive
Editor's Note: This Q&A is one of a series of articles exploring the research that University of Delaware students have been pursuing. Follow our "Frontiers of Discovery" series as UDaily highlights some of these scholars.
Moira Gervay is a visual communications major and junior at the University of Delaware. A Wilmington, Delaware native, Gervay is exploring ways to communicate music through art, including visuals such as posters and album artwork.
Q: What draws you to research? Have you done it before?
Gervay: I have always loved learning, and I am curious about the world around me. I have done personal research on various topics in my free time, but this is my first official research project.
Q: What were you studying during the summer of 2022, where were you studying it and who is your faculty mentor on this work?
Gervay: I am studying the relationship between music and art, specifically how music influences the art and visuals associated with it, such as posters, merchandise and album artwork. Under the advisement of Aaron Terry, assistant professor of art and design, I have been working in the printmaking studio in the Studio Arts Building to produce artwork that coincides with the music of UD alum Grant Claytor. All of my work is initially made using Adobe Creative Suite and then mocked up digitally or screen printed in the studio. For this research, I have collaborated with Grant to design concert posters, merchandise, single cover art and a CD booklet for his album, CAPRICE (2020).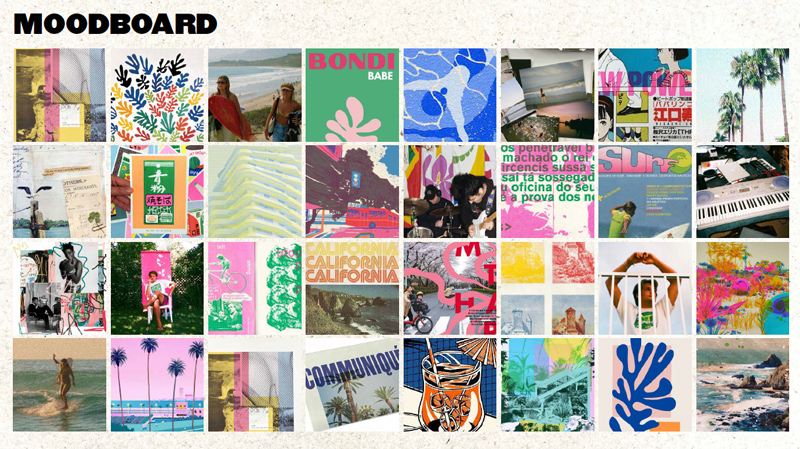 Q: What motivated you to study this topic? 
Gervay: My two greatest passions are art and music. I grew up surrounded by all genres of music: pop, classic rock, gospel, country, blues, alternative, show tunes and more. I often find myself inspired by my favorite musicians when creating my artwork. As a graphic designer, I am inspired by legendary designers, such as Paula Scher, and up-and-coming graphic designers like Kel Lauren. Both Scher and Lauren work in the music industry using old and new design techniques to communicate an artist's sound visually. Visuals play a crucial role in live music and an artist's brand, but they also make an artist's sound and message tangible. Instead of just hearing the sound and lyrics, you get the opportunity to visualize them or even wear them to express yourself. Music translates the emotions deep inside us. Without the visuals accompanying the music, how would we be able to show the world directly how we feel?
Q: What have you found most surprising about this work so far?
Gervay: Each person has their own way of visualizing music. I have found it fascinating to work with Grant and hear how he thinks his music translates into various color palettes, typography and imagery and then compare that to my ideas. For example, if I thought the cover art for a song could be varying shades of blue, he might think neutrals would work better. As an artist working with clients, it is a fun challenge to incorporate their ideas into my style. Talking with Grant about his music, his perspective as a creator and his writing process has opened a new vein of inspiration that I would not otherwise have seen unless I undertook this project and fully immersed myself in this work.
Q: What are the possible real-world applications for your study?
Gervay: While musicians provide the soundtrack for their story, artists and designers help bring it to life by visually portraying the message or feeling a musician is trying to send through their songs. A musician's branding and visuals associated with their music draw in listeners. Billboards, promotional posters, cover art, social media posts, merchandise, etc., must be cohesive and recognizable. My study aims to give a clear example of this relationship and how both sides rely on each other to produce something beautiful.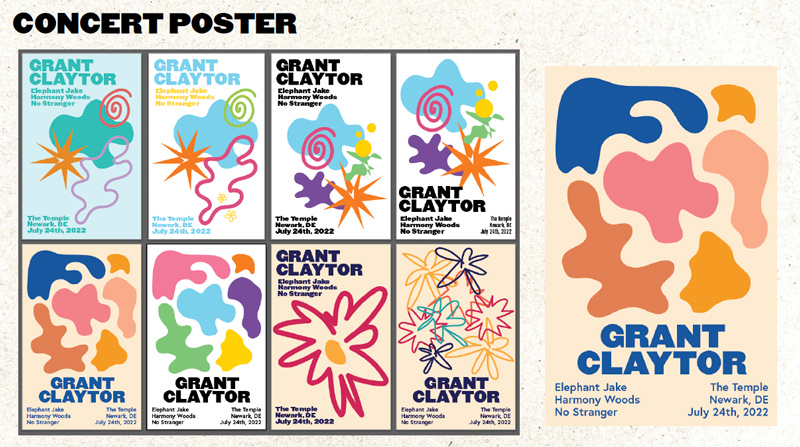 Q: How would you explain your work to a non-scientist or even a fifth grader?
Gervay: I want to translate music into something that is nice to look at. My research aims to show the correlation between art and music and how a musician's lyrics and melodies can be created into artwork that visualizes the message the lyrics or melodies are trying to convey. Working directly with a musician like Grant Claytor allows me to understand his ideas on all things related to his music and to use my design knowledge to create something magical.
Q: How does this experience align with your professional goals?
Gervay: Music and art are timeless mediums, and there is much to dive into regarding different genres and artists. No two musicians will have the same visual branding, and I find that incredible. My dream is to design for the music industry while helping artists with their branding and merchandise. I don't think I will ever stop creating and exploring how lyrics and tonality translate to visuals.
Q: What do you enjoy when you are not doing research?
Gervay: Even when I am not doing research or working on assignments for my design classes, I love making artwork in Adobe Photoshop and Illustrator. I also love traveling, concerts and hanging out with my friends. 
Q: What advice would you give to your fellow students who may be considering or are planning to pursue undergraduate research?
Gervay: Undergraduate research is the perfect opportunity for you to explore your passions and future career. I wanted my research to be structured like the work I would complete as a music industry designer, which would give me an advantage after I graduate from the University of Delaware. Tailor your research to reflect your future plans and use it as a learning experience.