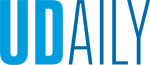 Bringing history to life
Article by Amy Wolf Photos by Evan Krape November 07, 2022
UD-founded Colored Conventions Project dedicates murals in Philadelphia
Art ignites change, and it also gives people hope. A new two-panel mural in South Philadelphia is doing just that.
The Colored Conventions Project (CCP), which was founded at the University of Delaware in 2012, partnered with Mural Arts Philadelphia to bring the stories found within CCP's collection of online records to the cityscape. The project links the organizing efforts of Black people for civil rights, voting rights, education, abolition and freedom from racial violence in the 19th century to continued protests over the injustices that Black communities continue to face today.
"It is the first time that there is a mural that commemorates the Colored Conventions movement, which began here in Philadelphia," said Denise Burgher, project co-coordinator and UD doctoral student in the Department of English. "It's the first time that there is a mural — an actual visual component — that reflects that history. Both murals function as a physical way to connect this history and help people to understand that this fight has been going on and in these ways long before the civil rights movement. This commemorates all of that."
Community leaders, city residents, city and state representatives, and faculty, staff and students from both UD and Penn State University (where CCP is currently housed) attended a mural dedication and celebration on Oct. 28.
"This mural is so inspiring," UD President Dennis Assanis said. "It connects the Colored Conventions movement of yesterday and the inspiration and ability of people to assemble, to organize, to activate and agitate, then brings it forward to today's world and connects it to the Black Lives Matter movement and everything else that is happening to protect our democracy."
The mural, by African American artist Ernel Martinez, illustrates how Philadelphia is central to the larger story of hundreds of "Conventions of Colored People" that were held across the country from 1830 to 1900. The mural's portraits of Philadelphia leaders, important institutions and ongoing activism fill the walls of The Courtyard, one of Philadelphia's few affordable housing complexes, which was fought for and secured by and for the city's African American residents.
"Black culture stands at the center of Black organizing," said CCP founding director Gabrielle Foreman, who was a member of the UD faculty from 2010 to 2019. "Black organizing does not happen without Black expressive culture, without Black art, without Black music, without Black poetry. It feeds us in ways that allow us to exist, to thrive, to connect with each other in community. Art is at the center of that organizing culture. It is at the center of democracy."
The Colored Conventions Project — whose central members include UD archivists, librarians and graduate students — locates, transcribes and archives historical records and curates digital exhibits.
Brandi Locke, project co-coordinator and UD doctoral student in English, said that the mural helps to make the important work that CCP is doing more accessible to the community at large. The archives are held in libraries and website databases, and while CCP is doing its best to make those records more accessible, a computer or phone is still needed to view them.
"This [mural], we walk up to it, and it's larger than life," Locke said. "These are the men and women who are in our documents, in our records, in the websites we design and the stories we tell. More importantly, what we're really here for is to let people know these are your ancestors. They walked these streets, they lived in the historic homes that were here first — some of them preserved, but not all — and they set the model for the work that was done here. This is a community that has been completely revitalized by their community activists. It's a privilege to tell them all about the folks who paved the way for them."
Burgher said that the mural both commemorates history and inspires change.
"We are standing on the shoulders of the ancestors who have gone before us, but we're standing with the current activists, the teachers, the educators, the politicians, the college presidents, the average everyday citizens who make the world that we want to live in possible," Burgher said. "What we hope is that this art will remind us and inspire us that we live in the world that we want to create."