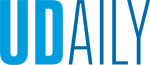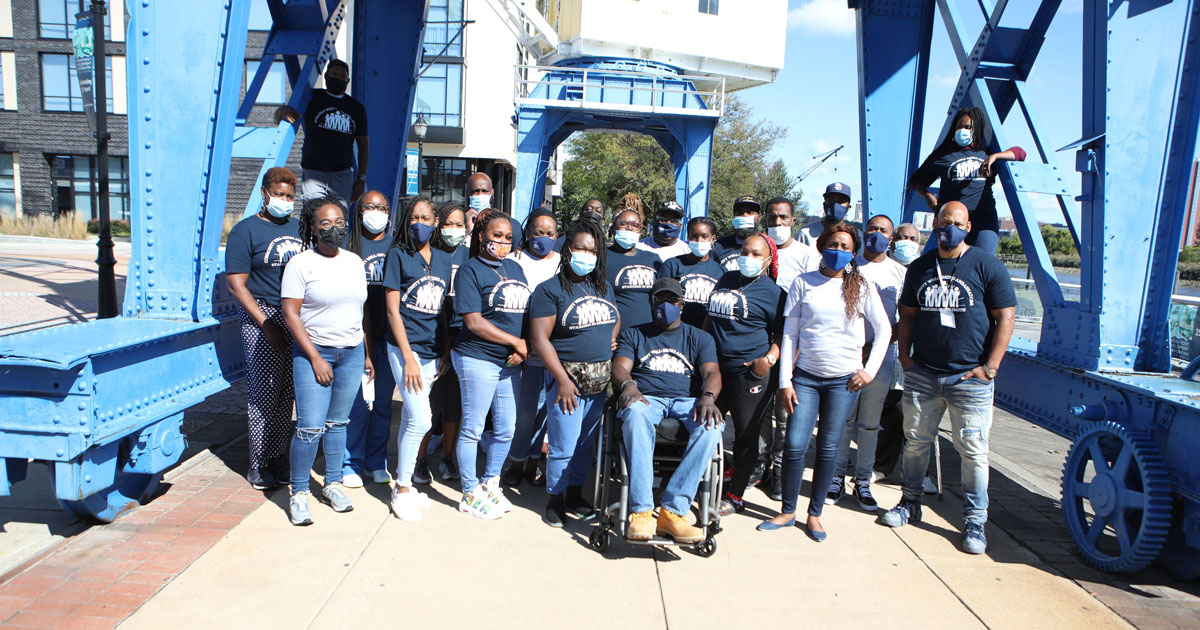 Enhancing wellness in Delaware communities
Article by Colin Heffinger Photos courtesy of Network Connect March 10, 2022
Partnership for Healthy Communities receives contract award for Community Wellbeing Initiative
The University of Delaware's Partnership for Healthy Communities has received a contract award for over $1 million from the state of Delaware, Department of Health and Social Services and the Division of Substance Abuse and Mental Health (DSAMH) to support overall project management of the Community Wellbeing Initiative Demonstration Pilot, which prioritizes engaging cross-sector partnerships to enhance wellbeing in designated communities throughout Delaware.
The Centers for Disease Control and Prevention acknowledges that there is no consensus around a single definition of wellbeing. There is an agreement that at minimum, wellbeing includes the presence of positive emotions and moods, the absence of negative emotions and satisfaction with life, fulfillment and positive functioning. To accomplish these goals, partners of the initiative work collaboratively with diverse stakeholders such as Wilmington Community Advisory Council, grassroots community-based organizations, educational institutions, healthcare sectors and minority owned businesses.
Two primary functional projects will be used to accomplish these priorities.
First, the initiative is amplifying targeted engagement to train wellbeing 'ambassadors' in communities that are vulnerable due to high levels of inequities and trauma. Second, a targeted marketing effort using a web-based platform will be developed and implemented, dedicated to supporting community emotional wellbeing and healthy engagement initially focused on institutions of higher learning.
Targeted engagement through community ambassadors
Rita Landgraf serves as director of the Partnership for Healthy Communities and professor of practice and distinguished health at UD.
"This initiative is focused on breaking away from the traditional structure of hierarchy and utilizing collaborations internally and externally," Landgraf said. "It's part of creating a unified partnership. We're focused on how we can bring everyone together for a shared impact and how each person influences and designs the implementation strategy."
To date, 24 ambassadors – including four lead coordinators, two full-time coordinators, six community host-sites and five partners outside of UD – are contributing to the day-to-day impact and growth of the initiative throughout vulnerable communities in Wilmington.
"There's a lot of talent that we've captured from communities we're executing this in," Landgraf said. "We're able to engage these ambassadors in a co-designed developed Skills for Psychological Recovery (SPR) training. Our trained ambassadors likewise bring these skills to the community. When communities are traumatized by gun violence, natural disasters and pandemics like COVID-19, there is an increased need for wellbeing guidance to support the impact and advance coping skills as well as provide needed resources."
The goal of using SPR is to provide the skills for recovering from trauma and building resilience as a protective factor for ambassadors against the challenges and stressors within their communities. This is further expanded through efforts to share and implement these skills with members of the community.
Ambassadors operate like peer support leaders to local community members by addressing trauma, providing clinical support and delivering self-care resources. Having access to housing, food and resources is critical in times of vulnerability. When community members are facing a crisis, survival becomes their highest priority, leaving wellbeing on the hold. Ambassadors fill this gap by providing the resources needed for basic survival and growth for overall wellbeing.
To further aid ambassadors, host-sites have been distinguished throughout different communities in ZIP codes of high inequities and vulnerability. These host-sites operate as infrastructure for ambassadors, providing a stable place where they operate as supervisors for support extended throughout their community.
"Everyone involved in this initiative is focused on finding new ways to continue adding value to build a strong connection with these communities facing structural racism," Landgraf said.
Tracking overall impact
An important aspect of managing the initiative's development is through tracking impact on community members and the extent of its reach.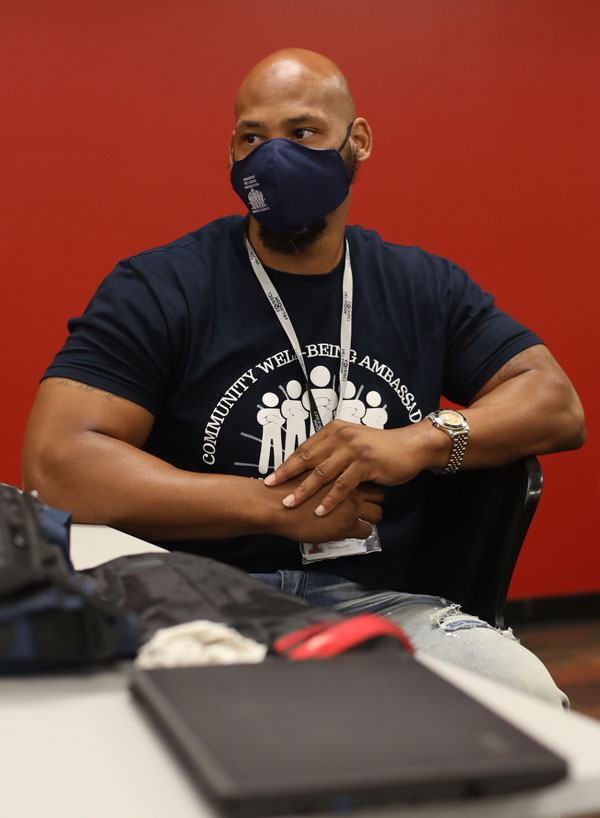 Laura Rapp, scientist, and Meisje Scales, research associate, collaborate at the Center for Drug and Health Studies, where they operate as lead evaluators for the initiative's technical aspects.
Rapp and Scales are measuring the initiative's growth by calculating reach and saturation within communities. They are using a questionnaire that evaluates engaged community members to . determine if there have been changes in stress levels and overall program impact. Since success is defined differently for each member based on individual needs, such as housing, wages or stress management resources, what makes the questionnaire effective is its focus on how each individual feels about improvements in their lives.
"We're focused on aligning to measure the healthy changes in communities and the barriers that come into play with our collaborative efforts," Rapp said. "We hope to see the community's coping skills have enhanced as overcoming these barriers leads to healthier outcomes."
"Any one issue is a lever for whole personal health," Scales said. "This program has a focus on substance use but has the opportunity to promote wellness overall. If we can improve one area of their lives, we can see it ripple across other aspects of life."
To date, the initiative has created 320 different impact and engagement points with 170 community members in its preliminary stage. The goal is to demonstrate overall success by creating and strengthening the program structure so it can be easily adopted and spread across other communities throughout Delaware.
"We're making sure the data we collect fits the program and how it evolves to continuously boost responsiveness," Scales said. "It's important that when this program is replicated, other communities will understand the needs for reach and saturation in effectively implementing this program."
Driving further growth
Network Connect, one of the partners for the Community Well-Being Initiative, serves to improve coordination of youth serving organizations through the building of effective partnerships for youth, families, communities and organizations. Network Connect strengthens communities through four core programs: the Community Well-Being Ambassadors (CWA), the Teen Co-Learning Space, Future Culture Creators (FCC) and Reverse the ACES (RACE). Each program operates individually and builds on different aspects of enhancing connections within communities.
Erin Hutt and Cierra Hall-Hipkins, founders of Network Connect, spent the past 3 years working together to best serve hundreds of youths. Creation of these programs has provided an opportunity for Hutt and Hall-Hipkins to effectively tackle the largest obstacles faced within these communities.
"For RACE, we've created a box with tangible stress management tools like stress books and coloring books that we've given out to community members," Hutt said. "We've also included information to connect to counselors and how to access other resources in the focus on building a productive response to trauma. We've given away over 1,100 boxes so far."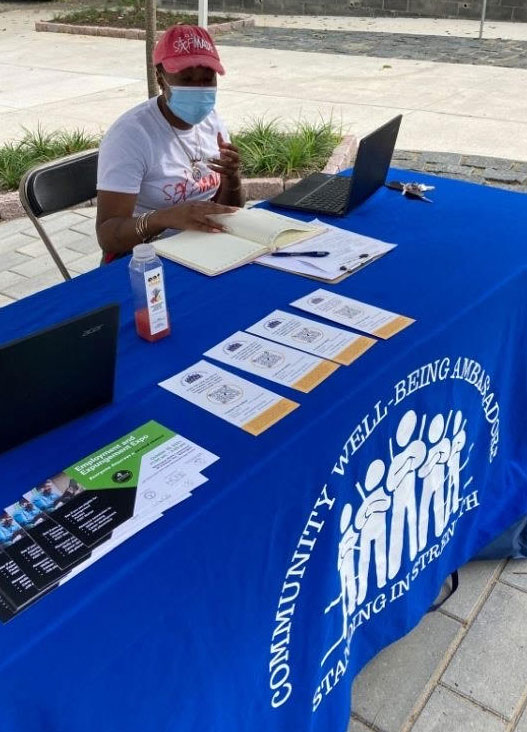 "Our pop-up events offer direct resources to the community members," Hall-Hipkins said. "These members are located within the communities based on particular ZIP codes that are at the highest level of risk. Combined with the community influencers who already live here and know their members, we're able to empower continuous and effective change in the communities."
"The connections are what make a huge difference," Hutt said. "We make sure to acknowledge the work of ambassadors and their needs daily. It's so magical to listen about what these individuals have accomplished. We purposely hire individuals with complex pasts, providing their insights to others who may be struggling in similar ways. We've served over 288 unduplicated community members so far and it's continuing to grow."
"These partnerships are so important," Hall-Hipkins said. "This work couldn't be done by just one organization. Collaboration with the sole purpose of effectively helping these communities and the success stories are what drive continued engagement. We're setting the tone for how partnerships should operate together."
The COVID-19 pandemic has helped pull the innovation out of the team with Network Connect. While the world shut down, Network Connect prioritized the needs of youth first to boost growth substantially, creating new programs designed for specific needs of the pandemic. Adapting to provide support for trauma associated with the pandemic boosts psychological recovery long-term.
Reaching ahead
The Partnership for Healthy Communities was also asked to investigate development of a web-based platform to connect target populations and communities to resources while providing the ability to directly assess personal inventory. This platform, called Resourceful, has a design goal of being both self-service and guide-led capable, to best serve the needs of community members. Beyond providing community resources, this platform will have full use of assessments for social determinants of health and overall impact tracking.
"We are in the developmental phase for the platform," Landgraf said. "Our goal is to see how coping skills have been enhanced against adverse childhood experiences. The platform will create the opportunity to evaluate these outcomes and provide the type of personalized assistance needed for effective recovery."
In the long run, the Initiative aims to expand the platform for implementation into the ambassadors' program as well as for students throughout connected institutions.
This past January, the Community Well-Being Initiative celebrated a one-year anniversary since its contract inception. As the Initiative continues to develop its reach and impact, partners are looking into new areas of Delaware with high risk and in need of community engagement.
"Looking forward, we aim to partner with Delaware State University," Landgraf said, "And expand the initiative to Dover, where DSU would serve in a similar role as UD. Dover is also experiencing an increased level of vulnerability due to gun violence. We're aiming to focus on promoting emotional wellbeing and connecting to resources in designated communities and serve as an incubator for innovation."
About the Partnership for Healthy Communities
The Partnership for Healthy Communities was created with the focus of aligning and strengthening research, educational, and service capabilities for UD to improve the health and wellbeing of Delaware communities and beyond through effective community partnerships. With engagement in more than 40 strategic initiatives and a variety of community partners such as the city of Wilmington and Delaware Center for Health Innovation, the Partnership is pivoted to support local and national partnerships in coordinated efforts to effectively impact social and environmental factors that promote wellbeing throughout communities.