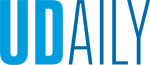 Passion for sustainability
Article by Ann Manser Photos by Evan Krape March 21, 2022
Fashion student promotes sewing as means to reduce waste
To Miriam Keegan, the situation is clear: A stitch in time might help save the planet.
Realistically, the University of Delaware student who is laser-focused on environmental sustainability knows that it will take many stitches — as more and more people learn to sew in order to mend, alter or otherwise reuse and repurpose clothing instead of buying new garments that contribute to the fast-fashion industry and its related problems.
"The fashion industry is one of the most [environmentally] damaging in the world," said Keegan, a former elementary school teacher who said she has always loved fashion. "When my eyes were opened to that, my life completely changed."
It was her interest in clothing and visual art that led Keegan to take a fashion design course a few years ago, while she was still teaching school in her native Ireland. The lectures about sustainability and the harm that can be caused to people and the environment were a revelation, she said.
The term "fast fashion" refers to the rapid production of inexpensive and trendy clothing. The result has been a cycle in which many consumers buy and then discard items after wearing them for only a short time in order to buy new styles. The fashion industry has a large environmental footprint; for example, it produces nearly 20% of global wastewater and either destroys or sends 75% of the materials used in production to landfills. Consumers throw away 70-80 pounds of shoes and clothing per person each year, with very little being recycled.
After learning about these issues, Keegan took her newfound passion and quickly moved into action, making hundreds of masks at the start of the pandemic to raise money for sustainability causes, starting an Instagram account to spread the word about sustainability in fashion and challenging herself to go an entire year without buying a single piece of clothing. She began leading workshops to teach friends and colleagues how to sew and eventually developed a course on the subject for teachers so that they could both learn sewing skills themselves and also take those skills into their classrooms for the next generation.
"It reintroduces the art of sewing," Keegan said of the online course, which was approved by Irish education officials and has been completed by more than 250 teachers. "If you can teach kids three basic stitches, they can mend their clothes and avoid buying so many new items throughout their lives. That could be such an easy way to improve sustainability."
With an eye to doing more, Keegan applied for a Fulbright Environmental Protection Agency (EPA) Award and was selected for the prestigious grant that supports a recipient's graduate education. She researched U.S. institutions and discovered UD's Department of Fashion and Apparel Studies, which has a reputation as a world leader in eco-friendly, socially responsible fashion.
"Of all the programs in America, the University of Delaware had the most courses and covered so many aspects of sustainability," she said. "I wanted to be involved in something that could really change the culture."
In addition to her master's level classes, Keegan recently was awarded funding from UD's Horn Entrepreneurship for a proposal she submitted to develop a Sewstainable Kit. She received a Make It Happen Challenge grant, as well as training sessions in the University's MakerGym design and fabrication studio.
The prototype for her project will be a compact sewing kit with embedded instructions for its use. It's all part of Keegan's hope that more people will develop sewing skills as well as an interest in the creativity that comes from prolonging the life of a piece of clothing by altering its style or fit, repairing it or even remaking it into something different.
In her own life, she has transformed sheets and pillowcases into dresses and silk pajamas into a skirt and top. Even for those whose sewing skills are limited, she encourages friends and family to share their unwanted items with someone who will welcome the chance to reuse them. This personal and selective kind of sharing is far preferable to cleaning out a closet and donating everything to an organization, she said, since many of those items end up in landfills.
"When I was growing up in Ireland, we were the best in the world at hand-me-downs, and now no one does that," she said. "We need to reinvigorate that swap culture. We used to have that, and we can do it again."
About UD's focus on sustainable fashion
Over the past 15 years, UD's Department of Fashion and Apparel Studies has developed a focus on social and environmental responsibility, serving as a force for change in the global industry, from supply chains to sales inventories.
Sustainability is part of core classes for all fashion students, and the department offers a minor in sustainable apparel and textile innovation and a graduate certificate in socially responsible and sustainable apparel business. UD graduates are in demand by an industry that is looking for ways to change.
"We attract students from all over the country and all over the world," says the department chair, Prof. Huantian Cao. "That shows the industry's need."