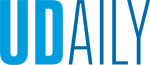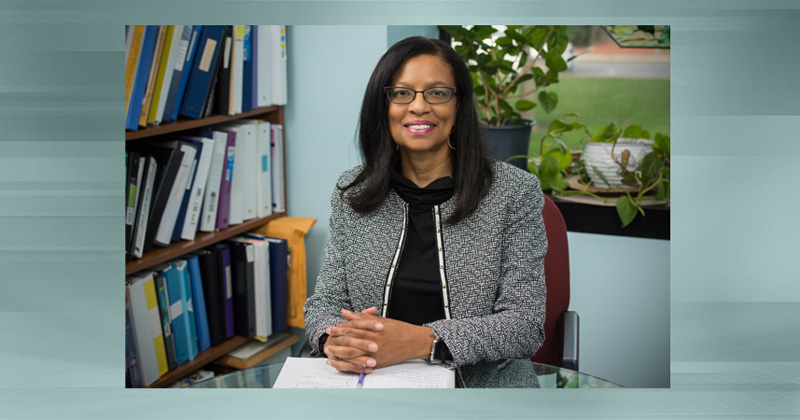 Humanities advocate
Article by Tracey Bryant Dance photo by Lane McLaughlin. Photo illustration by Jeffrey C. Chase February 04, 2022
Overby appointed to national council
Lynnette Young Overby, professor of theatre at the University of Delaware and director of UD's Community Engagement Initiative, has been appointed to the National Council on the Humanities.
This board of distinguished private citizens advises the chair of the National Endowment for the Humanities. Founded in 1965, NEH is one of the largest funders of humanities programs in the United States, supporting research and learning in history, literature, philosophy and other areas.
Overby was nominated for the council by President Joe Biden in April 2021 and confirmed by the U.S. Senate this past December. Her term on the council is for six years.
"I am honored to be a part of the National Council on the Humanities and I look forward to working collaboratively with other members of the council. I hope to foster the interdisciplinarity and accessibility of humanities content for all citizens," Overby said.
Overby's love for the arts and humanities began at an early age in her hometown of Dover, Delaware. She started piano lessons when she was 5 years old and took ballet classes. But the real turning point came in high school.
She was a student of one of the first classes to integrate Dover High School in the 1960s, which was stressful and difficult at times from the tauntings and isolation. Fortunately, a new teacher there started a modern dance club, which Overby joined. It immediately made her feel at home.
"It was a way to fit in," she said.
But she would soon find that her talent and interests in dance made her stand out. By the time she was a senior (and also then president of the dance club), Overby knew she wanted to keep dance in her life in a bigger way.
Her parents had a talk with her and told her if she wanted to pursue dance, she needed to pursue her college degree in education, which is no surprise to those who know Overby's mom, age 103, and now the oldest living graduate of Delaware State University.
Overby went on to earn a bachelor's degree in physical education from Hampton Institute, a master's degree in dance education from George Washington University and a Ph.D. in kinesiology from the University of Maryland.
Her career has taken her from teaching physical education and dance in an elementary school and high school, to serving as associate dean of outreach, engagement and inclusivity at Michigan State University, to attaining numerous leadership roles at the University of Delaware. Among her UD accomplishments, she served as faculty director of the Undergraduate Research and Experiential Learning program, she founded and continues to direct the dance minor, she is past director of the Partnership for Arts and Culture and is the current artistic director of the Sharing Our Legacy Dance Theatre.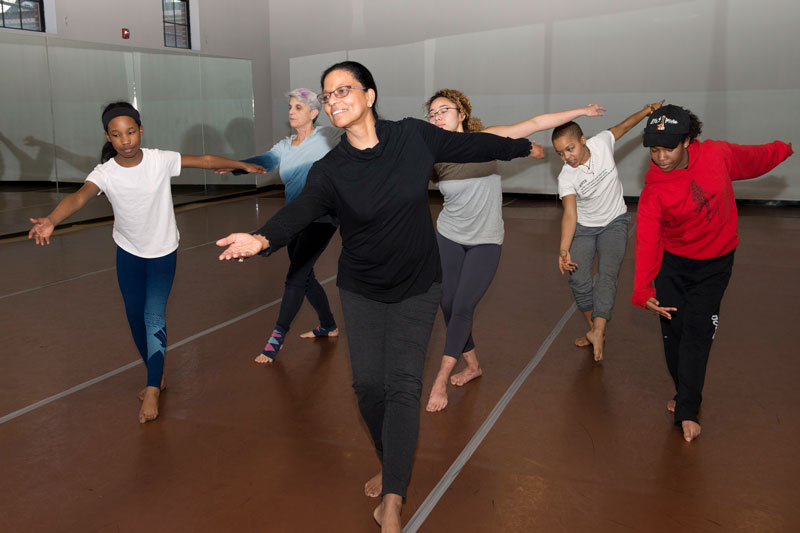 Through the years, Overby has been a strong advocate for research and educational partnerships with community organizations and served multiple commitments as deputy director of UD's Community Engagement Initiative prior to her appointment as director of the University-wide effort in 2021. 
A major focus of her community engagement scholarship has been developing projects and programs with local, national and international partners to address racial justice issues. A current production, in collaboration with literary historian P. Gabrielle Foreman at Pennsylvania State University, incorporates art and history to tell the story of Mary Ann Shadd Cary, an anti-slavery activist who was born in Wilmington, Delaware, in 1823 and wanted to publish a newspaper. Cary would go on to become the first Black woman publisher in North America, the first woman publisher in Canada, and the first Black woman to attend law school (Howard Law School) in the United States. 
The dance production, "Mary Ann Shadd Cary: Her Life and Legacy," has been performed in Delaware, Texas, Alabama, Virginia, Washington, D.C., Australia, South Africa and Belize. 
Although the pandemic has limited in-person gatherings with the Sharing Our Legacy Dance Theatre, Overby has been working remotely with her students and other scholars on an oral history component to the production that included interviewing women in Delaware and Canada who are Cary's legacy and are now working in the arts, in writing, in law and other fields. 
The research group created a program where dancers created solos inspired by the quotes of these interviewees. This digital project was presented with Penn State's Center for Black Digital Research #DigBlk, co-directed by Foreman. The move to digital work has enabled the program to be shared at conferences and in a book chapter.
The focus of the Sharing Our Legacy Dance Theatre is now on developing future digital programs in African American history. The first project has been piloted with 11th graders in the Brandywine School District.
"We hope to help students learn about history and the humanities in a fun and engaging way," Overby said.
She also recently received a Jessie Ball duPont Fund grant to support partnership programs between UD and arts and cultural organizations in Wilmington, Delaware, focusing on social justice.
"It's important for university faculty, staff and students to share knowledge and build on the assets in the community to make the world better," Overby said. "If we really want to make a difference in a world with so many problems, we need to build on our partnerships with the community."
Overby is the author or coauthor of more than 60 publications including 14 books that she has either edited, authored or co-authored. She also has earned more than 20 state, district and national awards and honors, including the 2018 Lifetime Achievement Award from the National Dance Education Organization. She has served as an officer of that organization, as well as Dance and the Child International. She also is a trustee of the Delaware Historical Society and a board member of the Delaware Arts Alliance. Recently, she was inducted into the Academy of Community Engagement Scholarship, which recognizes exceptional leaders who unite academics and communities to benefit society.