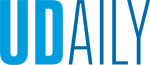 How I Teach — Spanish
Article by Amy Wolf Photo by Kathy F. Atkinson | Photo illustration by Jeffrey C. Chase December 23, 2022
Professor Basia Moltchanov makes learning a new language fun and engaging
Editor's note: First-year students, prospective students (and some of their parents) wonder and worry how they will handle the academic transition from high school to college. In a series of stories, UDaily speaks with University of Delaware professors who teach courses commonly taken by students during their first year on campus. The series includes professors who teach biology, writing, business, calculus, political science and sociology, and those stories can be read on the How I Teach website. In this story, Assistant Professor Basia Moltchanov explains her approach to teaching Spanish.
As students walk into her Spanish II class at the University of Delaware, Prof. Basia Moltchanov asks each and every one of them, "¿Cómo estás?" She knows all of them by name, knows all of their majors, and asks them about their hobbies and interests. In a unit about likes and dislikes, Moltchanov discovered that one of her students doesn't like coffee, so she often quips with him that he won't be able to pass her course, because what normal human being doesn't like coffee?
The interactions — which are spoken entirely in Spanish — serve as more than just pleasantries. They help Moltchanov connect with her students, and they make the class fun.
And that's exactly what learning a language should be: fun.
"Teachers can be experts in their content, but if they don't know how to translate that content to somebody else, what's all that expertise good for, in a classroom?" said Moltchanov, assistant professor of Spanish and world language pedagogy in the Department of Languages, Literatures and Cultures. "It's important to connect with your students and show them the value of learning another language."
In terms of learning outcomes, students can expect a big increase in vocabulary in the second-level introductory course. But perhaps more importantly, they'll become more confident in their Spanish-speaking abilities. In class, Moltchanov rarely speaks English. She directs the students in Spanish — rewording phrases and repeating herself when necessary — and as the semester progresses, the students understand more and more.
"Giving them a little more confidence in their ability to understand and use the language is a big part of the class," she said. "I wholeheartedly believe anybody can learn a language. It has to do with listening, paying attention, being focused. I'm a very firm believer that we all are programmed genetically, as humans, to learn a language. We all speak one language already, so you can learn another one."
A quiz at the beginning of each class reinforces the vocabulary and grammar rules that they learn during the asynchronous portion of the hybrid course, followed by a group activity, conversation or writing assignment — putting into practice what they learned online. In one particular class, student groups were tasked with writing the morning routines of various celebrities, including Harry Styles, Kate Middleton and Zendaya, to name a few.
The point of the activities isn't to get perfect scores on the quizzes or write grammatically flawless scenes in Spanish. Indeed, making mistakes is part of the process, and it's something Moltchanov wants her students to embrace.
"It's important to let the students know that it's okay to make mistakes," Moltchanov said. "We all make mistakes in English when we speak, and it's going to be even more common for you to make mistakes in Spanish or in any language that you're learning. It's important to not be afraid to make mistakes, not be afraid to try, not be afraid to ask for help."
Moltchanov's class is taken by many first-year students and those looking to fulfill the three-semester language requirement of many majors. Many students, recognizing the value of learning a second language, end up minoring in Spanish or earning a certificate.
"Research has shown time and time again that learning another language helps brain function," Moltchanov said. "Your brain works in a different way. When you're learning another language, your brain has to think about things in a different way. Instead of compartmentalizing, you're processing two languages at once. So you're processing more in your brain, and it's sort of like a muscle that you're exercising."
Conner Malley, a senior studying public policy, initially enrolled in the class to satisfy his major's language requirement, but the class has ended up being one of his favorites.
"I love learning languages," he said. "In high school, I took four years of Latin, and I really wanted to diversify the languages that I know. I'm really enjoying the class so far. Especially once you get to the second level of college learning, you get out of the basics and into some more advanced sentence structures and vocabulary. Señora Basia has been absolutely amazing in helping to facilitate conversation and collaboration between people, which has been really exciting."
Moltchanov is not a native Spanish speaker. Born in Delaware to immigrant parents, Moltchanov spoke both English and Polish growing up. Her mom, Krystyna Musik, who also teaches Spanish at UD, is of Polish descent but grew up in Argentina. Still, Moltchanov rarely heard Spanish at home.
Moltchanov didn't take a formal Spanish course until high school, but found that she really enjoyed it and did well. (Indeed, "Once you know one language, it's easier to pick up more languages," she said.) In college, she continued taking the classes she loved, and she earned a bachelor's degree in Latin American Studies and Spanish at UD. She later earned a master's degree from Wilmington University and a doctoral degree in education from UD, and has been teaching at UD ever since.
Maya Feinstein, a sophomore studying environmental science, said she enjoys learning another language — and learning about different cultures — because it can serve as a way to connect with others.
"I think it can bring us together as humans," she said. "It's important to learn about each other to gain more empathy and understanding, and it's important to learn about the world around us. It brings us outside of ourselves."
Support for Academic Success
The University of Delaware empowers all Blue Hens with the skills and strategies they need to succeed. UD students in any major are encouraged to take advantage of a range of peer tutoring services, as well as comprehensive skill-building resources offered by the Office of Academic Enrichment (OAE). Most services are available free of charge. To learn more, visit the OAE website. Students may also utilize the Blue Hen SUCCESS platform to connect with their academic advisor or access additional resources on Advising Central.
For UD's community of educators, the Center for Teaching and Assessment of Learning (CTAL) offers programs, workshops and confidential consultations to support faculty as they develop and achieve their pedagogical goals. UD instructors at every stage of their career are invited to explore online and contact ctal-info@udel.edu.
How I Teach — Series
The How I Teach website provides a collection of the stories in this series.